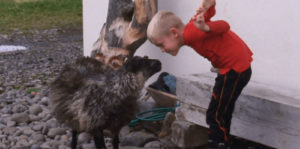 Observational documentaries are a tricky proposition. Give viewers too little context, and they have no clue what's going on and therefore don't care. Diving deep too deep is antithetical to the entire purpose of an observational documentary. Does director Yrsa Roca Fannberg's observational documentary The Last Autumn strike the right balance?
Ulfar and Oddny are Icelandic shepherds living right off the coast of the Arctic Ocean. While their farm has been operating for several centuries, as the title implies, this is the last run of shepherding their flock up and down the mountain. The elderly couple are planning on selling the farm at the end of the season. The filmmaker watches these two as they let the sheep graze or work with meat, fur, and wood on the farm.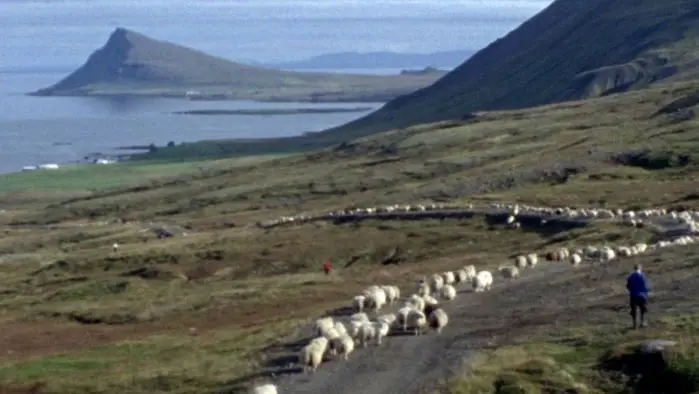 "…the last run of shepherding their flock up and down the mountain."
The sheer scope of The Last Autumn is daunting, even though the premise is as simple as can be. Fannberg makes audiences feel the minutia of what the subjects go through every day. From giving the sheep milk in bottles and commenting on how much bigger they've gotten to scaling a mountain, what happens isn't exactly the point. Instead, the filmmaker wants everyone to feel what it's like to be Ulfar and Oddny, even if for just 80 minutes or so. In that regard, the observational style was the right call. Watching the married couple's daily routines, seeing how in tune with their surroundings they are, and witnessing how they interact with the animals is to see an extinct way of life. It's engrossing to watch, especially knowing how it all must end.
When combined with the cinematography, the documentary achieves a raw power. Shots of the sheep and shepherds going down the mountain are daunting, and it's a wonder anyone can survive such a trip year on, year out. The waves pounding on the coast below the farm allow audiences to feel the sheer force of what Ulfar and Oddny face every day. There's a certain fascination in persevering over such incredible odds. On the flip side, a certain heartache comes with knowing this for the farmers and others in similar situations.
The Last Autumn is a marvel to look at. The powerful imagery immerses audiences into a world most don't know about. In fact, there are times when things feel rather otherworldly. While the title is a spoiler of sorts, getting to witness the final shepherding is both sweet and tragic. Fannberg documents Ulfar and Oddny and, in doing so, shows a forgotten way of life.
For more information, visit The Last Autumn Film Movement page.