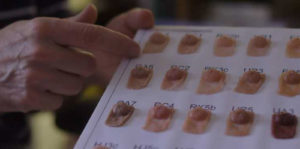 OAK CLIFF FILM FESTIVAL 2023 REVIEW! Cancer is a terrible thing, no doubt about it. However, in the spectrum of dealing with cancer, most oncologists I've met have averred one should have a sense of humor about it. That, to laugh, is the best medicine, even with a cancerous tumor. So we find ourselves nervously giggling along with the Johnson family throughout writer-director Justin "Justinsuperstar "Johnson's Mom and Dad's Nipple Factory.
Filtered through the perspective of Johnson, the documentary tells the story of Brian and Randi Johnson. Along with his parents, the filmmaker includes his four siblings in interviews. They are charming people, the Johnson children. They gave wonderful context for all the things we are about to witness in the main throughline. A middle-class family from Eau Claire, Wisconsin, the Johnsons went through the usual ups and downs, including a layoff, until the day Randi was diagnosed with breast cancer. To eliminate the breast cancer, they performed a novel surgical process and removed Randi's nipples.
Thus we come to the crux of Mom and Dad's Nipple Factory. Most of the artificial nipples on the market are uncomfortable or don't provide a snug fit. To fix this, and needing something to do with his time, Brian set to work developing a proper artificial nipple, one that contoured to the shape of the breast and would stay snugly attached. Working with their oncologist, Brian and Randi, exhaustively researched and worked to develop a decent nipple.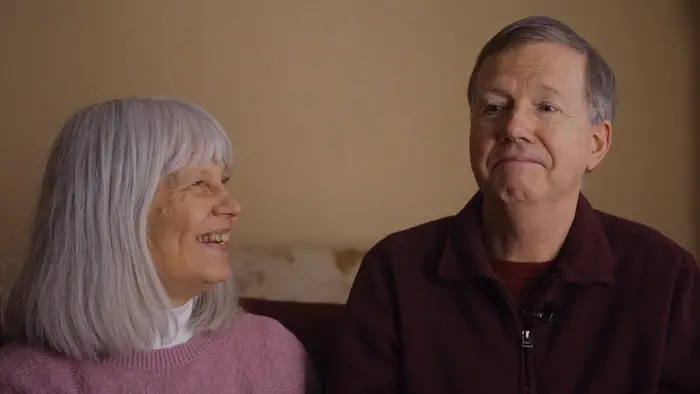 "…Brian set to work developing a proper artificial nipple, one that contoured…"
There is one room in the Johnson house dedicated to Brian's work on fake nipples. It is the titular nipple factory. What is especially charming is how the Johnsons admit they just don't like talking about that business. While it is profitable and has assisted Randi a bundle, the married couple would rather keep the artificial nipple business the quiet family project. It is so delightfully Wisconsin!
I greatly enjoyed learning about Brian and Randi Johnson. Born six years apart, the two are polar opposites. Randi is a flighty, friendly extrovert. Brian is a quiet, disciplined introvert. He is the stone which they moor her ballon. By the way, that analogy is one of the cutest bits of animation in this film. In all the historical parts of the story, if there's no home video footage of an event, it is animated. I gotta say the animation is quite serviceable. It's not Disney quality, but it is clear and easy to follow and has a rather hand-drawn feel to it.
Mom and Dad's Nipple Factory speaks to the enduring spirit of innovation in Rust Belt America. I just love the premise: when faced with a problem, the husband goes and figures out a solution, and it turns out to be a profitable business. This is a wonderful documentary that everyone can watch. If you're looking to explore the awkward social dynamics of other families, seek this out. It's pretty great.
Mom and Dad's Nipple Factory screened at the 2023 Oak Cliff Film Festival.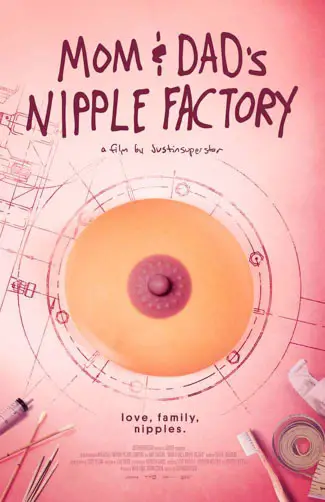 "…a wonderful documentary that everyone can watch."