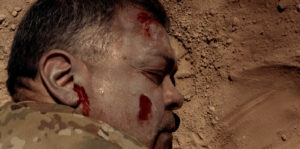 That hard drugs like heroin, crystal meth, and cocaine lead to terrible consequences is a time-honored cinematic tradition. With The Junky Warrior, directors Kay Rocknroll Brown and James Edward Todd add an AWOL (absent without leave) soldier into the sordid mix of drug abuse. Ron Baskets (Jeray Reed) is a troubled man. A regular user of heroin, Ron is constantly trying to find some external source that will straighten him out. Having settled on the military as a last-ditch effort to stay clean, Ron enlists to fight in Afghanistan. As you might imagine, the psychological toll of the losing effort out there in Asia, combined with the neverending count of dead and injured marines, leads the never-do-well Ron to decide to abort his tour of duty.
After going AWOL, he runs home to Las Vegas. One thing leads to another, and after a night of debauched drug abuse, Ron wakes up to find a dead party girl in his motel's bathroom. This leads to the downward spiral of even more terrible decisions committed by Ron and his ex Scarlett (Kay Rocknroll Brown). As the bodies pile up and police investigations ensue, it becomes quite clear that the worst possible thing is for Scarlett and Ron to remain together. Their combined toxicity powers the terrible mistakes that litter this movie, like the bodies in the desert outside the working class part of Las Vegas.
While having a co-director, The Junky Warrior is Brown's uncompromised vision, from beginning to end, as she stars, wrote, produced, and edited the film. She also held down a bunch of other jobs on set as well. I have to say, while it clearly features the hallmarks of a first feature-length film, it's a tight, well-planned, and executed one. The promise demonstrated by Brown is immense. This is a very hard story to tell, let alone act in, and the filmmaker demonstrates a complete commitment to following the wretched twists and turns of this melodrama wherever it might go.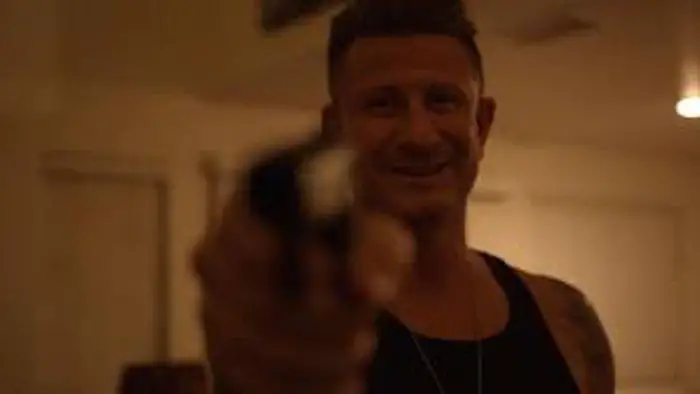 "After going AWOL…Ron wakes up to find a dead party girl in his motel's bathroom."
Jeray Reed does a wonderful job bringing the blend of trauma and need for relief that embodies many of the warriors wounded in the most recent U.S. war efforts. Between the well-documented burn pits, missile strikes, and guerilla warfare they face overseas, it's no wonder most of our combat veterans come back less than whole, either physically, mentally, or both. Ron clearly depicts a man who's made one of the worst decisions of his young life, and the cycle of destruction is clearly spinning out of his control.
It is worth mentioning that the title intentionally uses the adjective form of "junky." This version of the word refers to objects or things that are worthless. The noun "junkie" is a slang term for someone addicted to harder drugs. In this way, the filmmakers are commenting on how returning vets feel on the outs of society, one they strived to help make better. But after the war, what is there for them? Are they now just junk left on the sidelines until a new battle begins?
The Junky Warrior will sit in my memory as a testament to the horrible decisions some people make. That the attempt to recover from those terrible acts is thwarted by themselves suggests for some people, this is a cycle without end. Seek this drug-fueled drama out if you want to see a really well-crafted parable of a downward spiral.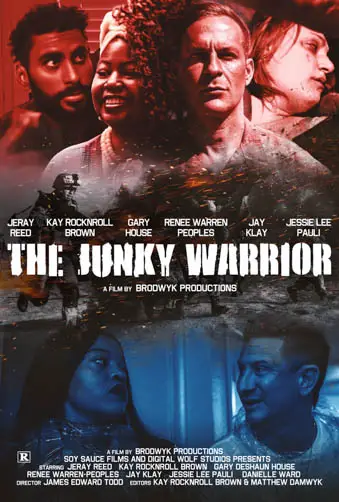 "…a really well-crafted parable of a downward spiral."