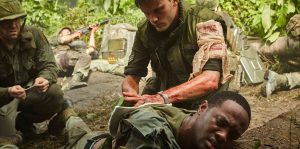 Todd Robinson's The Last Full Measure is the story of Vietnam War Veteran William H. Pitsenbarger (Jeremy Irvine) and how he got the Congressional Medal of Honor posthumously. Inspired by real events, the film opens in 1999 as Pentagon staffer Scott Huffman (Sebastian Stan) is tasked to research whether Pitzenbarger is worthy of having his Air Force Cross upgraded to the MOH. Yes, the film is about Huffman interviewing the surviving veterans, who served alongside Pitsenbarger, but before you dismiss the movie, thinking, "I've seen this before," keep reading.
There are two aspects of The Last Full Measure that are amazing if you think about it. First, the film really is less about dropping us into the Vietnam jungle and watching a brutal and gory depiction of Pitsenbarger's rescue of over sixty men, which we've seen before. Nor is it about an interview tour of America hearing the stories from surviving veterans who served with him…which we've seen before. The Last Full Measure is really about why Pitsenbarger's original nomination for the Medal of Honor was downgraded to the Air Force cross and the politics behind it. We've never seen that before.
What is also amazing to me is how this movie boasts such an incredible cast? It's a who's who of great actors. I wonder what was it about Pitsenbarger's story that brought them all together for this specific film…outside of the obvious. Here's who is in it: the aforementioned Sebastian Stan, Lisa Gay Hamilton, and Bradley Whitford as the Pentagon staffers. William Hurt is Pitsenbarger's best friend and mission partner. Diane Ladd and Christopher Plummer are his parents. Samuel L. Jackson, Ed Harris, John Savage, and Peter Fonda all plays a few of the men he saved. Let's also add Linus Roache and Amy Madigan to round out this veteran cast.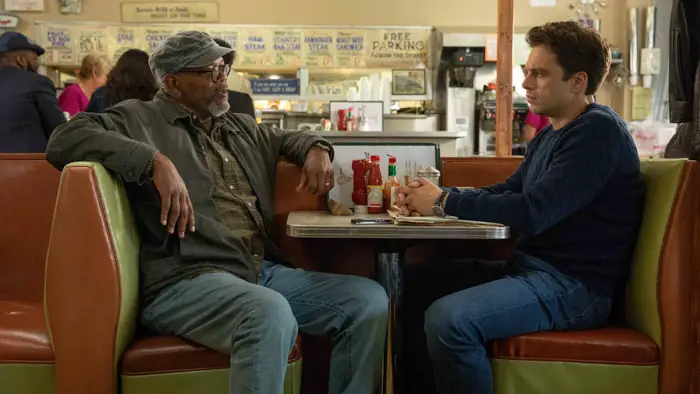 "…whether Pitzenbarger is worthy of having his Air Force Cross upgraded to the [Medal of Honor]."
William Pitsenbarger was a U.S. Air Force Pararescuemen medic. On April 11, 1966, U.S. Army's 1st Infantry Division was in the middle of the war's bloodiest battle as the division would be ambushed and outgunned. Pitsenbarger was on the ground rescuing wounded soldiers amid the battle. He camouflaged the wound by piling dead soldiers on top of them and even grabbed a rifle for cover. In saving sixty men, he gave his life even though given the opportunity to fly out with the medical chopper.
Flash forward to 1999, Huffman is the typical rising politician given a go-nowhere assignment and uncovers the real reason…you know, politics…why Pitzenbarger's medal was downgraded, and it involved a high-profile senator. As Huffman travels the country (and to Vietnam) to interview those men to grasps the full-impact of Pitzenbarger's sacrifice, Huffman is ultimately forced to choose between doing the right thing over cover it up for the sake of his political career.
Before going into The Last Full Measure, I kept thinking to myself, "I've seen this before." I wouldn't say the storytelling here is exactly groundbreaking, but I did appreciate its unique approach to telling the story. The flashback to Pitzenbarger's heroics was fairly standard war movie fare, but then you move to this supposed "innocuous" investigation, and it become a riveting story about being a veteran and politics. Yes, each of the veterans played brilliantly by Jackson, Savage, Fonda, and Harris are amazing. They bring proper respect to the men they portray and conveniently serve as archetypes for the PTSD veterans today.
The Last Full Measure is about storytelling, shining a light on the Vietnam veteran—who still deserve our respect, and a man who gave the ultimate sacrifice for his brothers. The way the story is told is fresh, the violence is not sensationalized at all, and the acting is top-notch. It's a film that is in danger of falling off the grid and is a must for any military or historical drama fan. Again, how did they pull this cast together!?!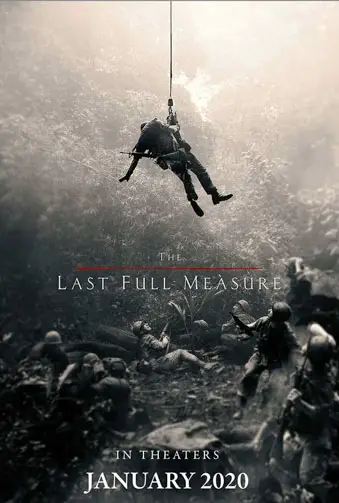 "…how did they pull this cast together!?!"