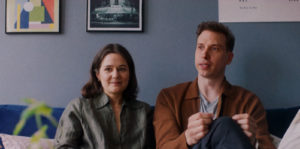 BFI LONDON FILM FESTIVAL 2023 REVIEW! There is a scene at the start of this film which has real skill. Our heroine undergoes hypnosis. We focus on a metronome, then her arm, as she is told it's getting heavier. These are some of the only close-ups in the entire movie. We get the sense that something has happened, but we don't know what. The style flips back to business as usual, but all things feel precarious.
And, business as usual is a crowded zoo of people arranged in fun ways.  The Hypnosis couldn't upstage an actor if it tried. The jagged little sets with their corporate blobs of orange and blue trap the cast in the frame like fish in a tank. Even characters slouching in the distance have the power to raise a smile, so thickly are the manners spread about in this wild story.
They live in a weird world—Vera (Asta Kamma August) and Andre (Herbert Nordrum). Young application developers who have been sucked into the orbit of a snobbish technocrats ball by winning entry to a three-day camp for pitching to investors. But the event is an absolute Jonestown of smarmy business kung fu run by simmering guru Julian (David Fukamachi Regnfors), and the young couple have a serious problem on their plate – Vera has gone a bit mad.
"…the event is an absolute Jonestown of smarmy business kung fu run by simmering guru…"
What rockets this little movie along is the performance of Kamma August. This is a killer role that begs for a Hollywood remake someday. But for now, Kamma August is perfection in a provocative fable about the dangers of wishes. Hypnotized to stop smoking, Vera is instead traumatized by a vision of her childhood self uncovered by her therapist. As the days and hours pass, Vera sinks into a deepening episode that chafes against the conference one moment and then is feted by it the next. Our heroine randomly generates doom and delight for all. The other participants, trapped and unlikeable, seem to light up as Vera blazes past them half-crazy, spurring the reflection that they are not the ones flaming out today. 
Vera herself, deeply unsure of her commitment to her boyfriend and worried they are selling out, assumes the effects of a knight errant conjured by her childhood self; an invisible dog, good humor, and being fearless around snacks.  
Despite being in nearly every shot, Herbert Nordrum, as Andre, spends so much time reacting to Vera he resembles marginalia in a comedy Bible. His cherubic face is a twisted herald for the woe of it all. It's trouble he is not fit to help with. He looks like he's drowning. They all do. The hotel setting has an airless quality, forever glassed in. 
Vera is a mystery to most around her. With a few snatched words of her hypnosis as clues, the audience sees some logic in the chaotic path she beats. Still, the film is at its best when unsure about our protagonist, finding her buried beneath business and clouded by trauma. 
This is a great comedy that gets under your skin. It's hard to imagine the two leads being any better than they are. Highly recommended.
The Hypnosis screened at the 2023 BFI London Film Festival.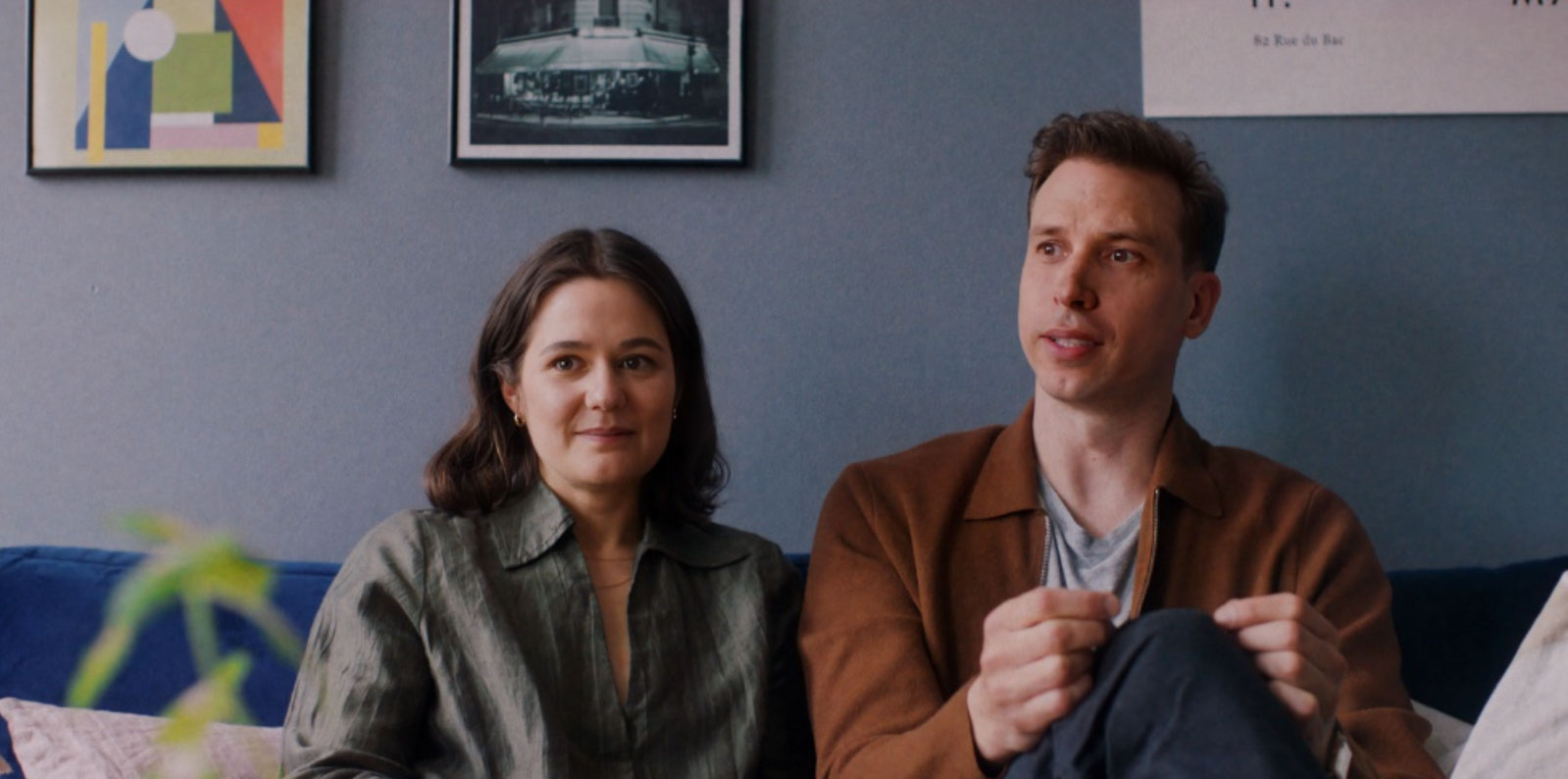 "…a great comedy that gets under your skin."