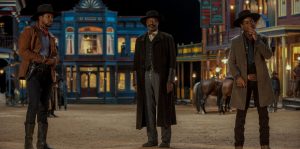 NEW TO NETFLIX! It's hard to believe that The Harder They Fall is writer-director Jeymes Samuel's feature-length debut. Brother of none other than the beloved musician Seal (!), Samuel has so far been primarily known for his career as a singer-songwriter (he's also known as The Bullitts, inspired by Steve McQueen's classic). Yet the assurance he displays in this Netflix-produced Western, led by a jaw-dropping ensemble cast, leaves much more seasoned filmmakers in the dust.
Come to think of it, Samuel's background has always straddled the line between film and music. His studio album, They Die By Dawn & Other Short Stories…, is highly cinematic; it even boasted an appearance from Lucy Liu. He worked on Baz Luhrmann's The Great Gatsby, where he met Jay-Z (a producer here). The two art forms collide and morph in The Harder They Fall, which moves to its own electric rhythm, like a beat-driven, extended music video of the highest caliber. I really do mean it as a compliment. To rephrase, it's music-made-cinema.
So obviously, the soundtrack featuring, yes, Seal, Jay-Z, Lauryn Hill, and CeeLo Green is excellent, not only perfectly complementing but becoming an essential part of the narrative. But it's the way the filmmaker makes his story move, the elegant way the events unfold, how he sustains the delicate brutal/side-splitting/gravely-serious tone of the piece that impresses the most. He embraces the beloved conventions of the genre and subtly turns them on their heads.
The plot in a nutshell: outlaw Nat Love (Jonathan Majors), after witnessing the brutal death of his parents as a child, assembles his gang to go after the recently-released Rufus Buck (Idris Elba) and his band of outlaws. Yes, Tarantino comes to mind as there are non-stop allusions to/blatant theft of his signature embellishments we all know and love/loathe. Juicy, heightened dialogue, pronounced with lip-smacking relish? Check. Split-screen? Check. The aforementioned jarring mix of violence and comedy? Check. A master stealing from a master, who in turn steals from the greatest masters? Absolutely.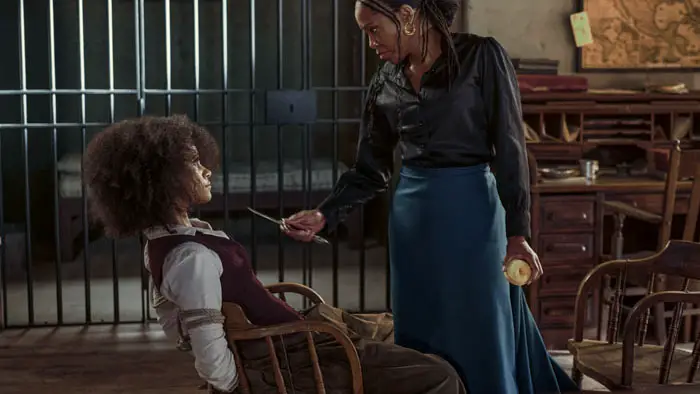 "…[Nat Love] assembles his gang to go after the recently-released Rufus Buck and his band of outlaws."
But I'll take a ridiculously entertaining, superbly written, gracefully progressive (in multiple ways) copy of a copy over preachy, pandering rehashes. Isn't every Marvel movie a copy of a copy? Or every other new action blockbuster? With The Harder They Fall, Samuel places Black heroes front and center, along with strong, memorable female protagonists, and it never comes close to feeling obligatory (I'm looking at you, Eternals, although my esteemed colleague disagrees in his wonderful review).
The Western starts by proclaiming these people existed. Historically, in cinema, Black people have been portrayed as victims in Hollywood, more recently victims who break through the mold and achieve redemption. While there's undeniable, tragic truth to that, Black people were also heroes, outlaws, gunslingers, folks with power, fierce intelligence, sometimes tender, sometimes justifiably violent. So it's refreshing, to say the least, to watch these fleshed-out characters do their thing.
Each of the performances in The Harder They Fall serves as a masterclass of acting. Majors proves once again that he is one of our most charismatic leads (see him in The Last Black Man in San Francisco). He's pure energy here, a hero out for revenge who somehow comes off both relentlessly determined and nonchalantly optimistic. As for the rest of the splendid cast, the stoic Zazie Beetz, the loyal and badass Regina King, the nihilistic Idris Elba, the soft-spoken LaKeith Stanfield, and especially Danielle Deadwyler deserve extra-special notice. These characters won't soon leave your mind.
The Harder They Fall delivers a good, albeit familiar, story. Almost every scene impresses and has something to say. How refreshing is that? It's been a while since a major production entertained and enlightened to such a degree, with nary a wrong step, for over two hours. If you can stomach the violence, you're in for a hell of a ride. Here's to the Western revival. I'm all about Jeymes Samuel leading this gang.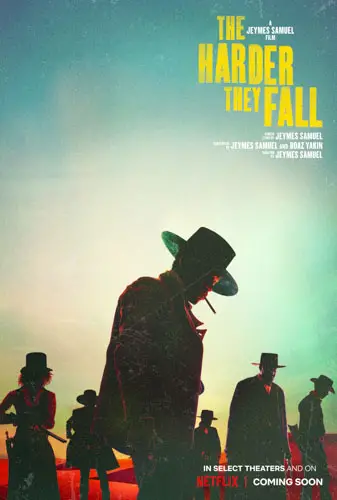 "…you're in for a hell of a ride."