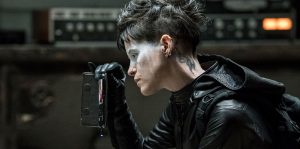 Let me first preface this review with the fact that I am not incredibly knowledgeable about the whole world surrounding Stieg Larsson's wildly successful book series which started with The Girl With The Dragon Tattoo. I did see the Niels Arden Oplev film adaptation of that book. NO, I didn't see the David Fincher one, sue me. Generally, I am not on board with remakes, but maybe one day I'll give it a go. I also didn't see (or read) The Girl Who Kicked The Hornet's Nest, The Girl Who Played With Fire or the Millennium mini-series.
I'm mentioning all of this to let you readers know that I am only mildly acquainted with the source material that precedes The Girl In The Spider's Web: A New Dragon Tattoo Story. I saw some trailers and thought it seemed kind of interesting but was not necessarily moved to see it ASAP. Another thing I might have to admit, which might piss a whole different set of people off, is that I haven't seen Netflix's The Crown yet either. I do know that Claire Foy won an Emmy for her portrayal of young Queen Elizabeth, so that made me more excited to see this film.
Something that surprised me when the film got going is that one of the co-stars in the film is one of my favorite new actors, from Atlanta and Sorry to Bother You, LaKeith Stanfield. He plays a former hacker turned NSA agent and is the only comic relief in the film. Also, the usually funny co-creator of the British version of The Office, Stephen Merchant stars as a scientist who created a computer program that's essentially "The Doomsday Machine" from Dr. Strangelove.
"…a groundbreaking computer program that has the ability to launch all the missiles in the world at once from anywhere."
I couldn't help but notice before I went to see this movie that it has a really baaaaaaad MetaCritic score. Usually, I don't pay attention to things like this before I see a film, or I'm lucky enough to see the movie before a lot of other people do. This time, I looked at the score. So I had no idea what I was in for, but I was expecting it to be bad.
It actually wasn't THAT bad. The Girl In The Spider's Web is fine. In comparison with The Girl With The Dragon Tattoo, it is kind of awful, but as a stand-alone film, it's fine. It reminds me of a mix of two of the lesser Jason Bourne or James Bond movies with a female protagonist. Also, I will go ahead and throw in Batman because this film is basically about Lisbeth Salander using a series of high tech toys to rescue an autistic child from someone she least expected. When I say Batman, I mean more of the bat-man in cartoons or Batman & Robin, because again, this film is pretty mediocre.
The reason this film is not that great is that the story is all over the place and not enough time is spent on all the different elements that were probably in the David Lagercrantz novel which again, I haven't read. It goes to show that some books should just be left the hell alone. I feel that way about MOST (not all, so don't have a heart attack) of Stephen King's books, and honestly most others. The most recent example of an extremely disappointing book adaptation harkens back to Stephen King with The Dark Tower movie. That movie could have been AMAZING, but something happened along the way. I tend to typically blame the studio heads or the money dudes, so I'll just stick with that in both cases, though I'm not really sure.
The basic premise of The Girl In The Spider's Web is that Lisbeth Salander is contracted by a client, Frans Balder (Stephen Merchant), who created a groundbreaking computer program that has the ability to launch all the missiles in the world at once from anywhere. He regrets making the program and wants Salander to destroy it. On the other side, the Swedish government and a surprise antagonist want the program for themselves. Also, of course, the NSA in the good ole U.S. wants to keep it as well. That's when we commence with the Hackers meets Joel Schumacher Batman antics.
"…all over the place and not enough time is spent…in the David Lagercrantz novel…"
The film does have a couple of really cool action sequences, and the production design and cinematography are good. However, I'm inclined to wonder if this film really should have been made. The performances were what saved it from being total trash, even though the writing was definitely not great. Claire Foy, especially, did the best she could to bring this version of Lisbeth Salander to life. I can't forget to mention that Vicky Krieps, who was amazing in Paul Thomas Anderson's The Phantom Thread, has a teeny-tiny part and she is criminally under-utilized in this film. We also get a brief yet great appearance from Cameron Britton, who is probably best known for playing Ed Kemper in Mindhunter with a not-that-fantastic Swedish accent as the hacker Plague.  
I will again mention that LaKeith Stanfield's performance is my favorite part of this movie. It is a bit distracting that the costume designer chose to make him look like an extra in the "Black Republicans" sketch from Key & Peele, but other than that, he's the most likable character in the film. Lisbeth Salander is not a likable character in general, which even I, being someone who's seen only the one movie can tell you. Claire Foy does make her sympathetic, but I still don't think anyone can beat Noomi Rapace's interpretation of the role. Call me a purist, I guess.
The Girl in the Spider's Web is fine for watching at home during a storm when you're not really paying attention or are sick with the flu. It's not the worst movie I've ever seen, but it's definitely not the best either. It's just…mediocre, which is a shame because it could have been much cooler.
The Girl In The Spider's Web: A New Dragon Tattoo Story (2018) Directed by Fede Alvarez. Written by Jay Basu, Fede Alvarez, and Steven Knight. Starring Claire Foy, Sverrir Gudnason,  Stephen Merchant, LaKeith Stanfield, Vicky Krieps, Cameron Britton, Sylvia Hoeks.
5 Out of 10 Stars