At first glance, the day-to-day life of septuagenarian Ingrid Gipson might strike some as a cruel sentence of hard labor, but that's far from the truth. In Ingrid, we see her indulge in back-breaking work, hauling heavy stones that would challenge a woman or man half her age. But her adopted wilderness home, built from the rocks we see her purloin from the National Forest, and the hardships and joys of her existence are all part of the life she passionately leads.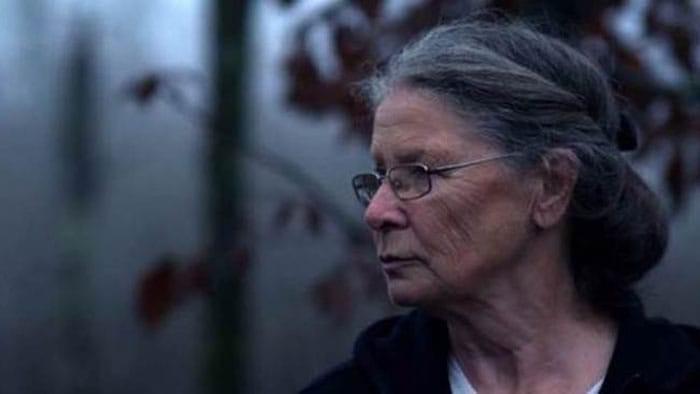 "Eventually, pressure from her job came to a breaking point…"
Morrisa Maltz's stunningly beautiful portrait of this rugged individualist helps us understand why Gipson decided to retreat from her former life as a Texas fashion designer and socialite. We also get an up-close view of the rewards she reaps from her all but solitary existence.
A native of Germany, she married a soldier after the war and moved with him to Texas. The couple had one child, and eventually divorced. She married again and had another child. In the 1980s she worked as a fashion designer and lived a comfortable, if extremely busy life as a mother and working woman. Eventually, pressure from her job came to a breaking point. After buying land in Oklahoma and making frequent trips there, she left he job. Her second marriage dissolved and she made Oklahoma her home.
The film, splendidly photographed by Andrew Hajek, takes its time in telling its story. At a lean 51 minutes, the filmmaker has seen to it that every frame counts. Scenes of Ingrid at work — and she does seem to be constantly working — are accompanied by voiceover in which she talks about her passions and her life, including allusions to her brutal childhood under her authoritarian father. Her work is far from drudgery filled, however. She models sculptures from clay and seems to have an artist's eye for detail. She also raises her own food, including rabbits. One short and not too graphic scene may be one that more squeamish viewers will want to skip.
"At a lean 51 minutes, the filmmaker has seen to it that every frame counts…"
Rather than a mere lifestyle change, Ingrid's chosen life seems more like a calling. Some might tag her as a hermit, but that would be an oversimplification of her world view. She explains that she didn't assume her current life to get away from people, but rather to get closer to the simple pleasures that she loves. We see her marvel over the colors in the stones she collects, the beauty of the natural environment she inhabits as well as the serenity that she now enjoys. And the buildings that she's put up are remarkable in their design and execution; some might wonder if there's anything that this woman cannot do — from masonry work to birthing calves. Given enough time, material and energy, her creative output would undoubtedly be boundless.
Ingrid (2018) Directed by Morrisa Maltz, starring Ingrid Gipson. Ingrid is playing as part of the 2018 Atlanta Film Festival.
9 out of 10
Check out the Ingrid trailer here.