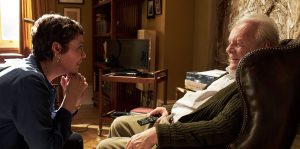 "This nonsense is driving me crazy," Anthony exclaims. It may sound somewhat nonsensical and irritatingly fractured, but Zeller's assurance behind the camera, the brilliant script, and, of course, the cast make it all flow like a grand cinematic soliloquy, a reflection of a wise but decaying mind. As the puzzle pieces fall into place for the audience, Anthony's world becomes that much more tragic. Ben Smithard's gorgeous camerawork basks everything in autumnal hues, catching particles of air in the dying sunlight, signifying the end of things before they are truly gone.
As Anthony's memory fades, he regresses back to childhood ("I want my mommy, I want her to come and fetch me, I want to go home"). Zeller is keenly aware that comedy and tragedy are deeply intertwined – our mere existence is both comic and tragic – and he expertly infuses moments of dark humor into the otherwise-grim proceedings. "Are you a nun?" he asks Laura. When she stammers, "No," he continues, "Then why are you speaking to me like I'm retarded?"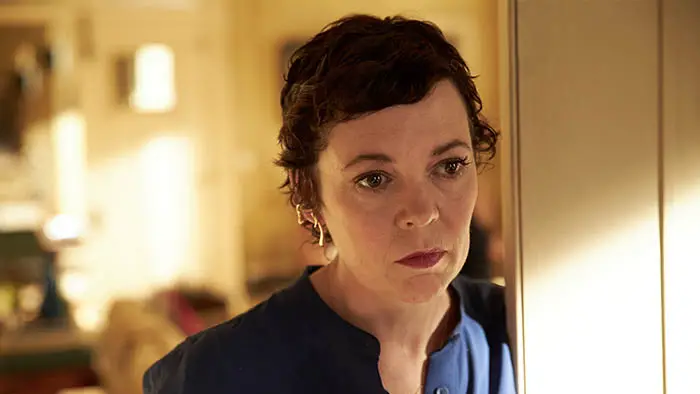 "…I defy your tears to stay in those ducts."
I've been Olivia Colman's fan ever since I got hooked on the British sitcom Peep Show (which, if you haven't yet seen, I strongly recommend). She's always been fabulous, but since the early days of Peep Show, Colman has matured into one of our best leading actresses, and her rise to stardom has been incredible to watch. So radiant as the Queen in Yorgos Nathimos' The Favourite, here she wisely allows Hopkins to take center stage, but more than holds her own in scenes so achingly real, I defy your tears to stay in those ducts.
And then there's Hopkins. He's embittered and dry, narcissistic and charismatic-as-all-hell. "She's not very intelligent," he speaks of his daughter, "she takes it after her mother." Yet he's also dependent on Anne, for as we all know, we unleash our deepest furies on those we love the most because we know they can take it. The rapport between Hopkins and Colman is the stuff of cinematic dreams: lived-in, believable, tremendously painful, and painfully resonant.
The Father is about the suffering of old age, the importance of connection, the sick encroaching of an affliction, and ultimately, death. It doesn't sugarcoat things, despite its sugarcoated exterior. Like its French counterpart, Michael Haneke's Amour, it's not an easy watch, but it's a necessary one, a film that examines the very essence of our humanity. Go watch it with your dad, if you're lucky enough to have one, then take a deep breath of air. Life goes on. Day by day. Until it doesn't.
The Father screened at the 2020 AFI Fest.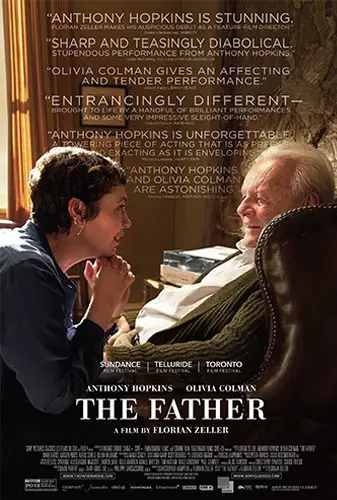 "…examines the very essence of our humanity."