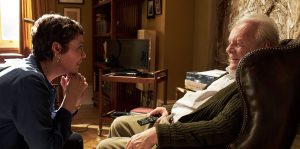 Every once in a while, there comes a career-defining performance from a master actor that doesn't just steal a film… it owns it. It seeps into each of the feature's celluloid pores, transforming it into a cerebral experience, a cinematic confession, a retrospective glance at the entirety of the actor's filmography. Anthony Hopkins' mesmerizing turn in Florian Zeller's feature-length directorial debut The Father may just be the most vulnerable and brutally candid he's even been–which is quite the feat. This is Hopkins firing on all cylinders. No holds barred, pedal to the metal, as raw as acting gets. By the time the last, lingering frame fades like a gentle but final exhalation of breath, you will find yourself breathless.
Sure, label it an award-bait flick if you're so inclined. Sometimes, award-bait films are marked as such for a reason: because they are award-worthy. The Father does scream "classy Hollywood production": it's led by a spectacular cast of stalwarts, penned by Oscar-winning screenwriting legend Christopher Hampton and helmed by a classy up-and-coming French director adapting his own play. But it's also modest in scale, never straying too far from its theatrical roots; a chamber piece, if you will. The Father is honest in its ambition and passion; in other words, it's an indie film viewed through a glossy Hollywood lens, or vice-versa (whichever you prefer).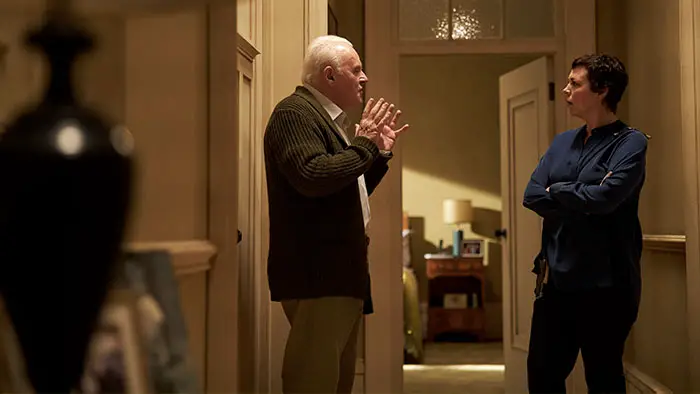 "…struggles to find a caretaker for her father, Anthony, who's experiencing the onset of dementia."
At first, we follow Anne (Olivia Colman) as she struggles to find a caretaker for her father, Anthony (Anthony Hopkins), who's experiencing the onset of dementia. Dependent on his daughter for the last, ephemeral traces of clarity, Anthony refuses to let her go, accusing potential helpers of stealing his watch. When Anne tells him about her plans to move to Paris with her boyfriend, he's baffled. "So if I understand correctly," Anthony says, revealing a heavy past of resentment, "you're abandoning me."
The film switches perspectives and delves deep into Anthony's mind. Reality becomes fragmented, things happening out of sequence, characters assuming roles of other characters, locations changing with the slam of a door. Next thing he knows, Anthony is facing Paul (Mark Gatiss), Anne's husband of ten years, in what is undoubtedly not Anthony's apartment. "She told me the other day she was going to live in Paris," Anthony tells a befuddled Paul. "She told me she met a Frenchman."
Anne similarly morphs into a different woman (Olivia Williams), who insists she's Anthony's daughter. Paul vanishes. Anne tells her dad that she's been divorced for years. Before Anthony can regain whatever is left of his senses, Olivia Colman's Anne hires the highly likable Laura (Imogen Poots) to look after him. After charming her with that trademark Hopkins wit, Anthony turns on poor Laura in what must be one of the most powerful sequences in a film composed entirely of powerful sequences. Then, there's Anne's boyfriend, Paul (Rufus Sewell), who's fed up with having the old man around.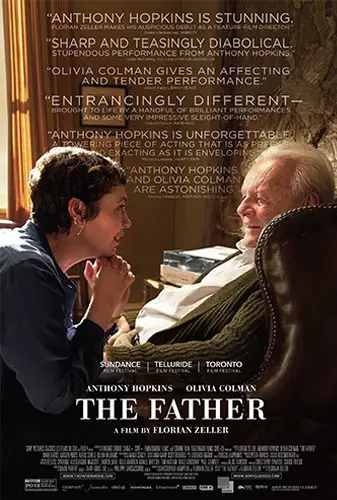 "…examines the very essence of our humanity."