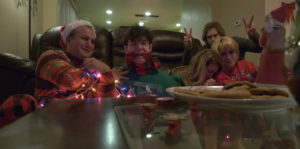 With The Christmas Tapes, Livings and Nundlall Jr. prove they know how to do scary. Fear bubbles up and boils over frequently, like a pot of blood on a stove in Hell. They have mastered using the found footage format's claustrophobic perspective to heighten the dread potency. They also have a marvelous knack for character development and tone that maximizes the horror. This may not be immediately apparent, as the intentionally low-budget apes reality and the pace to get to the good stuff will dissuade some. Trust me, this is a Christmas hayride worth staying on.
I totally got into each segment and was impressed by how the tales' omens landed sickening bullseyes. The film is light on gore but heavy on the creep factor, which I found very impressive. My only Christmas wish for The Christmas Tapes was I wanted five minutes removed from The Xmas Spirit. The slob humor generated by Paranormal Perry needs trimming as it threatens to overwhelm the build-up to the excellent nasty tree-topper finale. I would have liked to see that extra time added to The Gift, as the present opening is a lot of fun, and a couple more presents would have been wildly entertaining.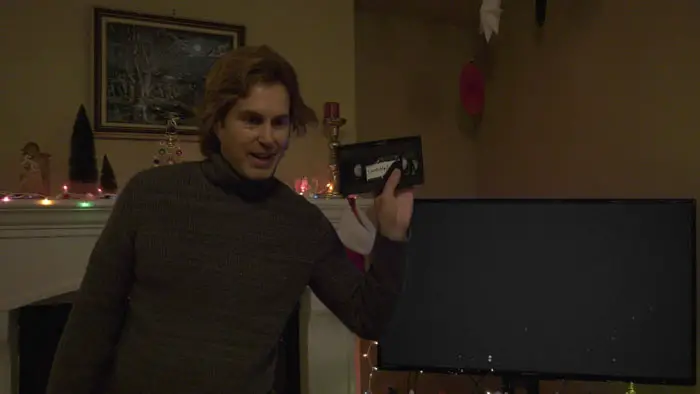 "…Livings and Nundlall Jr. prove they know how to do scary."
A big part of why this works so well is its star power drawn from the cult cinema world. Sestero, our anthology host with the loaded gun, is none other than Mark from The Room. You can scream, "Mark, you're tearing Christmas apart!" when he shows up onscreen. Also, many will recognize Sheridan as he has over 75 acting credits. I will always remember him sporting the most legendary mullet in screen history as shirtless Doug in Ghost World. But the real casting stunt here is producer Vernon Wells as Santa. He played the mohawk-wearing henchman Wez in The Road Warrior, a role and haircut he semi-reprised as Lord General in Weird Science. Wells' jolliness in the part is perfect, as his polite and generous nature makes his fiendish actions all the more sinister.
The poster I saw for The Christmas Tapes was a painting with Sestro, Sheridan, and Wells dressed as Santa. They are standing against a backdrop of darkness, driving the casting trifecta home. This Christmas horror anthology is definitely for the connoisseurs of yuletide oddities.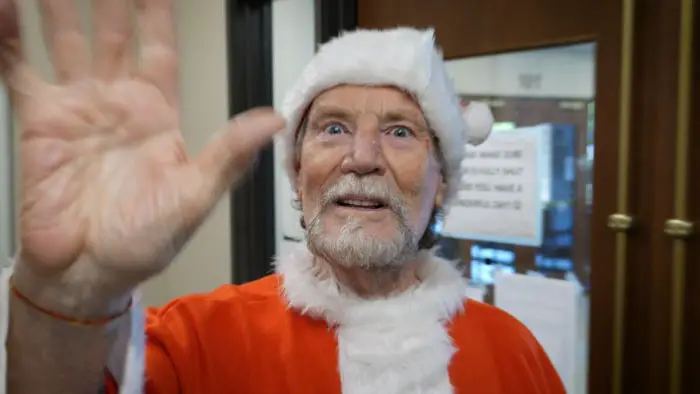 "…for the connoisseurs of yuletide oddities."