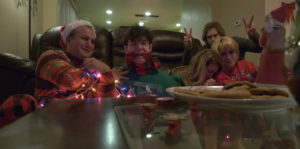 If you like your solstice season decked with dread, then yule be so sorry if you miss The Christmas Tapes. This exceptional found-footage holiday horror anthology is written and directed by Robert Livings and Randy Nundlall Jr. The opening footage is of a family around the tree on Christmas Eve. Rachel (Ruby Setnik) got a video camera, her brother Eli (Joshua Rose) got a rad red scarf, and her parents, Lisa (Janice Angela Burt) and Bill (Todd Lubitsch), are trying to figure out which Christmas movie to rewatch.
Now, who should show up at the door with a big wrapped present under his arm but Geoff (Greg Sestero)? Poor Geoff's car broke down, and his phone is not working. Can he call someone? Aw, nuts, Geoff's ride won't be here for a while. He'll go out in the cold and wait. What? How about staying inside and watching a Christmas movie? Rachel goes upstairs to record her concerns with this stranger on camera privately. When she returns, Geoff pulls out a gun and ties the family up with ribbons and tinsel. He opens the box he brought in, which is filled with videotapes of what he insists are the best Christmas movies ever made.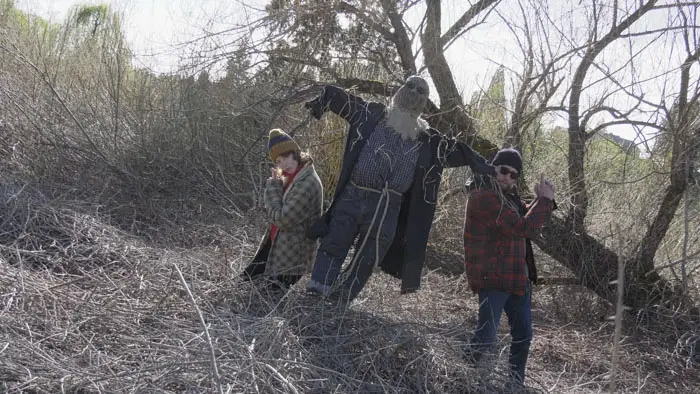 "…Geoff pulls out a gun and ties the family up with ribbons and tinsel."
Travel Buggies shows a couple, Jess (Louise Harding) and Dave (Caleb Lush), on their internet travel show camping out in the woods during the holidays. Unfortunately, these are the same woods guarded by the mythical Hans Trapp (Romulo Reyes), a holiday boogeyman who breaks the necks of misbehaving children. The Gift sees Dean (Jason Kuykendall) trying to get himself shipped as a present in a giant box for his kids to open. As shipping companies refuse to deliver humans, he enlists someone from Facebook who goes by the name of Santa Claus (Vernon Wells). While driving to Dean's house, Santa picks up Mrs. Claus (Lori Richardson) and then loads Dean into the crate. He soon realizes they are heading away from where he lives and gets knocked out when the container is opened, waking up in a room full of blinking lights and a stack of presents numbered 1 through 12. The Clauses want him to pick some gifts to open. Half will make wonderful things happen. The others will result in something horrible.
The next segment of The Christmas Tapes is intriguingly titled Untitled. It features a guy in a dating video (Dominic Laurente) waking up in the woods with a microchip in his head and an explosive package. A voice explains that he has 15 minutes to deliver the package to a room in the pink hotel nearby. If he doesn't, then he'll blow up. Also, the microchip has glitches, including lapses in time, causing some very disturbing hallucinations.
The final tape is called The Xmas Spirit. Devin (Devin Valdez) and Ian (Ian Hopps) arrive at their new home the night before Christmas Eve to find the movers never arrived. They realize they will have to make do with an air mattress and what they brought themselves. Devin hears some twinkling music and finds a box of Christmas decorations in a box in the closet, which she puts up. Eerie things happen that night, and they feel they need to bring in professionals the next day. However, due to the holidays, their request is farmed out to Paranormal Perry (Dave Sheridan), who's rude, crude, and barely holding it together. But he gets to work hunting for bad ghosts in the new house. Geoff shows each tape at gunpoint to the fear-stricken family while having Rachel film everything, as he plans to make another great Christmas movie.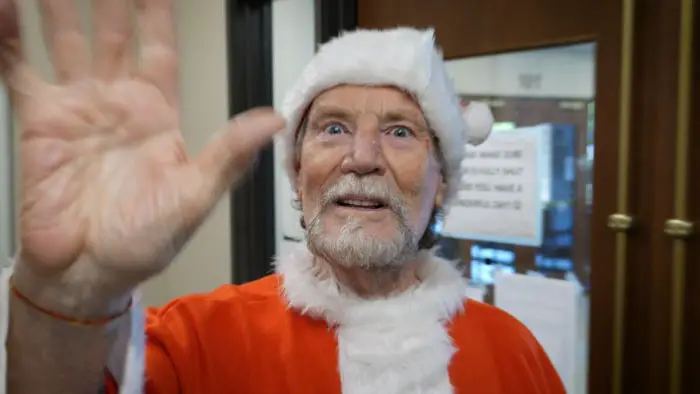 "…for the connoisseurs of yuletide oddities."