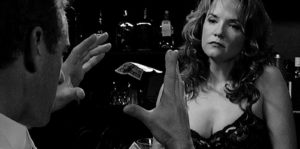 Ten Tricks is a black-and-white comedy centering around sex. The narrative examines people's desire for sex, its different permutations, and whether or not sex is enough beyond an actual relationship or an authentic connection to somebody. Writer-director Richard Pagano sets his story at a brothel and observes the various ladies of the house and their clientele.
Even though it is her birthday, Grace (Lea Thompson), the proprietor of the brothel, is at work. However, she's expecting a special someone to stop in for a quickie so she can finally become pregnant. As Gace awaits her lover's arrival, she tells the patrons a few stories. These are the bulk of the film, as it involves various women at the brothel and their current clients. Brittany (Brittany Ishibashi) becomes starstruck after meeting a famous, though over-the-hill comedian (Damien Leake). Amber (Beth Skipp) begins falling for a French man who seems to feel the same.
Meanwhile, at her home, hardworking CEO Nancy (Molly Brink) has hired male escort Sal (Raymond Cruz). But unfortunately, things quickly go downhill after he arrives. Can people have sex without letting it get complicated? Are humans' basest desires just a means to connect with someone, if only for a night?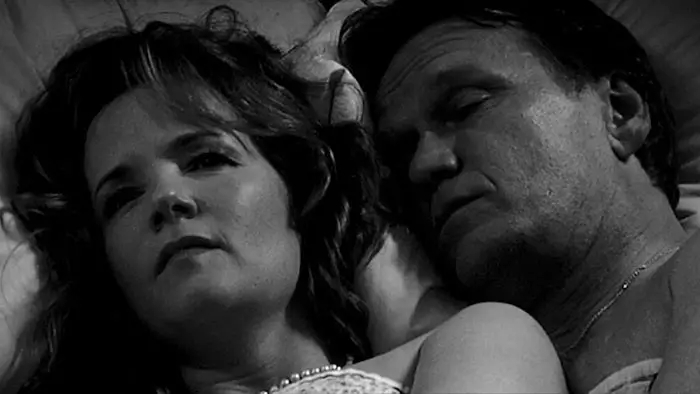 "…observes the various ladies of the house and their clientele."
Ten Tricks operates entirely on its own wavelength, and audiences will either get swept up in the silly shenanigans or be put off. Yeah, Pagano's quirky, little feature is not for everyone, though there's plenty to like about. For starters, the black-and-white cinematography is quite striking, and the editing balances all the narrative strands well.
But far more crucial to the film's success is the cast. Thompson is perfect, getting to show off a range of emotions that are understandable and relatable. If nothing else, the film is a reminder of why the actor became a star in the first place. Happily, she's surrounded by people who also give it their all.
Brink and Cruz play off each other wonderfully, going back and forth between attraction and frustration. Ishibashi shows her range in the segment involving a scientific experiment. She's sultry and fun and sells the joy of sexiness (the two never actually go it) quite well. Skipp is charming and utterly delightful throughout.
Ten Tricks is a sweet, goofy little comedy about sex. If that or any of the stars appeal to potential audience members, then prepare for a sexy and silly time. But, if one is too prudish to celebrate what comes naturally to all species on this planet, then Pagano's fun trifle of a film is not for you.
Ten Tricks is currently available on Fandor and coming to all major streaming platforms.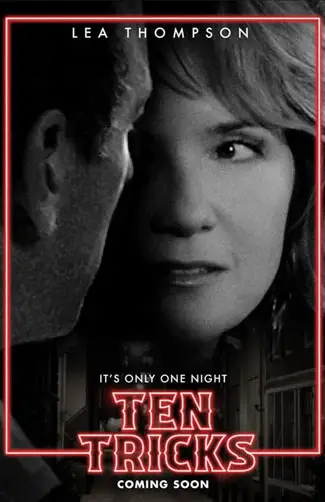 "…prepare for a sexy and silly time."