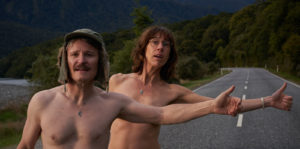 TRIBECA FILM FESTIVAL 2022 REVIEW! I was intrigued when I heard that director Armagan Ballantyne's New Zealand indie movie Nude Tuesday was filmed entirely in a made-up language. Off the beaten path appeals to me because what else are we doing here if we aren't looking to discover new things? I watched a video where Chris Gore described Film Threat as being "punk rock," and that's when I knew that it was the site for me. Play it loud, fast, break the rules, and do it yourself. Does the comedy do any or all of the above? Kind of. It's definitely a bit offbeat and has the makings of a cult classic, but the meat of the story is sadly quite conventional.
The film centers on a suburban, middle-aged couple who are in a big-time rut. Laura (Jackie van Beek, who also wrote the screenplay) and Bruno (Damon Herriman) are having a rough time navigating life, especially in their passionless marriage. To play reginite the flame, they are gifted a trip to a new-age, sex-cult retreat, headed by the wacky leader Bjorg (Jemaine Clement). Laura and Bruno usually never go for this sort of thing, but it's a last-ditch effort to save their marriage. Whil they slowly learn to embrace the weirdness, the movie's major focus is whether they can figure out how to put that same energy into loving each other once again.
The cast of Nude Tuesday is top-notch in every aspect, especially when leaning into the absurdity of it all. Supporting players such as Ian Zaro as Rufus, a grocery store manager who happens to also be in the cult, as well as a major object of Bruno's ire, really add to this strange world. Clement brings the kind of comedic performance you'd expect, while van Beek and Herriman do a fantastic job of showing both the pain and the humor of a failing relationship.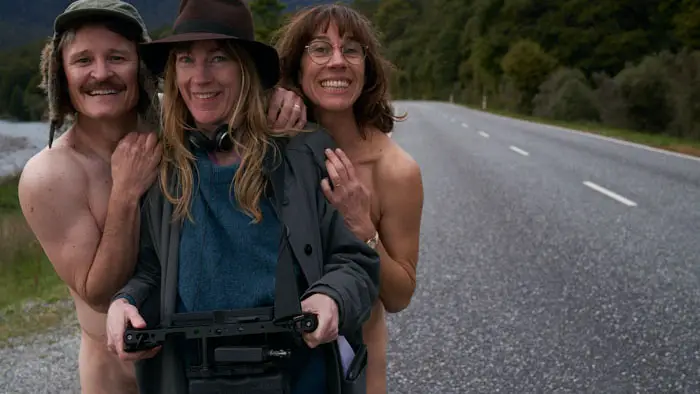 "…are gifted a trip to a new-age, sex-cult retreat, headed by the wacky leader Bjorg."
Comedy is subjective, so milage will vary, but I was hoping for more laughs given the premise and talent involved. The bits that are meant to be outrageous didn't shock me into laughter as was the intended result. Since the dialogue is gibberish with subtitles there is so much potential to explore different avenues. The filmmakers have also realized this because I've read that there are "multiple versions" with "subtitles created by contributing writers globally after release," including Julia Davis, Ronny Chieng, and Celia Pacquola.
I would love to see different, funnier versions of Nude Tuesday, with the whole concept possibly lending itself to cult classic territory, Rocky Horror-style. This would already be in that class if it were more comedic, but to add in the repeat viewing enjoyment factor of different dialogue options would truly cement it. Fans could make it into a Choose Your Own Adventure type of outing, which is an exciting thought for someone like me who grew up on that series.
The oddball, fun factor potential is present in Nude Tuesday. But as it stands, it's just another slightly strange, will they or won't they get back together, love story. There's nothing wrong with that, it just didn't "come original" as the band 311 sings.
Nude Tuesday screened at the 2022 Tribeca Film Festival.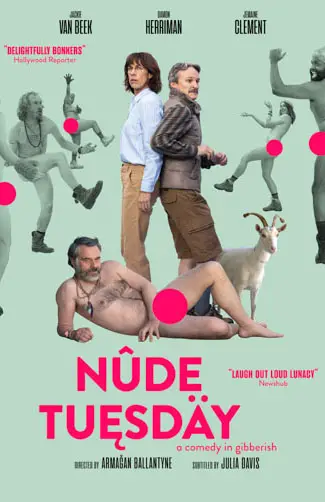 "…the oddball, fun factor potential is present..."