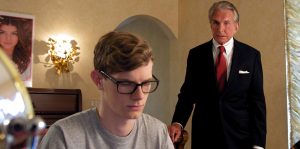 Later, while studying in the library, James overhears Lance and his two buddies complain about how the ladies on campus want to get to know you and have a real relationship. They then hit upon the idea to create a 'hook-up' app. Dubbed Jungle, this app would have harsh terms and conditions to use, such as the ladies aren't allowed to ask your name, where you work, request that you call them afterward, or pursue a second hangout unless the man initiates it. However, these three know as much about coding as a rock, so they enlist James to help them.
After a few weeks of coding, James announces that Jungle is ready. Lance and his friends go out and convince all their male friends, roommates, and classmates to join the app because all of its restrictions give them sex a la carte without any pressure for something more.
They convince the ladies to participate because all the guys already have. One thing leads to another, and before anyone knows it, Jungle is an enormous hit, not just on the campus but everywhere. The family dentist is using it, parents are using it, everyone, save for James and Hannah, is using it. Can James forgive himself for coding such an app? Once Hannah discovers the truth, will he be on the outs with her once again?
"…all men are h***y and only want sex…all women wanting to connect on a deeper level…"
Swiped, written and directed by Ann Deborah Fishman, aside from the prominent use of apps, feels like something out of the mid-1980s. It utilizes very simplistic and tired views, peddling the idea that all men, save for James, are h***y and only want sex. It also goes the opposite way, with all women wanting to connect on a deeper level. There aren't shades of grey at all. Women in the movie never want only to have a good time for a night. Just as preposterous for any guy (save James) to be genuinely interested in someone for her personality. Worst of all, Swiped exclusively trades in heteronormative affairs; there is not a single gay or lesbian couple, and not a single non-binary person to be found. This adds to the relic of a bygone era feeling (in a negative way).