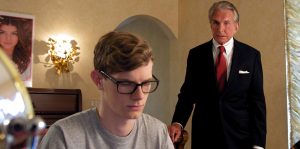 Early on in the comedy Swiped, Ashlee (Kalani Hilliker) tells her brother James (Kendall Ryan Sanders) that it is a shame his generation never interacts face-to-face anymore; how everyone looks at his or her screens all the time and that loses a bit of humanity. She then proceeds to look back at her phone and use one of its numerous features or apps. I haven't the slightest idea if that is intended as a meta-joke of some sort or not. Honestly, that describes the entire film. Plus, the audience discovers that his family, while they love James, don't understand him, so this is what he is discussing with his mom (Leigh-Allyn Baker) and sister on their way to college?
Arriving first to his room, James unpacks as Lance (Noah Centineo) walks in and determines that James comes on too strong; as such, Lance and James head out for some food. As James happens to pass by a club and notices a former classmate, Hannah (Shelby Wulfert) leaving. James is excited to see her, as they haven't spoken since he inadvertently embarrassed her at their high school senior prom. James proceeds to walk Hannah to her dorm room, apologizing for prom.
Let's pause the plot synopsis here, and discuss one of the oddest moments in Swiped. During this walk to the dorm, Hannah just wants to be left alone to continue reading her book. James asks what she is reading, and she replies Sense And Sensibility. In unison, they both say "…by Jane Austen." Hannah is surprised that James knows who Austen is and that he is familiar with her works. Consider her reaction to this super smart kid, whom she's known for several years…and somehow well aware of one of the most taught writers of the 19th century…is one of shock? If this moment is meant to be humorous, it just falls flat.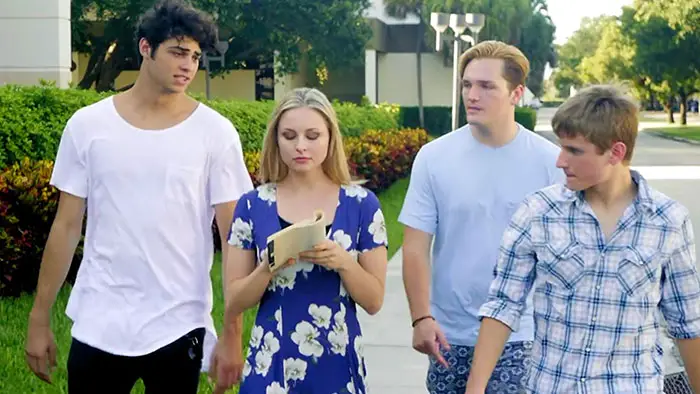 "They then hit upon the idea to create a 'hook-up' app dubbed Jungle…"
Anyways, classes begin, and James, Lance, Hannah, and Lance's two best friends all have the same computer science class, with Professor Barnes (Kirsten Johnston). The professor is a bit over-the-top and demanding, but appears to want her students to succeed.