Early on in the comedy Swiped, Ashlee (Kalani Hilliker) tells her brother James (Kendall Ryan Sanders) that it is a shame his generation never interacts face-to-face anymore; how everyone looks at his or her screens all the time and that loses a bit of humanity. She then proceeds to look back at her phone and use one of its numerous features or apps. I haven't the slightest idea if that is intended as a meta-joke of some sort or not. Honestly, that describes the entire film. Plus, the audience discovers that his family, while they love James, don't understand him, so this is what he is discussing with his mom (Leigh-Allyn Baker) and sister on their way to college?
Arriving first to his room, James unpacks as Lance (Noah Centineo) walks in and determines that James comes on too strong; as such, Lance and James head out for some food. As James happens to pass by a club and notices a former classmate, Hannah (Shelby Wulfert) leaving. James is excited to see her, as they haven't spoken since he inadvertently embarrassed her at their high school senior prom. James proceeds to walk Hannah to her dorm room, apologizing for prom.
Let's pause the plot synopsis here, and discuss one of the oddest moments in Swiped. During this walk to the dorm, Hannah just wants to be left alone to continue reading her book. James asks what she is reading, and she replies Sense And Sensibility. In unison, they both say "…by Jane Austen." Hannah is surprised that James knows who Austen is and that he is familiar with her works. Consider her reaction to this super smart kid, whom she's known for several years…and somehow well aware of one of the most taught writers of the 19th century…is one of shock? If this moment is meant to be humorous, it just falls flat.
"They then hit upon the idea to create a 'hook-up' app dubbed Jungle…"
Anyways, classes begin, and James, Lance, Hannah, and Lance's two best friends all have the same computer science class, with Professor Barnes (Kirsten Johnston). The professor is a bit over-the-top and demanding, but appears to want her students to succeed.
Later, while studying in the library, James overhears Lance and his two buddies complain about how the ladies on campus want to get to know you and have a real relationship. They then hit upon the idea to create a 'hook-up' app. Dubbed Jungle, this app would have harsh terms and conditions to use, such as the ladies aren't allowed to ask your name, where you work, request that you call them afterward, or pursue a second hangout unless the man initiates it. However, these three know as much about coding as a rock, so they enlist James to help them.
After a few weeks of coding, James announces that Jungle is ready. Lance and his friends go out and convince all their male friends, roommates, and classmates to join the app because all of its restrictions give them sex a la carte without any pressure for something more.
They convince the ladies to participate because all the guys already have. One thing leads to another, and before anyone knows it, Jungle is an enormous hit, not just on the campus but everywhere. The family dentist is using it, parents are using it, everyone, save for James and Hannah, is using it. Can James forgive himself for coding such an app? Once Hannah discovers the truth, will he be on the outs with her once again?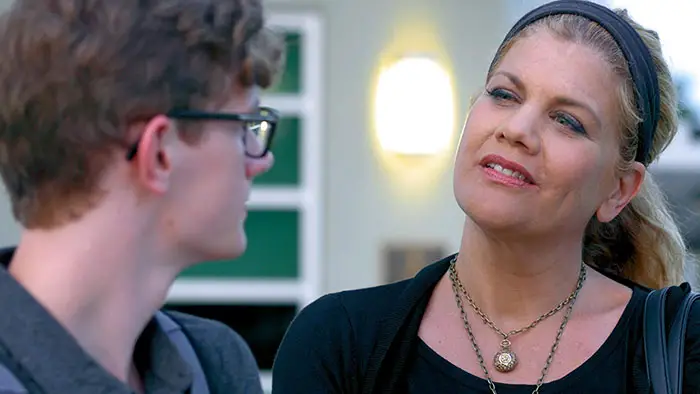 "…all men are horny and only want sex…all women wanting to connect on a deeper level…"
Swiped, written and directed by Ann Deborah Fishman, aside from the prominent use of apps, feels like something out of the mid-1980s. It utilizes very simplistic and tired views, peddling the idea that all men, save for James, are horny and only want sex. It also goes the opposite way, with all women wanting to connect on a deeper level. There aren't shades of grey at all. Women in the movie never want only to have a good time for a night. Just as preposterous for any guy (save James) to be genuinely interested in someone for her personality. Worst of all, Swiped exclusively trades in heteronormative affairs; there is not a single gay or lesbian couple, and not a single non-binary person to be found. This adds to the relic of a bygone era feeling (in a negative way).
Not helping matters is its barebones characters. James is a super nerd who has been coding since he was seven; Lance only thinks about getting laid; Hannah reads a lot. The other players, even major supporting characters, are so forgettable I am not sure I can list even a single trait of theirs. More than that though is the fact that I did not laugh once. Sure a smirk or smile here and there, but the movie is never all that funny.
While Swiped is terribly written but the acting is excellent, which makes the film more tolerable to watch. As James, Kendall Ryan Sanders finds a delicate balance between socially awkward and enduring. Noah Centineo is good looking and suave, and he does what he can with a thoroughly despicable character. Wulfert is charming as Hannah and almost manages to give her more than one trait, almost. The rest of the cast all suit their roles just fine, but, again, no one can rise above the script to make an impression on the viewer.
Swiped is a comedy that is not funny; granted such things are wildly subjective (e.g. I don't like Louis CK). Beyond that though, its take on relationships is remarkably dated and coupled with its strictly heterosexual view of relationships and one-dimensional characters, there is little to engage the audience. The actors all try their best, but they can't make the subpar script rise above sheer mediocrity.
Swiped (2018) Directed by Ann Deborah Fishman. Written by Ann Deborah Fishman. Starring Kendall Ryan Sanders, Shelby Wulfert, Noah Centineo, Kirsten Johnston, Leigh-Allyn Baker, Kalani Hilliker, George Hamilton.
4 Gummi Bears (out of 10)