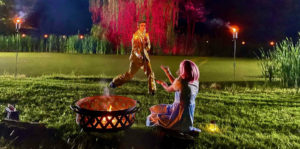 Director-writer Imelda O'Reilly's charming short film Suspicious Minds is a quick meditation on what it is to be displaced and how sometimes letting go can be the best thing. The film opens on a Halloween rave in New York State, where Lola (Gina Costigan) is accosted by her boyfriend. He accuses her of cheating and becomes verbally abusive. Yet, before the situation can escalate, a raver named Phil (Ed Malone) in an Elvis costume intervenes to calm things down and brings Lola with him to get her clear. Once they are away from the fray, Lola follows Phil and talks with him. It turns out they are both from Ireland, and they begin sharing secrets and talking about missing home.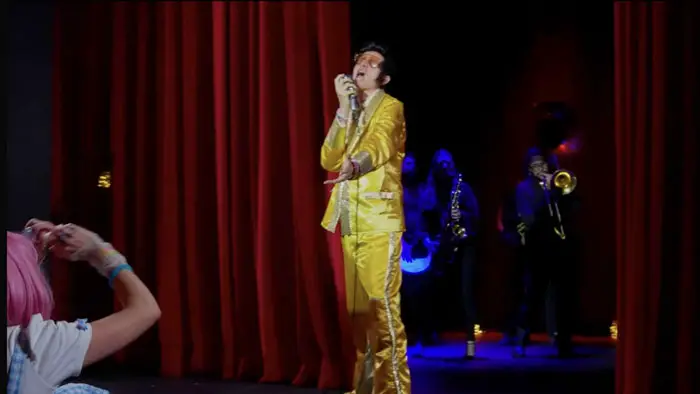 "…accuses her of cheating and becomes verbally abusive…a raver named Phil in an Elvis costume intervenes…"
Lola is dressed as an Irish version of Dorothy from The Wizard of Oz, wanting nothing more than to click her ruby-spangled heels together and go home. Phil is haunted by the voice of his deceased father that he hears in the boom box he carries. The voice critiques his every move and gives him guidance. Together, Phil and Lola grapple with the problems of being strangers in a strange land and whether it would be better to let the past fade and take on the future from a fresh start.  
In the course of sharing these confidences, magical moments occur. Lola talks about Irish dance, and the film features a dance by Morgan Bullock — a champion American Irish dancer. Lola is also treated to a rousing theatrical performance by Phil/Elvis of the song Suspicious Minds (hence the title), but he's singing all the lyrics in Irish. He starts by asking her if she wants to "hear my wee love song gone wrong." This performance alone would make the film worth watching; it is a pure delight, but the entire piece is a joy to take in. O'Reilly has created a wonderful thing in Suspicious Minds, a full tale told with music and dance, bittersweet ennui, laughter, and thematic layers, compressed into a small space, in many ways just like Ireland. 
"…letting go can be the best thing"