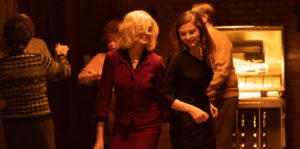 SUNDANCE FILM FESTIVAL 2023 REVIEW! The dramatic noir thriller Eileen, based on the award-winning book of the same title by accomplished author Ottessa Moshfegh, takes you out of your current state of mind and into another as a film-going experience should. Director William Oldroyd adds to his growing list of cinematic accomplishments. He's an auteur in the making, as his style, sense of place, and purpose are alluring and encapsulating but always tinged with a dash of bleakness that needs to be rectified.
The direction is noticeable from the onset as we are catapulting back into the early 1960s to a small coastal New England town during a freezing mid-winter spell. Here, Eilleen, written by Moshfegh and Luke Goebe, introduces us to the titular Eileen (Thomasin McKenzie). She's a mousey young adult whose sexuality is bursting, almost uncontrollably, but only with herself. Her clunker car that smokes from within her windshield, like an eerie fog rolling in, somehow gets her to the Moorehead prison for boys where she works, to the general store for booze and cigarettes, and home to her ornery, mouthy drunk of a father (Shea Whigham) who used to be a police officer. Unfortunately, the austere and cruel environment never lets up, from cantankerous female prison administrators to Eileen's sad and dark existence in her father's home, where he considers her a waste of space since her mother died.
"…a mousey young adult whose sexuality is bursting, almost uncontrollably…"
Seemingly dedicated to her bleak and haunting existence, Eileen puts up with her father and goes to work. She tends to always notice what's around her, especially when Rebecca (Anne Hathaway) arrives. A stylish and outspoken bombshell, Eileen is awakened by Rebecca in every way. Through sexual enticements, seemingly rogue rules, and unexplainable existence at the prison, Eileen ends up in a threatening situation with Rebecca that is unexpected and bizarre. In an interesting twist, Rebecca creates an inexplicable and irreversible situation with a prisoner's mother (Marin Ireland), with dark and dirty secrets. However, the scenario of what ends up being a hideous tragedy ultimately gives her the freedom to change her life.
From Eileen's father's coarseness to the haughtiness of Rebecca, it's all acceptable because of the time and place the director capably establishes. As we watch Eileen evolve, adorning her mother's clothes, smoking cigarettes, improving her sense of self, and pushing away her father's abuse, you want her to thrive. Each character is set up for this purpose, as is every location, prop, and setting, including the weather, and with a soundtrack that adds another layer to it all. So when Rebecca lights the flame, Eileen bursts like a sunspot. It all aligns for a great story on every level, along with the excellent acting from the attractive cast.
Offering beauty and strength in an oppressed and marginalized world, Eileen breaks the boundaries of perceived power. Oldroud employs a highly stylized and dramatic manner where silence and austerity reveal an underbelly that can't be buried and is only explainable and experienced in the art realm of cinema. You can't look away from it even if you wanted to, which you won't.
Eileen screened at the 2023 Sundance Film Festival.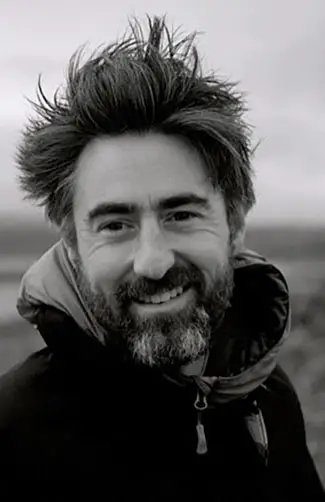 "…only explainable and experienced in the art realm of cinema."