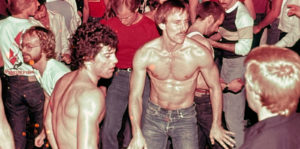 AUSTIN FILM FESTIVAL 2023 REVIEW! Director Marc Saltarelli's crucial documentary Studio One Forever uncovers conclusive proof of shirtless, good-looking life on the disco ball planet. It chronicles the history of a legendary West Hollywood gay club housed in a building where they made the cameras for The Wizard of Oz. It was opened as a gay disco in the mid-1970s and was one of the first queer spots in Los Angeles that was loud and flashy instead of quiet and hidden.
Studio One caught on with the Hollywood crowd, with famous faces from Burt Reynolds to Cary Grant showing up regularly. It was a novelty for straight celebrities to party in a gay disco and a secret release for the closeted ones passing in public. There was a nightclub in the back called the Backlot, featuring stars both onstage and in the audience. There was even a record store in the lobby that sold coke mirrors, lube, and amyl nitrate, also known as poppers.
"…chronicles the history of a legendary West Hollywood gay club…"
The club became a vast, safe place to be a white gay man surrounded by your kind in a hyper-hostile world. It was the spot that inspired Studio 54 in New York. The thing is, Studio 54 only lasted three years, while this lasted 19 years. The documentary doesn't shy away from the uglier aspects of this fantastic world, such as admittance policies set up to keep blacks out and let underage boys in. However, the impact that Studio One had on the rise of queer culture is as amazing as it is that it hasn't found its place in history yet.
Saltarelli interviews past patrons, employees, performers, and owners to tell the untold Studio One story, including Bruce Vilanch, Roslyn Kind, and Felipe Rose of the Village People. Studio One Forever is an important historical document as it covers a lot of forgotten history. That it was forgotten because everyone involved was on too many drugs to remember is what makes it all the more precious.
I suddenly realized Studio One's stature when I gazed at a cloudy third-generation video of Elton John, Ann Margaret, Diana Ross, and Pete Townsend playing pinball there at the Tommy premiere after-party. There is also lots of footage of Divine sparkling through the night. The amount of pop culture foam that bubbles over is impressive enough to get everyone soaking wet. Also, there is the constant presence of poppers, which brings back a nostalgic odor for me.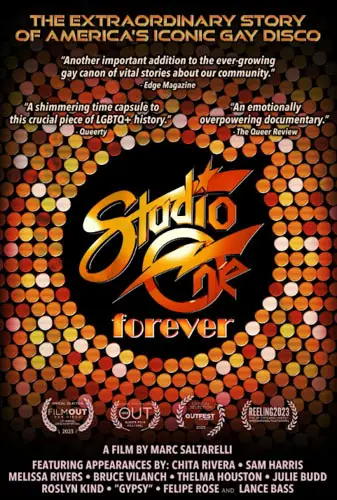 "…the biggest thrill was just being allowed to be yourself."