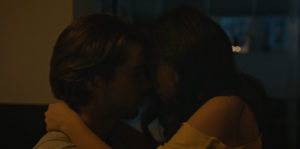 LOS ANGELES ASIAN PACIFIC FILM FESTIVAL 2022 REVIEW! Let's face it. The beginning and the end of romantic comedies are highly predictable. The appeal is what happens in the middle. They open with two lead characters, and by the end, they're getting it on. In Renuka Jeyapalan's Stay The Night, Andrea Bang is Grace, a Human Resources Director, who believes she could be a more valuable member of the team in sales. Unfortunately, quiet and unassuming are not the qualities her firm is looking to advance in the company. Joe Scarpellino is Carter, a professional hockey player who was just informed he's being sent to the minors. If he's not claimed off waivers by another team, his dreams of big-time hockey are over.
Along with being quiet and unassuming, Grace is a hermit, but on this particular night, her roommate needs a wing person for a night of clubbing. Almost instantly, the roommate hooks up with some dude and needs the apartment leaving Grace stranded at the bar. In comes Carter, and with Grace, head off to his hotel for a one-night stand until he realizes she is a virgin.
The rest of Stay The Night has Carter getting Grace to find more realistic expectations in men and find the confidence to speak to her work crush. On the other hand, Grace uses her HR skills to help Carter face the reality of being demoted and find a new course in life…assuming that's the path he wants to go down.
"…head off to his hotel for a one-night stand until he realizes she is a virgin."
I find the simplicity of Stay The Night appealing in this rom-com. Over the course of ten hours, our lovers meet, almost have sex, their insecurities are exposed, an act of betrayal steps in the way of love, and maybe they become soul mates in the end. Yes, it's a horrible way to establish an actual relationship, but wisdom and common sense be damned.
Andrea Bang and Joe Scarpellino are simply perfect as Grace and Carter. Grace is the every person who could be any one of us. Being the every person is a gift as an actor, especially if you have a story where you want the audience to connect with your character and be part of the ride. As Carter, Joe Scarpellino plays him as that B-level celebrity struggling to choose between continuing a dream that seems to be over or finding a new life where his skills can be of use.
This is writer/director Renuka Jeyapalan's first feature film and a strong start at that. Her storytelling is flawless, and she understands the genre very well—sympathetic characters, the right tone of comedy, and the perfect blend of drama. Fans of rom-coms will easily find a new favorite in Stay The Night.
Stay The Night screened at the 2022 SXSW Film Festival and the 2022 Los Angeles Asian Pacific Film Festival.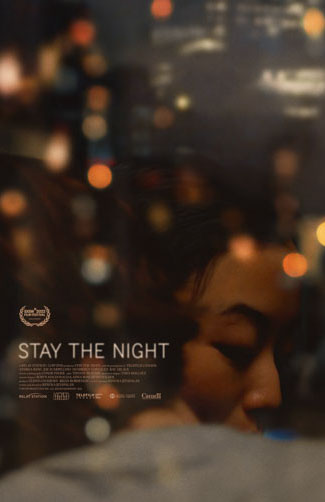 "…it's a horrible way to establish an actual relationship..."