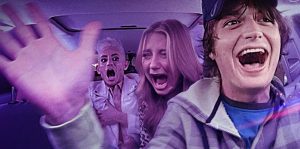 NOW ON HULU! Millennials have found this generation's first serial killer in Eugene Kotlyarenko's thriller, Spree. Kurt Kunkle (Joe Keery) is a veteran video blogger and social media influencer with very few followers (still better than me). After ten long years of posting content no one watches, Kurt decides to reinvent himself with what he hopes is the next great viral idea. He's already created content while driving for the ride-sharing service, Spree, decking his car out with a dozen cameras, and live streaming his workday. Now, he's going to up his game.
On this special Livestream, Kurt picks up his first passenger and quickly deduces that his guy is a real scumbag. He hands him free water laced with a fast-acting poison. Of course, the kill is live online, and his audience numbers register a small spike in viewership.
Think of Kurt's idea as if Sweeney Todd drove for Lyft. Now on to his next passenger. Kurt doesn't kill everyone. He finds an opportunity when internet stand-up comedian Jessie Adams (Sasheer Zamata) steps into his Spree and schemes to find a way to double-dip off her viewers. He also drops by the house of his loser father, Kris (David Arquette), who also hopes to find his fame as a nightclub DJ.
Spree plays off one's need to find meaning and notoriety quickly and instantly. Why does this person have a million followers but not me? Growing increasingly impatient, Kurt needs that next great idea, which in this case is murder. The entire film is shot as if it were Kurt's actual live stream. What you see comes from one of Kurt's many live cameras or any other influencer in the area—the new not-so-found footage genre.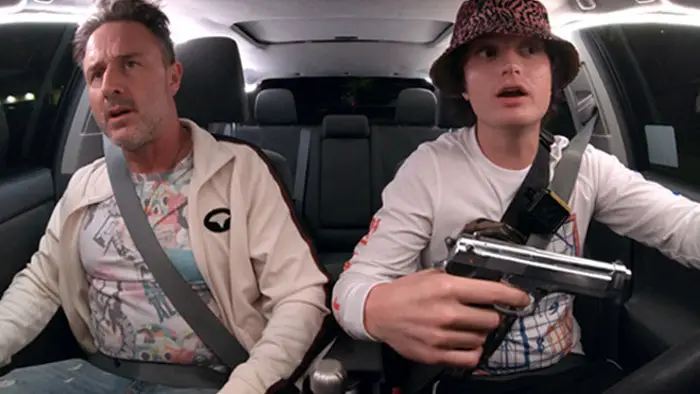 "…the kill is live online, and his audience numbers register a small spike in viewership."
Spree pokes fun at the idea of internet fame and the obsessive nature of YouTube, Instagram, TikTok, Twitch, etc., creators to "chase the hug." Kurt sends us down a very dark road to get there. We also see his stream chats and comments giving us a glimpse into the mind of those following Kurt. There has to be a moment when the reality of Kurt's actions registers with his audience.
Spree is hyper-realistic, and I love it. Writer/director Eugene Kotlyarenko maintains the perfect balance between reality and absurdity. It feels like a serial killer like this could exist and be crazy enough to stream his antics on the web without fear of consequences. I was first introduced to Kotlyarenko's work with the SXSW entry, Wobble Palace. He has this odd cinematic style that creates a bright and clean world with characters who are slightly "off." I find every character utterly fascinating.
Joe Keery is fantastically creepy as Kurt. He's got the whole influencers schtick down in how he talks to his viewers when alone in the car and then pulls an "Office" glance or two when preparing his kills. Keery portrays Kurt with tremendous onscreen confidence while covering the insecure feeling that he could lose his audience at any moment.
Spree is an exciting thriller and weaves in the worst of what internet fame has to offer. Kotlyarenko is quickly becoming one of my favorite indie filmmakers. Please do yourself a favor and check out Wobble Palace and his other work.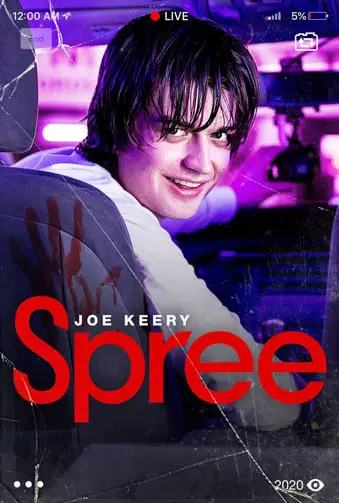 "…maintains the perfect balance between reality and absurdity."