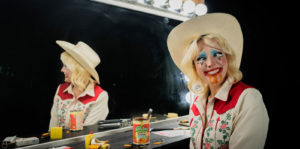 Greasepaint, tears, and tomato sauce resonate most peculiarly in director Jaden LeBel's comedic short Spaghetti Western. The whole film takes place in a dark dressing room where a woman in Western gear is applying clown make-up. Ryan Burke's voice-over introduces us to Judy, the prettiest waitress at Burt's diner. However, sometimes Judy is also Miss Applesauce, the prettiest clown at the rodeo. Judy pouts in the mirror and is always on the verge of crying.
However, her face lights up every time she becomes Miss Applesauce. All of the troubles and toil Judy endures melt away when the clown is wowing the crowds. Judy drags her feet while Miss Applesauce struts. Judy's manager Ron, who is also in clown make-up, has always felt Judy had the stuff to make the big time. Meanwhile, Judy chain-smokes while painting tears and frowns on her face. She then feeds herself cold pasta from a can while we wonder which side of her life is real.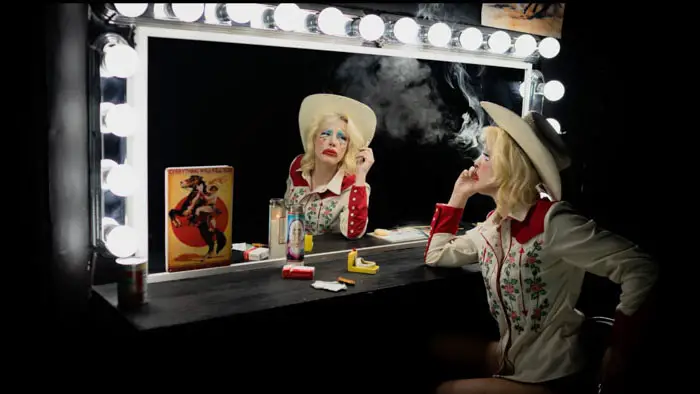 "Judy drags her feet while Miss Applesauce struts."
If feature-length movies are the cinematic equivalent of record albums, then shorts are 45 singles. The great news is you can dance to Spaghetti Western. LeBel has pulled off a snappy number, which is surprising considering the static risks of the single set. The short maintains high energy throughout thanks to sharp angles by the director of photography, Sarah Reddy, and some sharp cuts by editor David Blazer. Thanks to the hair and make-up work of Kristen Sage Coleman, the many different clown faces of Judy are striking to the point they should be painted on black velvet.
I wish there were credits to let us know who the performers are. But then again, if they wanted to be identified, they wouldn't be running around in clown makeup. Still, the script by Han Tiger Whitesides ends with a joke, which catches one off guard in the best way. However, there is something much heavier going on here. While the narration describes a life touched by the shine of a certain stardom, Judy looks like a long stretch of misery. It feels like something a lot more complicated than boring normal life versus performing for an audience. It portrays the kind of quiet desperation found in Jack Logan's song "15 Years in Indiana" but also explores the weight of alter-ego like in Styx's "Mr. Roboto."
The complexity of the Miss Applesauce factor increases upon reflection and rewatch. Spaghetti Western may seem like a fun little ride, but it will carry you farther than expected.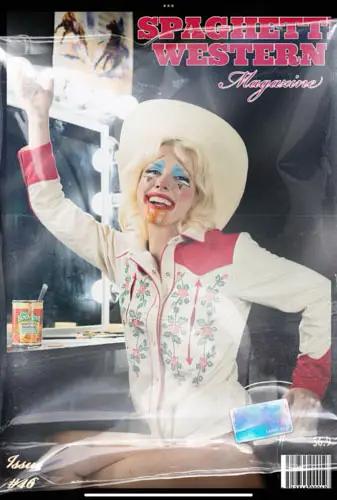 "…will carry you farther than expected."