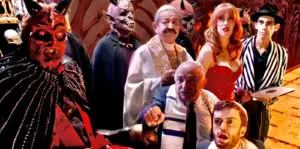 After doing television for a while, the incomparable Richard Elfman has been on quite the creative streak. From Aliens, Clowns, & Geeks to helping celebrate Full Moon's many classics with the Carnage Collection, the filmmaker is once again reveling in the sheer absurdity of what cinema does best: transport audiences into the vision and mindset of the director. Elfman sends prospective audiences into the gonzo world of his latest creation, which he directed and wrote, Bloody Bridget.
Bridget (Anastasia Elfman) is a performance artist and burlesque dancer at the rundown bar Tony's Tavern. Its owner, Tony (Tom Ayers), is a terrible stand-up with a booze problem who loves to sexually harass his employees. Bridget's significant other, Edwin (Christian Prentice), is a serial cheater who pays for nothing. So, Bridget's life is not going the way she hoped.
But one night, she's called into a different realm and meets Baron Samedi (Jean Charles). The Voodoo father of the Iwa (spirits) believes Bridget to be his wife, Maman Brigitte, the Irish saint. Samedi gives her the powers of a full-fledged vampire. Now, Bridget uses her supernatural talents to eat the hearts of deprived men who don't deserve to live.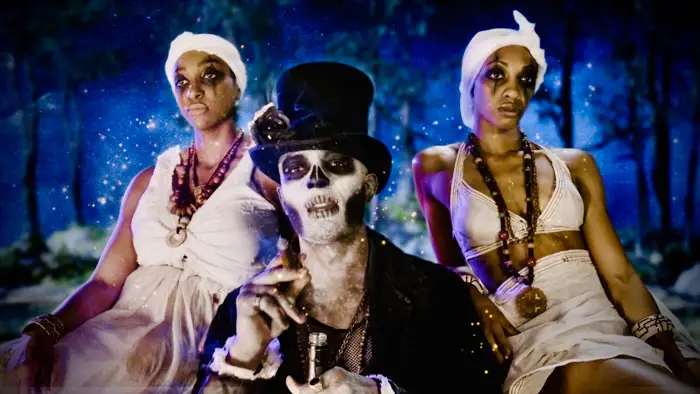 "…Bridget uses her supernatural talents to eat the hearts of deprived men who don't deserve to live."
The first sex scene in the film involves Edwin cheating on Bridget with a lady he met at Tony's Tavern. Said woman has a thing for British people, and her version of dirty talk is to have Edwin "speak English" to her. So he says things like tally ho, Harry Potter, and tea 'n crumpets. If any audience member is not uproariously laughing at the sheer absurdity of it all, they should turn Bloody Bridget off. Such people will not have fun with Elfman's outrageous feature. Everyone else left will be treated to a delightfully offbeat bit of eerie camp.
Anastasia Elfman is so much fun as the titular character. She aptly handles Bridget's raggedness early on, easily winning viewer sympathy. Once the story takes a turn for the supernatural and horrific, the actor is believably menacing while still being hilarious. Marcos Mateo Ochoa plays Bridget's mute best friend, Pepe. His body language and expressive face are put to excellent use. Charles commands the screen and really sells the stranger parts of the film with sincerity. Evan Eckenrode and Rick Howland are Bridget's lawyers, the two Daniels, and they probably get the biggest laughs in the entire shebang.
Richard Elfman does not really maintain a true tonal balance. Instead, he smashes everything together, hoping the kitchen sink approach means things will stick. Luckily, the man behind the wonderfully offbeat Modern Vampires (which, no joke, landed Casper Van Dien his role in Sleepy Hollow) is an old hand at this by now. By going all in on every aspect of Bloody Bridget, the filmmaker proves he has confidence in the material and knows what his hopeful audiences will respond to. For example, the blood from the killings is so over-the-top it is comical. But the danger Bridget was in before she gained her powers is very real and helps ground the narrative as much as possible. Also, the prosthetics on the Devil, played by Elfman himself, during the song's battle conclusion are really strong, completely obscuring the fact that it was him.
Bloody Bridget will not appeal to everyone. The meshing of comedy and horror with an in-your-face style results in a production that has "cult" written all over it. If the film sounds appealing, chances are you will enjoy it. If nothing discussed so far seems enjoyable, skip it entirely. As for me, I can't wait to rewatch this in anticipation of the proposed sequel.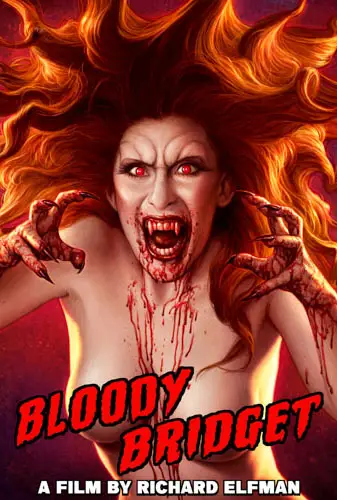 "…a production that has 'cult' written all over it."