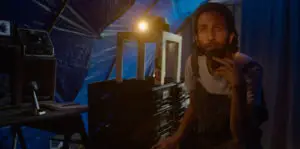 Man has long been obsessed with the stars. What secrets do they hold? Can we find meaning in our existence by seeking out new life and new civilizations? Art has a way of examining these questions in many different ways. The romantic comedy form usually tells us that the meaning of it all is love. And right now, what could humanity need more in the real world now than love? Writer Rebecca Banner and director Kyra Sedgwick bring some love back with their film Space Oddity.
The film is a reference to the beautiful, melancholic David Bowie hit song about an astronaut leaving Earth behind only to be lost in space. The story revolves around Alex McAllister (Kyle Allen), a young man on a flower farm in a modern small Rhode Island town. He's over the moon (pun intended) about training for a one-way ticket to Mars, but will meeting the beautiful and alluring insurance agent Daisy Taylor (Alexandra Shipp), who is new to town, change his mind? It's also about how Alex's family deals with his decision to leave Earth behind after already being traumatized by a former loss.
Sedgwick brought her real-life husband, actor extraordinaire Kevin Bacon, on board to play Alex's father, Jeff. He's part of a stellar supporting cast, including Simon Helberg as Dimitri. He's a happy immigrant, reminiscent of Balki from Perfect Strangers, who is a farmhand/friend of the family. He's always mistaking lines from things such as Jurassic Park as wise, old Russian advice. Madeline Brewer plays Alex's sister Liz, who is quite protective of her brother's well-being, while his mom Jane (Carrie Preston), seems excited, and his dad throws his hands up in the air about it.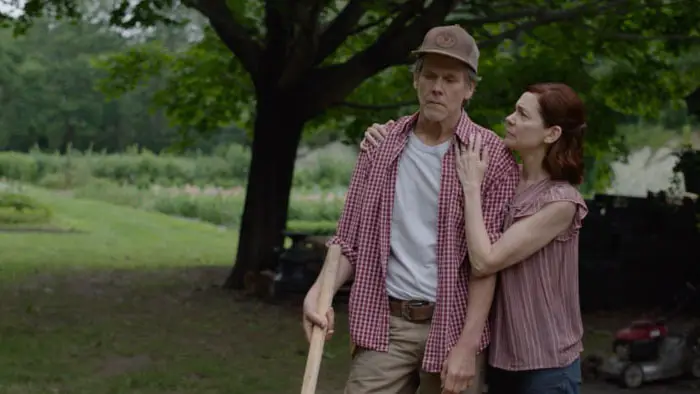 "…training for a one-way ticket to Mars…"
The heart of Space Oddity is the awkward but electric chemistry between the aloof Alex and the vibrant Daisy. The audience has to believe that the fireworks between Shipp and Allen are enough for Alex to potentially give up his dream of leaving this dying planet behind (as he puts it). Luckily, Shipp and Allen are magnetic together. She radiates off the screen with her warm laugh and smile, which helps to get you invested in his ultimate decision.
Rom-coms, by their nature, are formulaic, and despite the added intrigue of the premise, this one is no different. That's not a bad thing in my book, though, because it hits the expected beats well, with a great cast that makes the film hum along for the brisk 92-minute runtime. There are subplots involving whether the private space mission is real or not and who in the family will take over Jeff's precious flower farm, but the true heart of it all is the romance. Alex and Daisy let the cold ocean water hit them with their eyes closed while lying on the beach. In another moment, Alex tries to do CPR on Daisy for a class, but she has to show him how it's really done. These scenes are nice little touches that add to the fun fantasy nature of the genre.
If we're going to save this planet, we need more love. Space Oddity shows us the blueprint for the mission.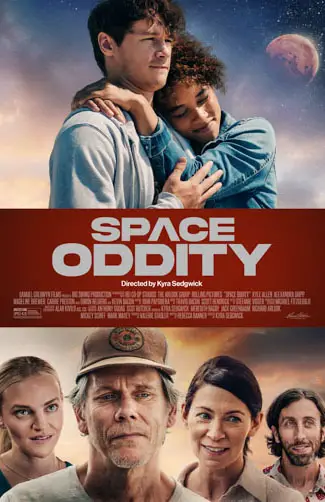 "…Shipp and Allen are magnetic together."