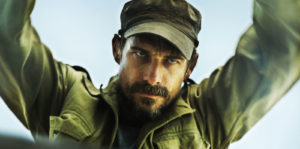 Soundproof, the writing and directing debut of Mark Hayman and Margaret Rogerson, begins with an inebriated Jo (Georgina Rich) getting ready to head back to her place with her shady partner, Kevin (Joe Macaulay). Kevin goes berserk on a father in a car he almost backed into, which puts a damper on the mood for the rest of the night. Once home, Kevin refuses to take no for an answer, so Jo's teenage daughter Izzy (Ellie Bindman), bashes him in the head, killing the criminal. Panicking and unsure what to do, Jo calls her best friend, bartender Milan (Kayla Meikle). She tells Jo to take her son Dylan (Gabe Robinson) and Izzy on a holiday for a week, then upon getting home, says that she found the man dead.
But the next morning, Kevin's psychotic older brother Pete (Jonny Phillips) stops by and discovers the dead body. Now he's in pursuit of Jo and her brood. The family trip is off to a rocky start as Dylan hates it, though he only knows a little bit of what transpired. Tensions rise even further when Jo picks up a drifter named Tom (Craig Russell), who will ride along with them so long as he keeps the car running. Can Jo, Izzy, and Dylan outrun the vicious Pete? Is Tom a wolf lying in wait, or is he actually a good guy?
Based on its plot, Soundproof might seem like a typical thriller, but it is not. Hayman and Rogerson are as interested in the cat-and-mouse game between Jo and Pete as they are in the family dynamics between the mom and her two kids. This amps up the tension on a personal level for the characters, allowing all watching to invest in Jo, Izzy, Dylan, and even the mysterious Tom. So when the inevitable confrontation happens, there's more at stake than revenge and a bag of money. It's an impressive feat for an independent production, much less for first-timers, as is the case here.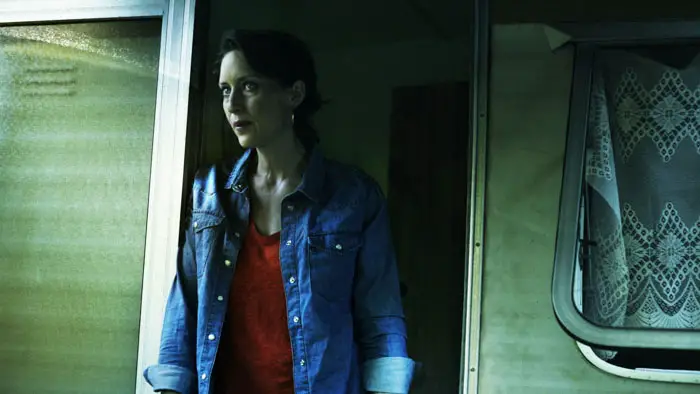 "…in pursuit of Jo and her brood."
Admittedly, the characterizations are a bit stereotypical, specifically for the children. Dylan is mad at his mom's impulsive behaviors. But how has this impacted him before Izzy killed Kevin? Being vague about some points can work wonders, such as the precise nature of Pete's underworld dealings and why tracking Jo means so much to him. But too much ambiguity causes uncertainty, which is what happens with Dylan. However, his relationship with Tom, who teaches the kid how to swim, is really well sketched out and adds quite a bit to the proceedings.
Rich is superb in every scene of Soundproof. She's flighty, determined, loving, lustful, and scared. Bindman is excellent as the frightened, guilty teen, while Robinson sells his irritations believably, even if the script is quite there.
Russell makes the rough-n-tumble Tom a compelling and enigmatic figure. Phillips is frightening and creepy as the baddie. When he tells Milan to dig a hole about the "size of a person," one is convinced he will whack her then and there. Meikle is exuberant and fun throughout, adding need levity without sacrificing tone.
Soundproof may have minor issues, but this is a strong, engaging debut. Hayman and Rogerson mix drama and thrills with an original spin on an oft-told tale. It is all brought to life by an excellent cast who seamlessly fit their roles.
For more information about Soundproof, check out 674 Film.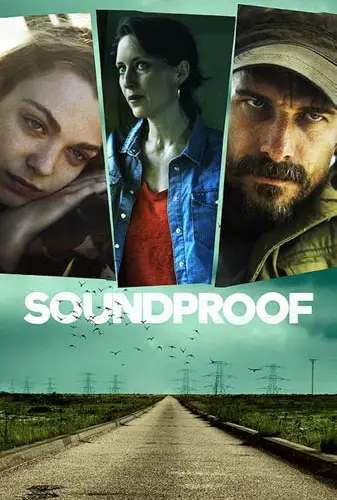 "…a strong, engaging debut."