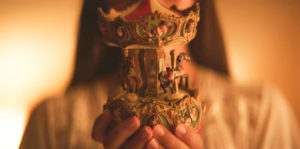 DANCES WITH FILMS 2023 REVIEW! Director-writer Christopher Beatty delivers a haunting tale brewing from a lifetime of grief due to a tragic loss in his dramatic psychological thriller Bibi. A type of film noir in a "Grey Gardens" life, Beatty has brought a vision to life that lives within the head but is played out in extravagant detail and vanity. In the end, we are left with greater wonderment and intrigue.
Vivian Ashwood (Elizabeth Paige) is in desolate grief and mental disarray, unable to handle a lifetime of mental and emotional abuse from a father who played a part in her sister's death. Set in and around an enormous estate, the space in which Vivian exists is comparable to the disillusionment that lives in her mind, where we believe her daughter, Bibi (Judith Ann DiMinni), dictates her existence. There was "an accident," but the details are left unknown. As the film moves us through Vivian's daily struggles, we become immersed in her world, much like a bath, it's all-encompassing.
The filmmaker offers hints of circumstances for "the accident" through a mysterious dark man who appears in Vivian's worst nightmares and then disappears. Constant attention to a merry-go-round is not just an ornamental toy but a living structure for Vivian, which she can't get seem to disembark in body or mind. Every action seems believable for those in the throes of grief.
"…a lifetime of mental and emotional abuse from a father who played a part in her sister's death."
As Bibi takes us deeper into Vivian's mind, we meet a friend, Nancy (Tammy Blanchard), who reaches out with a helping hand in various ways, only to be rejected by Vivian with disdain and judgment. Even Dr. Grayson (Rick Zahn), the visiting therapist, leaves Vivian to fend for herself. However, Beatty has other things in store throughout his tale of consumed anxiety, prescription medication, and alcohol abuse, leading to grief, guilt, and a disoriented sense of being. The way he uses the setting, on top of the disorienting actions of the lead, create an emotional rollercoaster.
However, the beauty within the harrowing story is in the details: the acting, the alluring cinematography, the lighting, and the carefully thought-out set design. It's not necessarily what's said, but what's seen, that makes this profound. Aside from a narrative that is ultimately based on an abusive parent's ways, it is also one of education. It looks into how a person sinks into an abyss of delusion and away from reality. The conclusion cleverly wraps it all up. However, there's still much to think about because of the many angles and aspects of the themes that keep one in suspense or questioning due to a fascination with Vivian. Her world is believable until it's not.
Unexplainable and uncomfortable moments throughout Bibi add to its appeal as a suspense thriller. Still, the sadness of the decaying mental mind is very dramatic and shown quite clearly throughout, especially when certain characters shed natural light on the lead's existence. The film is worth watching to its end to explain the many unanswered questions offered as a gift from Beatty.
Bibi screened at the 2023 Dances With Films.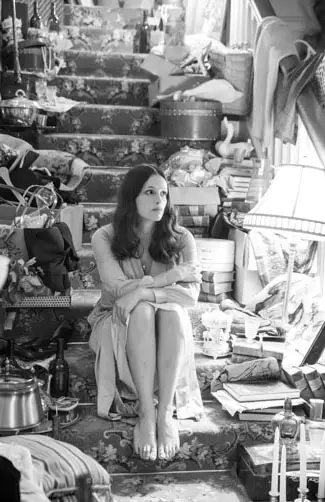 "…worth watching to its end..."