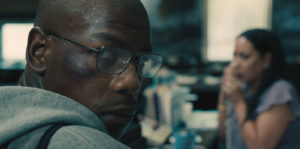 NOW IN THEATERS! In 2017, a young man entered a Wells Fargo Bank in Connecticut claiming to have a bomb. What makes this apparent threat curious was the response from those he held hostage, who noted how incredibly polite and courteous he was throughout the ordeal. This is the setting for Abi Damaris Corbin's dramatic thriller Breaking (originally titled 892), starring John Boyega as Brian Brown-Easley.
Brian is an Iraq war vet suffering from mental issues seeking to right perceived wrongs from the government that has left him in crippling debt. As a former Marine, he did what his country trained him to do: fight. The result is a standoff with local and federal forces that seem anxious to end it as quickly as possible. This all began when Brian discovered a financial discrepancy to the tune of $892. In trying to rectify it, Brian is met with governmental gridlock or downright obstruction until he's ultimately led into a pool of frustrated faces in similar circumstances. The only glimmer of joy in his life is his young daughter, Kiah (London Covington). But his conversation with her is stunted when his phone runs out of credit.
The following day, Brian leaves his motel room to the local bank branch, where he calmly hands over a handwritten note stating that he has a bomb in his backpack. Then, he allows all but two employees, Rosa (Selenis Leyva) and Estel (Nicole Beharie), to leave the facility, who attempt to meet his monetary demands. But Brian remains adamant that the money comes from the Department of Veteran Affairs, as they were the ones that neglected to deposit his most recent disability check.
"…calmly hands over a handwritten note stating that he has a bomb…"
Breaking is based on the heartwrenching 2018 article by Aaron Gell, "They Didn't Have to Kill Him." Gell interviewed the hostages, Brian's former Marine buddies, and his family, all of who painted the man as soft-spoken and unfailingly polite who was dependent on medication and was given little guidance to adjust to civilian life after serving two tours overseas. The film makes it clear that his financial demands were less about the money than the recognition as a human he so rightfully deserved after his sacrifice. His two hostages are asked to call the police, the local news stations, and the fire department to draw attention to his situation. Brian merely wants someone to listen.
Abi Damaris Corbin's debut approaches its subject with a straightforward-but-sensitive eye. Taking place primarily within the drab interior of the bank, we are led to focus on Brian's plight, with glimpses of the escalating circus outside. Boyega once again proves he's one of today's strongest young talents, giving us a glimpse of his mental afflictions without leaning into them as a dramatic crutch. He's overly polite but quick to escalate matters when met with seeming indifference to his plight. It should be noted that Leyva and Beharie meet Corbin beat for beat in their respective scenes. They are both petrified but gradually overwhelmed with compassion as they learn more of what led Brian to such dire measures.
The only true deficit in Breaking is the lack of screen time for Williams, who portrays the empathic negotiator. It's always rewarding when he appears, but one wishes there was more bond-building between him and Brian. It's a small issue in an overwhelmingly solid feature that successfully builds tension. Throughout its runtime, the film also adequately shines a light on the many fractured support systems designed to help those most deserving of them.
Breaking screened at the 2022 Sundance Film Festival and the 2022 SFFilm Festival.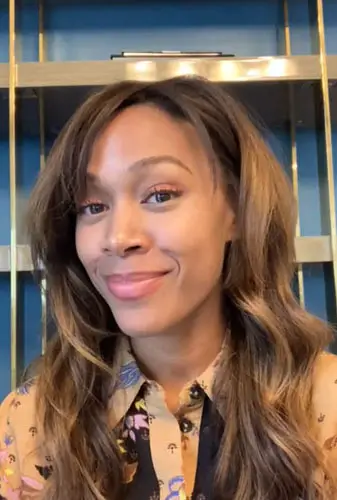 "…Boyega once again proves he's one of today's strongest young talents..."