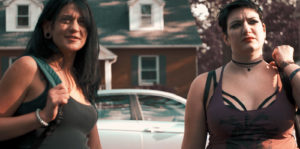 They say that old habits die hard. That's certainly true in the case of Warren (Raymond Bolden, Jr.), the aged serial killer known as the Raven Hair Strangler in Raven, the short thriller from August Aguilar.
Back in the day, 1991, to be exact, Warren was enjoying a period of notoriety terrorizing the residents of New Jersey. Specifically, female residents with dark hair, but as happens to all of us, age caught up with Warren. Now, he spends his days idly at home, tolerating a brat of a daughter, Kelli (Tara Beavers), and being cared for by his live-in nurse, Linda (Ilene Sullivan, the most unaffected performance in the movie). His strangling days are seemingly nothing but a memory.
That is until two young women, Robin (Amy Lynn Patton) and Kimi (Julie Cronin), rent the Airbnb next door. They are your typical modern, free-spirited young ladies who just want to relax for a week, go to the beach, and party. And guess what? They both have dark hair. Suddenly, Warren's killer instincts bubble to the surface. With Kelli and Linda conveniently out of town, the time is prime for the Raven Hair Strangler to affect a resurgence.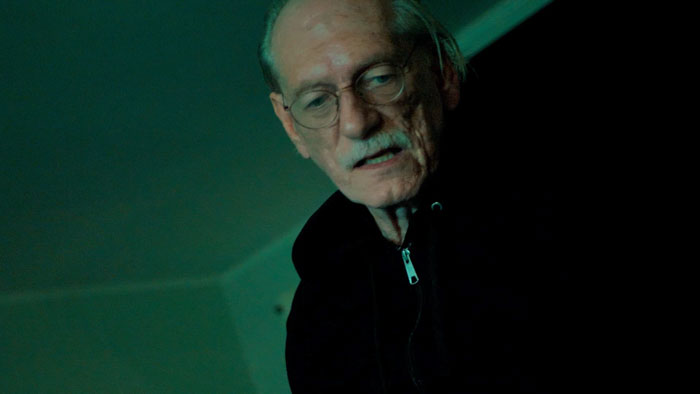 "…the time is prime for the Raven Hair Strangler to affect a resurgence."
Raven has some genuinely creepy moments, for sure, and Bolden, Jr. provides the majority, if not all, of them. The way Warren practically salivates upon setting eyes on Robin and Kimi for the first time or the zombie-like manner in which he stalks the girls in their rented home will make the hairs on the back of your neck stand to attention.
There are a few references to Poe's famous poem, such as a late-stage photograph that could represent Warren's possible Lenore, but no clear connection is made, and the references to The Raven fail to sink in. Nevermore, the hand-held camerawork by Aguilar communicates the grindhouse approach that works for a nasty little item such as this.
Raven is unquestionably presented as a horror-thriller and is effective as such. The score reminded me of John Carpenter's classic music for Halloween in its ability to be both catchy and chilling at the same time. Still, I did wonder if the short would have worked just as well as a drama (or maybe even a parody) about recapturing one's lost youth. With just a little dramatic restructuring, it might have conceivably called to mind a very, very twisted version of Cocoon. As we age, it isn't so hard to imagine that we would pine for the days of innocence and vitality long past. That is a natural element of growing older. It just so happens that Warren's days of innocence and vitality were spent strangling nubile young women. Still, the sentimentality is the same.
Nonetheless, I think horror is probably a more appropriate home for a short like Raven. So, taken in the context of that evergreen genre, this raven takes flight.
"…this raven takes flight."