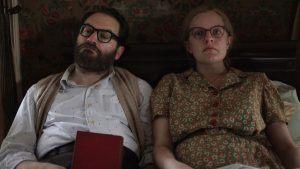 NEW ON HULU REVIEW! The title character in director Josephine Decker's Shirley is acclaimed horror writer Shirley Jackson. I am familiar with her work like the short story The Lottery and the recent film adaptation, We Have Always Lived in the Castle. Based on Susan Scarf Merrell's titular novel, Shirley Jackson (Elisabeth Moss, who is a dead ringer for Jackson), is living as what appears to be as a manic depressive recluse in a college town in Vermont with her husband/professor Stanley Hyman (Michael Stuhlbarg).
Jackson and Hyman have a love/hate relationship. During a dinner party, the two trade brutally nasty insults toward one another. The guests, many of whom are colleagues, awkwardly laugh off the barbs but are already put off by Shirley's acerbic mannerisms.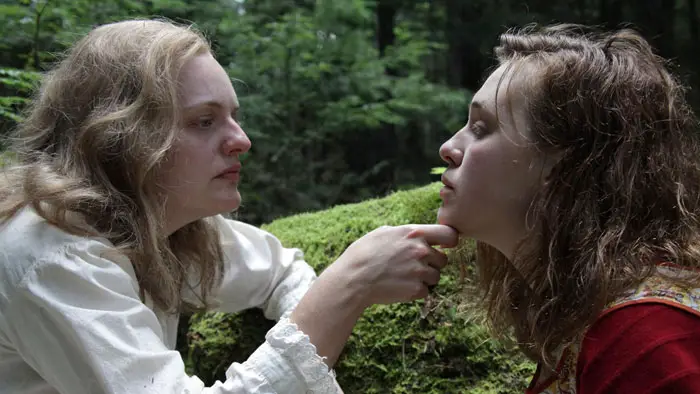 "Rose is put off by Shirley's abusive treatment, but Rose begins doing a few favors for her…"
In comes, a young couple, Fred (Logan Lerman) and Rose (Odessa Young), who agrees to live with the couple as Fred works as an associate professor under Hyman, and Rose decides to watch Shirley and do many chores in exchange for room and board. At first, Rose is put off by Shirley's abusive treatment, but Rose begins doing a few favors for her, which helps motivate Shirley to start writing her second novel, Hangsaman, about the disappearance of a lonely college student.
It's the relationships in Shirley that is most intriguing. First is the marriage between Stanley and Shirley. It's not really clear how or why these two are married. As Shirley wallows away in depression, rarely leaving her bed and never leaving the house, Stanley is the parent using tough love to get his wife out of bed and ultimately write her next best-selling novel. Any affection he shows to Shirley is through biting, passive-aggressive criticism. Shirley, in return, makes tiny efforts to return to writing, but most of her fun comes from tormenting strangers.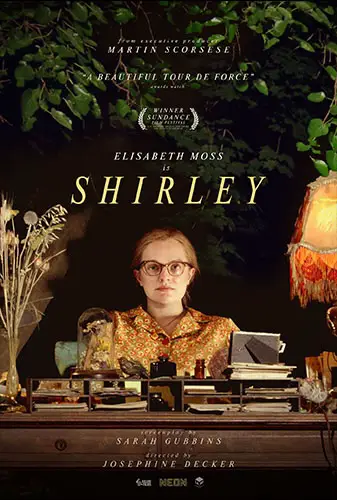 "…would you rather live a dull life of happiness or a vibrant life of insanity?"