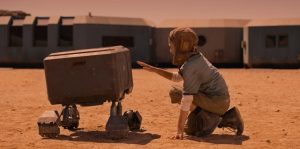 Shot on location in the North African Vioolsdift desert, Wyatt Rockefeller's feature-length debut, Settlers, is as desolate, beautiful, and unsettling as its milieu. The best kind of science fiction takes a look at humanity through a futuristic/otherworldly prism, and that's exactly what the writer/director does, and rather splendidly at that.
Forget spaceships and lasers. The future of humanity lies in the hands of four people, and that number is dwindling. Despite the low-but-cunningly-utilized budget, the stakes feel higher than in the last three Star Wars movies combined. That's partially due to the filmmaker's sensitive handling of the quiet scenes, of which Settlers has plenty, that arguably generate more tension than any grandiose Kylo Ren vs. Rey battle.
From the start, there's a palpable sense of mounting dread as we're introduced to a family of three: young Remmy (Brooklynn Prince), her mother Ilsa (Sofia Boutella), and father Reza (Jonny Lee Miller). They are seemingly the last members of an early, partially-terraformed Martian settlement. They can breathe and freely walk outside. They spend their time tending to the greenhouse, playing guitar, looking at the Earth, a tiny marble in the night sky. "Someday," Reza tells Remmy, "this place is going to be just like Earth." Considering their dismal circumstances, the sentiment comes off as a tad optimistic.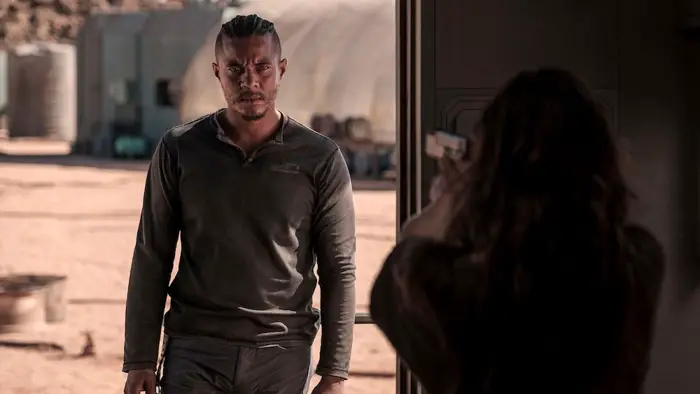 "…Remmy wakes up to see the words LEAVE scribbled in blood-red on the window."
One morning, Remmy wakes up to see the words LEAVE scribbled in blood-red on the window. It turns out our heroes are not the only inhabitants on the Red Planet. After a tense altercation, wherein a tragedy occurs, a stranger comes into their lives: the subliminally menacing Jerry (Ismael Cruz Córdova). "There's no one else left. Cities, other settlements – all gone," he states. It doesn't take long before another catastrophic event happens, and then, in a brash move that pays off, Rockefeller flash-forwards a decade or so.
A grown-up Remmy (Nell Tiger Free) now lives with Jerry. They have several pigs, a man-made pond, even some greenery around the reservoir. He claims to bear the burden of the responsibility of continuing the human race, and under this pretense, attempts to impregnate her. She threatens to kill the baby if he ever tries. Is humanity past the point of being able to start anew? Was it ever meant to start in the first place?
These are just a few of the questions you'll be pondering while watching Rockefeller's minimalist take on cerebral sci-fi. The filmmaker skillfully juxtaposes these fragile lives against the harsh, unforgiving environment. Attempts at replicating Earth conditions seem futile, barely-there slithers of gasping life in a dead, red world. And sure, the Wall-E-like robot, Steve, serves as a reminder that these themes of our self-ruination have been explored before, from indie fare like Z for Zachariah to big-budget animation like Pixar. But when the approach is as skillful and visually appealing as Settlers, it hardly matters.
There may be other questions left hanging that some will regard as plot holes. I'm personally grateful for the lack of overt exposition, so prevalent in films these days. Fill in the blanks yourselves, please. Plus, the cast sells it with aplomb. Nell Tiger Free has the most haunting eyes of any young performer working right now. We're all inherently settlers. With Settlers, Rockefeller and his crew have created a striking little treatise on our misguided ambitions.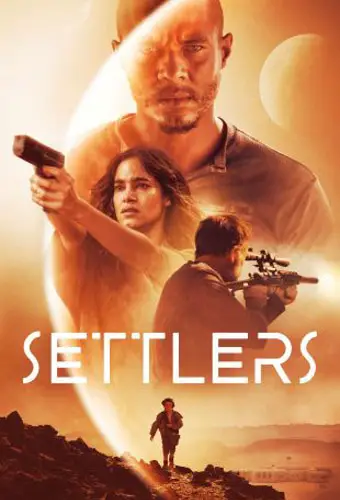 "…as desolate, beautiful, and unsettling as its milieu."