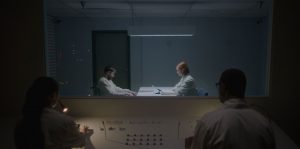 NEW TO HULU! "It'll all make sense as we go along, I promise," a character says in Rob Schroeder's mind-f**k Ultrasound. If only the same could be said about the hallucinatory plot, which actually does the opposite, becoming increasingly and purposefully disorienting and dream-like as it progresses. Perhaps this story functions perfectly on a different frequency, one that can be reached with a healthy dose of magic mushrooms. As it stands, the genre film serves up enough visual ingenuity and intellectual titillation to warrant a recommendation, but just so.
It all starts conventionally – so much so, in fact, that one begins to wonder why the film was labeled as "sci-fi." On a dark and stormy night, Glen (Vincent Kartheiser) runs over a strategically placed board of nails and gets stuck on the road. Lucky for him, there's a house nearby. Its residents are Arthur (Bob Stephenson) and his much younger wife Cyndi (Chelsea Lopez). They invite Glen to stay over. Something is clearly off.
For one, things seem to happen a little too deliberately, as if scripted. Then there are the folks in a research facility, Dr. Conners (Tunde Adebimpe) and his colleague Shannon (Breeda Wool), who are listening, pre-recording, planning, and, yes, scripting. "The subjects themselves generate the necessary narrative to integrate suggestion into their worldview and memory," Dr. Conners explains. If that phrase didn't make your brain melt a little, you'll feel right at home.
"…folks in a research facility…are listening, pre-recording, planning…"
To reveal what actually happens would be a disservice to the story of Ultrasound. However, I will say it involves a pregnancy, a woman named Katie (Rainey Qualley), a politician, and Shannon beginning to wonder whether what they're doing is much more malicious than merely generating narratives. If I'm being elusive in my plot description, it's for two reasons: I don't want to reveal too much, and I am myself a little lost. However, the plot finally twists back on itself in a rather spectacular fashion, and on some level, somehow, things do click into place.
Aside from a healthy dose of Kubrick and Lynch vibes, the movie ends up being a unique creature, a mystery wrapped in an enigma that deals with heady subjects like predetermination vs. free will. It suggests that we all have frequencies that can be manipulated to achieve certain goals. But if one were to take a few steps back, or perhaps delve deeper, one could discern even more cerebral, frightening implications.
Whether it's an interrogation scene between Shannon and a wheelchair-bound Glen or a daring escape from the facility, Schroeder knows his way around a taut (and totally bonkers) sequence. Although it's visually distinct – all stark neon reds, jarring greens, and eye-scalding blues – for the most part, Ultrasound is dialogue-driven, which is no small feat. Kartheiser does the whole befuddled act well, and the rest of the cast brings their A-game, but the true standout is Bob Stephenson, exuding insecurity, dread, and a plethora of other emotions with the ease of a true screen stalwart.
If you like to have your brain tickled (read: massacred), then Ultrasound will be music to your ears. Otherwise, be warned that frustration may be a side-effect of viewing this engagingly abstract feature.
Ultrasound screened at the 2021 Tribeca Film Festival and the 2021 Fantasia Fest.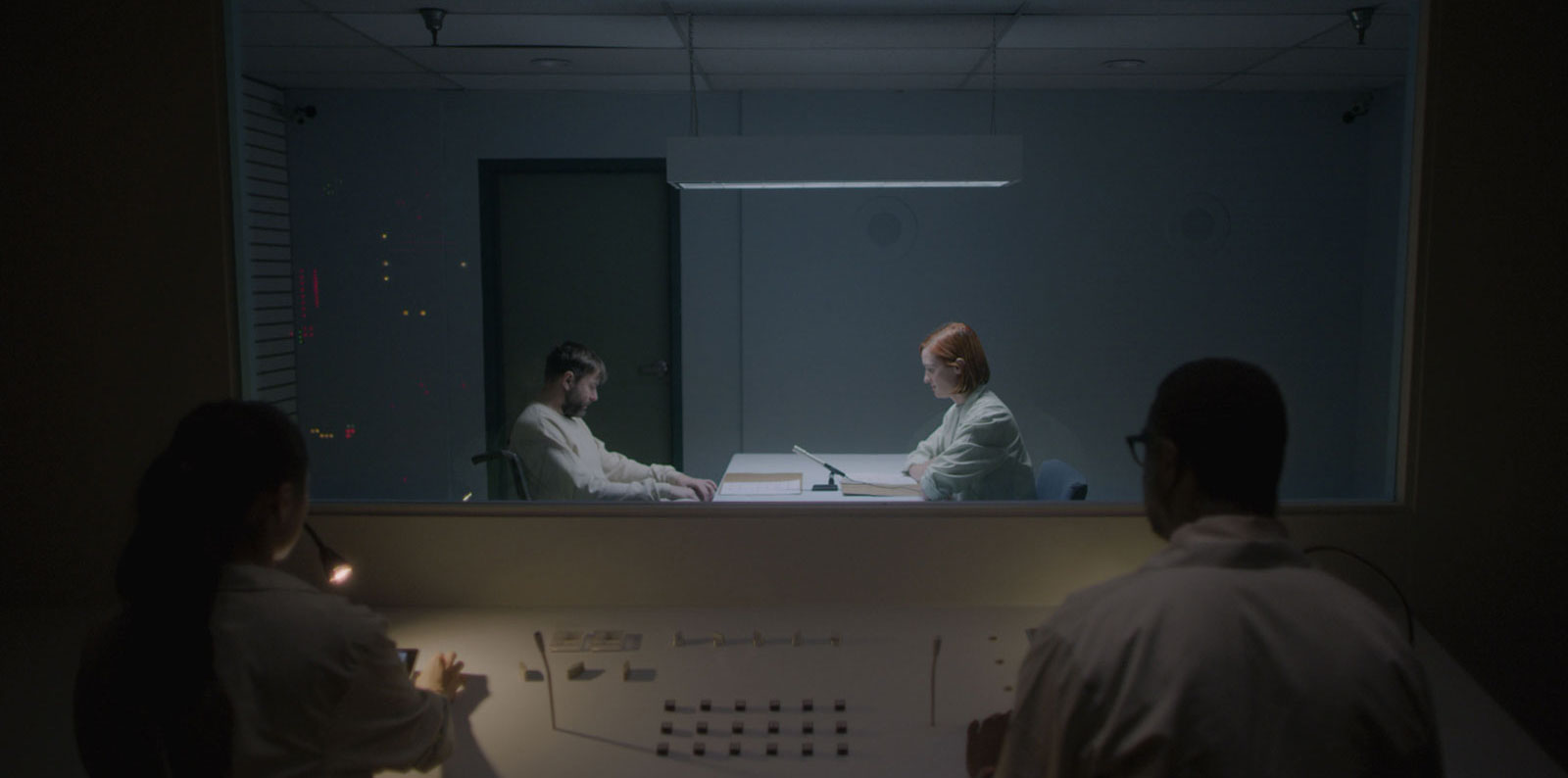 "…engagingly abstract..."