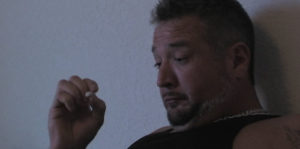 If you've ever taken a screenwriting or an improv class, you know the helpful tip of giving each of your characters a quirk or something unexpected that makes them stand out and feel new to an audience. There is no shortage of quirky characters in writer-director Brett William Mauser's Second To Last Worst Day Of My Life. The comedy is loaded with bullets, bodies, dick blood, pee-filled condoms, and of course, farts. How's that for a hook?
William Sloan (Ernest Martinez) is a hitman who wakes up after a hell of a drunken night out with a "Hottie" (yes, that's her credited name; Amanda Nutting), whom he doesn't remember taking home. Adding to his hungover confusion is the man tied up in his living room with a pillowcase over his head (co-writer Bradley Bates). William's hitman friend, Ruby (DeMarcus Young), calls and asks him to keep the "pillowcase guy" (yes, that's his credited name) safe until 10 p.m. as a favor. With the reluctant help of the nameless hottie, William must fight off the cops and other hitmen and survive until the appointed time.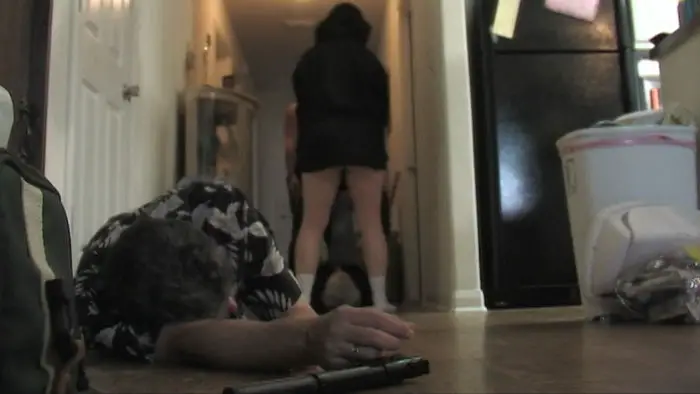 "…William must fight off the cops and other hitmen and survive until the appointed time."
Second To Last Worst Day Of My Life probably looked decent on paper. Each character has interesting quirks, and there's a great setup and unexpected comedic twists in many scenes. It's even funny at times, but the film, as a whole, is betrayed by its editing. Too many sequences overstay their welcome and miss their clear ending beats. Because it's a comedy, I'll use joke structure as an example. Most scenes have an interesting setup and end with a surprised punchline, making for a potentially successful joke. Here, the jokes hit, but they continue, undermining the punchline. For example, William is in line at a convenience store, and the man ahead of him pulls out a gun and tries to rob the clerk. After a little too much back and forth between the clerk and the burglar, we find out that there is no money in the cash register, so there is nothing to steal but a small bill. The burglar then decides to use that money to buy a scratch-off ticket. Funny premise!
But that's not how the scene is cut together. Instead, we get a bloated moment where we find out the gun is actually a BB gun, the guy standing behind William has explosive diarrhea, and we watch our lead pay for cigarettes with nickels and dimes. Not every single joke is necessary, especially for a scene that has nothing to do with the plot nor provides information that can be used to learn more about its characters. This inconsistency is what's most frustrating about the film. Some moments are tighter than others, having a more consistent comedic tone. But several scenes feel like they exist in an entirely different movie. With the proper editing, many of these issues could have been solved.
All of that being said, for a little low-budget film, Second To Last Worst Day Of My Life kept my attention. Watching this is a perfect exercise for screenwriters, editors, directors, and actors. It shows you both good and bad decisions in developing a story. The good aspects are just as glaring as the bad aspects. Think of it as an HR video showcasing scenarios that are acceptable and situations that are no-nos at work. There are some really clever moments, but most of it felt like an hour-and-a-half porno where no one has sex. Mixing those two elements goes about as well as beer and cereal. And yes, William does eat that for breakfast.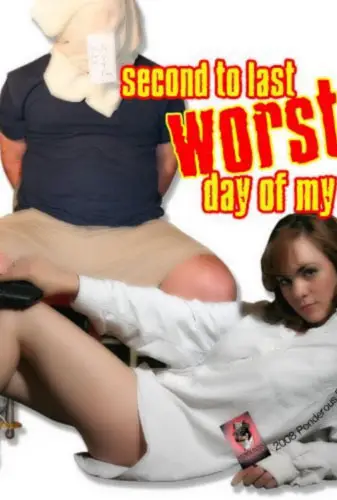 "…no shortage of quirky characters..."