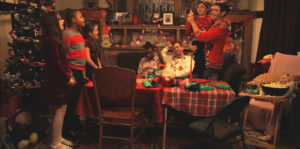 The prologue of directors Richard Knight Jr. and Peter Neville's Scrooge & Marley sets one up with low expectations. Why does the makeup on Marley (Tim Kazurinsky) look like it's smearing off? Who's the trio of ghosts he's conferencing with? How do they control Hell and Marley's afterlife? How come a random spirit who doesn't care for the stingy dead guy helps him? Why is Kazurinsky's yelling at "Scrooge" so funny?
Luckily, after this off-putting beginning, the Timothy Imse, Richard Knight Jr., and Ellen Stoneking penned film hits all the right notes. Set in modern times, Ebenezer "Ben" Scrooge (David Pevsner) runs an LGBTQIA cabaret joint called Screws. Having taken it over using underhand and dubious, though legal means, Scrooge is a tyrant to his workers, including Bob Cratchit (David Shae), who needs the money to support his husband and their children. Of course, the bitter miser isn't any nicer to his niece, Freda (Rusty Schwimmer), who longs for her only blood relative to visit for the holidays.
Following the template of Dickens' classic tale, late Christmas Eve, Scrooge is visited by three ghosts. The Ghost of Christmas Past (Ronnie Kroell) forces Scrooge to face his family trauma, as his father kicked him out for being gay. But the generous Fezziwig (Bruce Vilanch) takes in the young man (Drew Anderson) and gives him a job. However, such kindness doesn't prevent Scrooge and Marley from screwing him over. The merry Ghost Of Christmas Present (Megan Cavanagh) shows Scrooge how those close to him are celebrating now, while the dreaded Ghost Of Christmas Future shows Scrooge how nobody misses him after he's gone.
Scrooge & Marley hits the familiar story beats, but the fresh spin on the material and excellent musical numbers make this a fun watch. After the prologue, there's a fun introductory voice-over that clues audiences in on the kind of humor present while reworking classic Christmas lyrics in a new light. It's charming and fun, as is everything that follows. All the songs are sung with gusto and are catchy. The standout is the infectiously joyous Ghost Of Christmas Present number.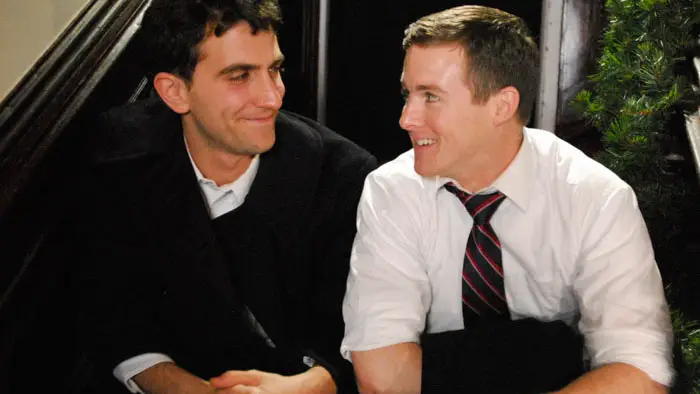 "…late Christmas Eve, Scrooge is visited by three ghosts."
The writers had fun updating the original text. For example, the "bad potato" bit now is "no MSG." This is a very clever and amusing change while still speaking to the kind of person Scrooge is. But Imse, Knight Jr., and Stoneking also show a keen understanding of the story's underlying themes. By updating Scrooge's disdain for families by making his dad bigoted, they not only bring more representation, but they also put more clarity onto that particular aspect of the book.
The cast of Scrooge & Marley is another reason the film is so successful. Pevsner is perfect as the uptight skinflint. When describing how Fezziwig was using him and Marley, so everything's just business, the actor seems to be trying to convince himself more than the ghost. Shae's naturally charming as Cratchit, and his chemistry with his onscreen husband is excellent. Kroell is droll as Christmas Past and proves to be very funny. Cavanagh is larger-than-life and owns every scene she's in. The entire cast does an excellent job.
Surprisingly, in the best possible way, there's some excellent puppetry work throughout Scrooge & Marley. Traveling with Christmas Present are two disturbing entities — ignorance and want, her children. Their design is twisted and horrific, cementing the intensity of Scrooge's plight. While not a puppet, the Ghost Of Christmas Future is equally creepy, with jeweled eyes and an all-black outfit. The character is quite imposing.
Scrooge & Marley starts on the wrong foot entirely. But after the initial three minutes, the film does an about-face and becomes quite involving. The cast is uniformly strong, while the directing keeps the pace moving along nicely. The musical numbers are lively, and the original slant on well-worn material adds extra layers and meaning in a resonant way.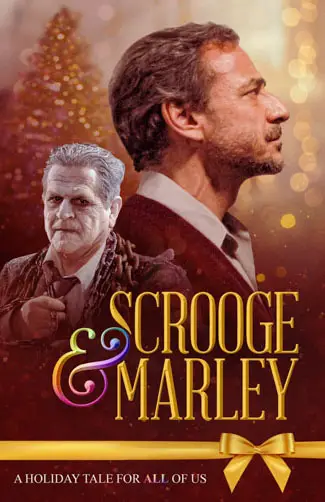 "…adds extra layers and meaning in a resonant way."