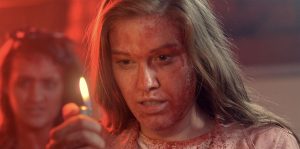 Scare Package is a horror anthology film with a pretty good hook. See, all the segments are directly linked to the movie rental store whose throughline plot becomes a full-blown story, not just an amusing interstitial, late into the film. Quite frankly, I am shocked that, best to my knowledge, no other anthology has set itself in a video store. The setting is just rife with possibilities, and the filmmakers of Scare Package exploit most of them for chills and thrills.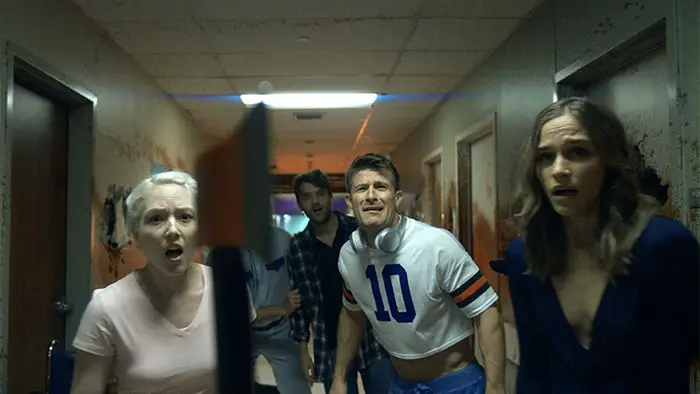 "…horror anthology…all the segments are directly linked to the movie rental store…"
The opening segment, Cold Open, is a strange meta-beast in which movie character Mike (Jon Michael Simpson) is tired of always playing the bad guy. To that end, he cuts the power at a neighbor's house, only to swoop in and save the day. However, things don't go as planned, and many people wind up dead. The jokes land well, and the acting, especially Simpson, is excellent. But, it turns out that Cold Open is actually a recap of a screenplay written by the video store's most ardent customer.
Rad Chad's Horror Emporium is the wraparound and sees Rad Chad (Jeremy King) training the new employee, Hawn (Hawn Tran). He puts the trainee through odd but amusing chores, such as pelting him with things as he checks out customers. Each time a prop or specific movie title is referenced, a new segment begins. There are approximately seven tales altogether (I did not count them though), and they are all very witty and funny.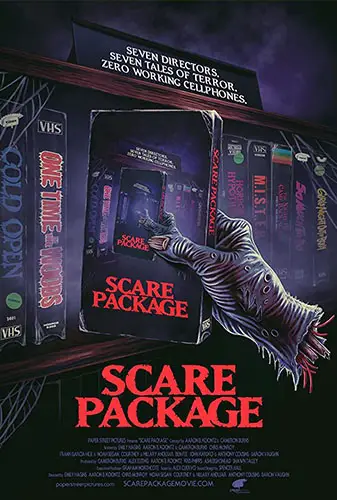 "…in the vein of Troma or early Peter Jackson..."