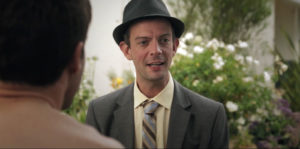 SAN FRANCISCO INDIE FEST 2023 REVIEW! There are prizes at the bottom of the infernal cereal box in the feature-length satire Salesman and the Nine Circles of Corporate Hell, written, directed, and edited by Gabriel Gazoul. While on assignment somewhere in Mexico, a salesman (Fred Maske) is talked into buying a skull from a little boy (Clinton Valencia). His boss (PJ Marino) is less than impressed with the skull and sends the salesman out on an important job, but to make this sale, the salesman must travel through the nine circles of corporate hell. 
He first must ingratiate himself with Justin (Billy Armstrong), a rich kid whose dad is high enough in the corporation to hear the pitch. Justin sits around the pool of his dad's house all day with his scheming buddy Cory (David Flannery), surrounded by demons in bikinis (Annamarie Russo, Ginamarie Russo) who will hurt them if touched. Finally, with Justin in his pocket, the salesman is given a whistle and directed to jump over a pile of sticks, which takes him from the ritzy neighborhood into an empty road in the desert.
"…the salesman must travel through the nine circles of corporate hell."
Blowing the whistle summons a tiny red subcompact, driven by Charon (Marshall Fox), to ferry him across the wasteland. When the car breaks down, the salesman must wander the desert to find corporate headquarters. In the vast emptiness, he encounters various middle managers (Jenna Doolittle, Bob Sherer, Ross Denyer) as well as his dad (Herb Mendelson). The salesman finds the bus going to headquarters, which Sara Biss (Tessa Munro) is also on. Sara Biss informs him that only she can direct the bus driver to go to headquarters, and he will need to get a card stamped by three different departments before she will do that. So the salesman proceeds through further circles of corporate hell, having no idea of the horrors that await him higher up with The Blind (Dralla Aierken) and finally Satan (Justin Berti).
The first thing you will notice about Salesman and the Nine Circles of Corporate Hell is Gazoul's fantastic comic timing. He cuts right where he needs to, which amplifies Maske's already considerable talent. This timing keeps on beat throughout, making even the weak bits skip along. The Mexican opening is very reminiscent of Alex Cox's vision of the netherworld in Straight to Hell; the only thing missing is Karl's Disco Wiener Wagon. The filmmaker impressively is able to keep a plot going through what is essentially a series of skits about white-collar woes.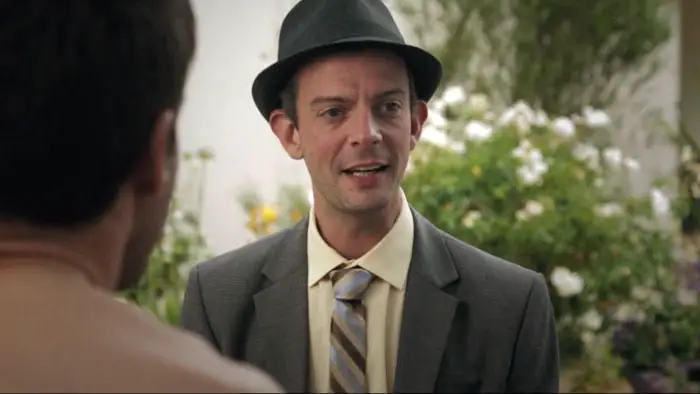 "…re-working of Dante's classic poem to illustrate how work is hell..."