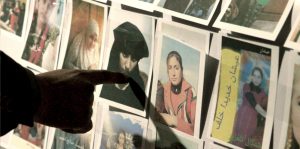 SUNDANCE FILM FESTIVAL 2021 REVIEW! Harrowing, visceral, and unprecedented, Hogir Hirori's Sabaya makes most other documentaries seem like amateur home videos. As desensitized as I've become to emotional assaults on the senses, I write this review deeply shaken by the experience of having watched this movie. There's no narration, nary a word of exposition. The director is right there with his camera, capturing footage that conveys more than any talking head could. It's a ferociously brave act of filmmaking.
Located in Syria, Al-Hol is known to be the most dangerous camp in the Middle East. The titular Sabaya refers to the Yazidi women who are continuously kidnapped by Daesh (the Arabic acronym for ISIS), forced to convert to Islam, and then held captive while being mercilessly raped, beaten, and abused. Some of those poor souls forced into sex slavery are as young as 12. All this is happening right now.
Armed with guns tucked into the back of their pants, Mahmud and his fellow Yazidis run the Yazidi Home Center, risking their lives to save Yazidi women on a daily–or, rather, nightly–basis. "It is important for us, Yazidis, that these girls come back to their families," he states. "We want them to come back to their origin, religion, and culture." Call them gun-toting angels.
"…Yazidi women who are continuously kidnapped by Daesh…"
Mahmud's work is his life. He's absent from his home for days at a time. His dilapidated house needs water, electricity. Mahmud's wife Siham is tired of excuses, nonchalant about his gun-holstering or girl-rescuing. Mahmud has children, responsibilities. But he can't sleep at night. At night, he and his team go out into the camp and, amongst dozens and dozens of decrepit tents housing infinite souls, they have to find the right one, dash in, locate their targets, and rescue them.
Hirori seamlessly blends himself in, filming unflinchingly, bullets whizzing by. He's in the front seat during a car chase, wherein Mahmud, his crew, and the rescued woman are being shot at, trying to escape from their assailants on narrow dirt roads. You can hear the woman whimpering softly before tearfully pleading, "Please, don't let them take me again. I can't take anymore." The filmmaker joins Mahmud in freeing a group of teenage girls, all enslaved since they were children. He films a fire set by Daesh, which encroaches Mahmud's home; the fire truck is late due to technical issues. As for the final 15 minutes – a much-needed inhalation of oxygen amidst a suffocating, claustrophobic landscape – your heart will be shattered into a million pieces.
Mahmud himself is incredibly introverted because he has no choice but to be, or he'd crumble. He chain-smokes, staring out the window – or he sits next to a rescued woman in the car, silent as she cries – and it's all evident in his eyes. After all, he's been staring at collages of Sabaya women for a long time now. He's been listening to their stories of families being murdered in front of their eyes, of the years of sexual and physical abuse. A lot of the women resemble him: hardened by years of inhumanity, they sit calmly within a few feet of Daesh bullets piercing the air. Even if rescued from slavery, will their families accept them? Or beat them, turn them in, kill them? Perhaps they can become infiltrators, help Mahmud in his noble cause.
And the cycle goes on, with no end in sight. With unparalleled verisimilitude, Hirori captures both the helplessness and the resolve it takes to see past it, to hold on to a glimmer of hope, faint as it may be. Sabaya will leave you scarred, its images scorched forever into your mind.
Sabaya screened at the 2021 Sundance Film Festival.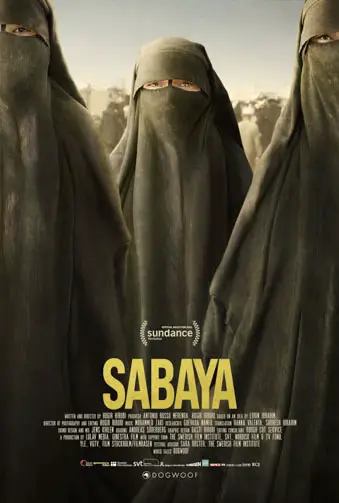 "…captures both the helplessness and the resolve it takes to...hold on to a glimmer of hope..."