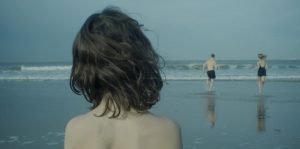 SUNDANCE FILM FESTIVAL 2021 REVIEW! It's all about perspective in Ronny Trocker's drama Human Factors. Even that of a rat, quite literally. Perception is reality, after all. The writer/ director shifts points of view with ease, examining a specific, potentially life-changing moment in a family's life and how it affects each of its members. A bit too somber and detached for its own good, Human Factors nevertheless marks another strong entry from a filmmaker who – after several shorts, a documentary, and one other feature – is just getting started.
The opening lures us right in, cinematographer Klemens Hufnagl's camera lingering in each room of a vacation home as if waiting for its inhabitants – Jan (Mark Waschke), his wife Nina (Sabine Timoteo), and their two kids, Emma (Jule Hermann) and Max (Wanja Valentin Kube) – to arrive. Tension is in the air. Jan goes out to pick up some groceries; while he's gone, a home invasion occurs. Nothing seems to be missing, except Max's pet rat, Zorro.
Trocker then pulls back, revealing that Jan and Nina co-own an ad agency, and he's considering spearheading the "electoral campaign for an important party." Nina thinks getting involved in politics is a terrible idea, but he seems dead-set. "We agreed we wouldn't do any political parties," Nina says. "Don't be so dogmatic," Jan replies. When their workplace gets bombarded by radicals, they escape to their vacation home.
We then watch the events unfold through Max's eyes. He pleads with his parents to stay a while longer in case Zorro comes home. Nina loves the idea and even invites her brother to visit, much to Jan's dismay. Trocker continues to play with narrative structure, shifting back in time to assume Emma's viewpoint, then Jan's, then, yes, Zorro's until a conclusion that puts things in further perspective.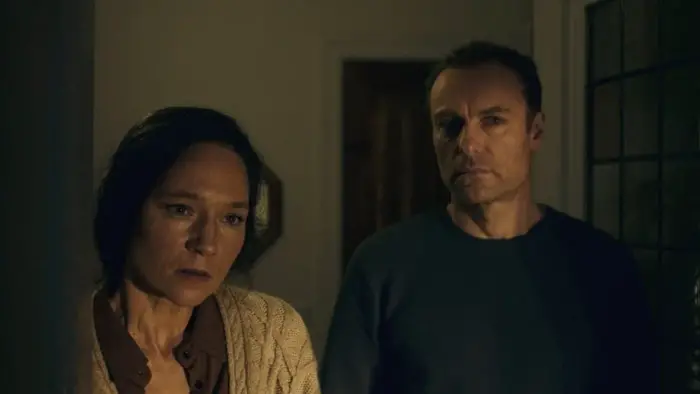 "…while he's gone, a home invasion occurs."
The director assumes a God-like role, observing his characters, smirking at all the bitter twists of fate. Though the decisive sequence is arguably Max spotting his father talking outside on his cell-phone during the invasion (is Jan hiding?), my favorite has to be the one where Jan and Nina just miss their daughter, partying away in a police station video.
Certain images stand out, making one wish Trocker took even more daring chances with such a bold approach to narrative. Jan rows to vent his frustration, and we're right there in the boat with him, the sound turned up to great effect. A train constantly zooms past the windows in the background, creating an uncanny effect of dreary anticipation, of things spiraling out of control. Forlorn shots of a cold, empty beach represent the film's delicate balance of grace and sadness. The filmmaker also keenly observes the perceptiveness of children, how they spot crucial things their elders simply ignore.
For a movie titled Human Factors, said factors feel curiously low. It's no fault of the actors, all of whom are splendid. Trocker never truly penetrates their characters' skins, confused about whether to devote himself fully to a gimmick or flesh out an incisive character piece. The film struggles to excel at both, consequently ending up somewhat dispassionate and protracted. I never truly felt a connection between the lead couple, so wrapped up in their melancholy that they bounce off each other's proverbial bubbles. A little warmth goes a long way.
That said, Human Factors gets a lot of things right. It demonstrates how the smallest of things can set off massive waves, bringing to mind Ruben Östlund's Force Majeure (remade Stateside into the inferior Downhill), also a study of a couple disintegrating after an event threw them off their wavelength. Trocker just happens to add a little POV-whiplash to the mix.
Human Factors screened at the 2021 Sundance Film Festival.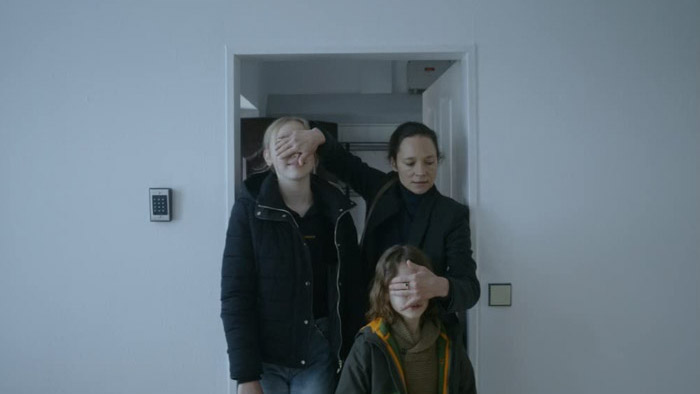 "…demonstrates how the smallest of things can set off massive waves..."