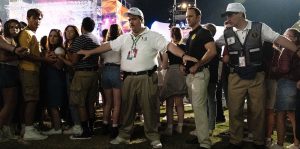 The heart of this tale, however, is its characters. Paul Walter Hauser is a revelation as Jewell. It's one of those rare performances that transcends mere mimicry (although Hauser clearly studied the real hero's mannerisms). His Jewell lives with (and adores) his mother Bobi (Kathy Bates), has aspirations of becoming an enforcer of the law; he's naïve, ambitious; he perhaps suffers from a slight case of arrested development. When the world turns against him, he's both reserved and flabbergasted, only allowing the floodgates to open towards the end. It's a truly remarkable, unforgettable feat of acting.
Hauser gets tremendous support from a cast of stalwarts. Sam Rockwell can do no wrong, and here once again provides an extra wallop of heart and humor as Richard's lawyer, Watson. Jon Hamm, in his 200th project this decade, is reliably resolute and conniving as FBI agent Tom Shaw. Kathy Bates will pull at your heartstrings, particularly in an emotional final plea for humanity, and Olivia Wilde has fun with her "vehement reporter" part, a character aptly named Kathy Scruggs.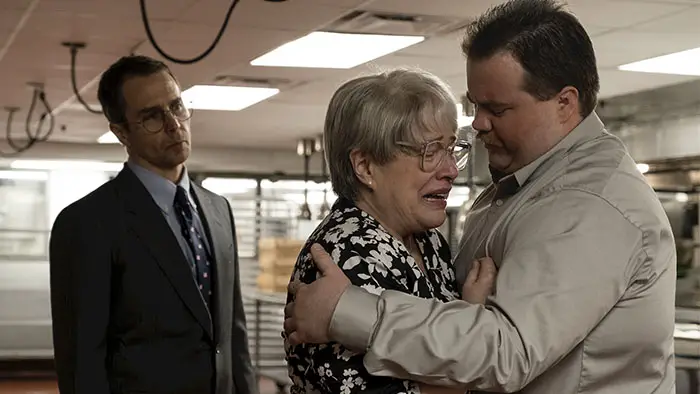 "Paul Walter Hauser is a revelation as Jewell… a truly remarkable, unforgettable feat of acting."
Sure, the film's not without its flaws. Eastwood's never been known to avoid overt sentimentality, and it's evident here on several occasions – particularly in Kathy Scrugg's sudden, abrupt transition from a merciless go-getter to sympathetic sap. Richard Jewell is a tad long – 10 or so minutes left on the chopping room floor may have made for an even tighter result. These are minor niggles that most will not notice.
Eastwood once again takes a sharp stab at America's penchant for attacking first, asking questions later. (Some would claim that's quite ironic, considering his political leanings/past, but I try to separate a filmmaker's personal views with the ones expressed in their work.) His film is about society's tendency to glamorize and demonize in the same breath. We're all pawns, trusting drones on celluloid, not seeing the humanity beneath the pixels. The real Richard Jewell passed away from a heart attack at an early age. His legacy will live on in Eastwood's indelible film.
Richard Jewell screened at the 2019 AFI Fest.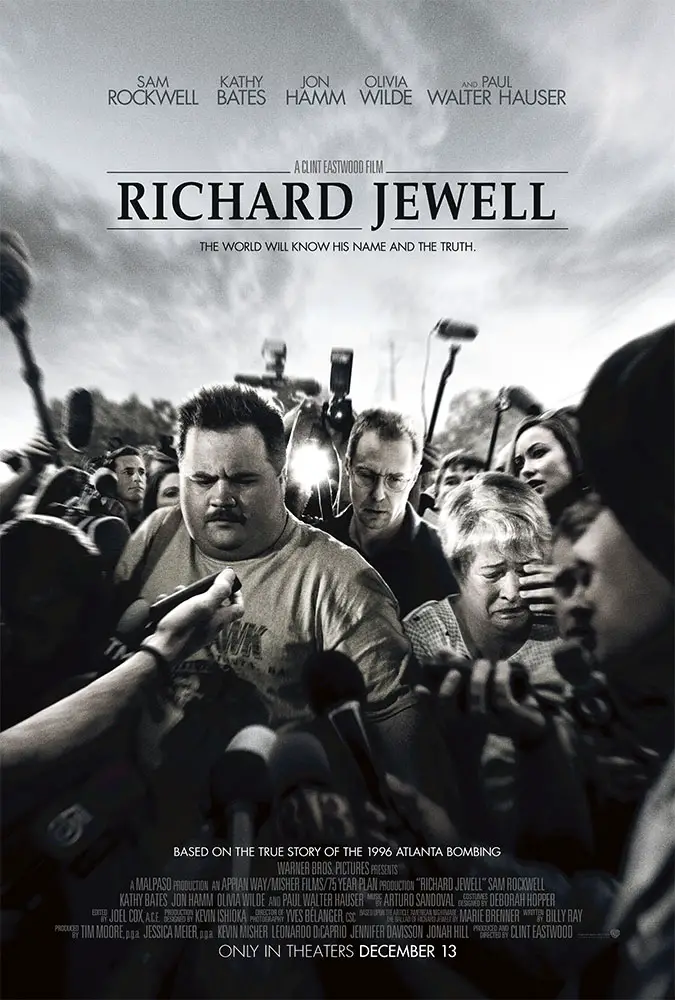 "…Eastwood methodically, and in a supremely muscular and suspenseful fashion, tells Richard's story"