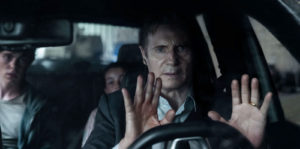 NOW IN THEATERS! Liam Neeson is firmly planting himself in the world of the mid-budget action indie in director Nimród Antal's thriller, Retribution. Neeson plays businessman Matt Turner, whose latest offering has his investors nervous. On this morning, Matt has to talk his biggest investor out of pulling his funds. During all this, the family man has been neglecting his children, Zach (Jack Champion) and Emily (Lilly Aspel). His wife, Heather (Embeth Davidtz), insists that Matt drive the kids to school today.
While in the car, Matt whips about a few deceptions to appease his client. On the way to school, he receives a mysterious phone call from a cell phone planted in his car. Matt's told by an electronically-modified voice that he's sitting on a bomb, and if he attempts to leave his car, it will explode. The voice also tells him he has a remote that can also detonate the bomb.
The voice tells Matt to drive to two of his co-workers. One is his partner and best friend, Anders (Matthew Modine). Unfortunately, Matt arrives just in time to watch both of them explode. Since Matt is there at both crime scenes, the police have him as their prime suspect. It seems all is going according to the villain's plan.
For me, I struggled over whether to recommend this or not, and sadly, I cannot. There's an unavoidable reality that when you have big stars, such as Liam Neeson or Bruce Willis, as of late, you expect bigger movies. Retribution is just too small for its lead. If this was an indie action film with an unknown cast and crew, or if millions more were pumped into its budget, I would have probably told you to see it.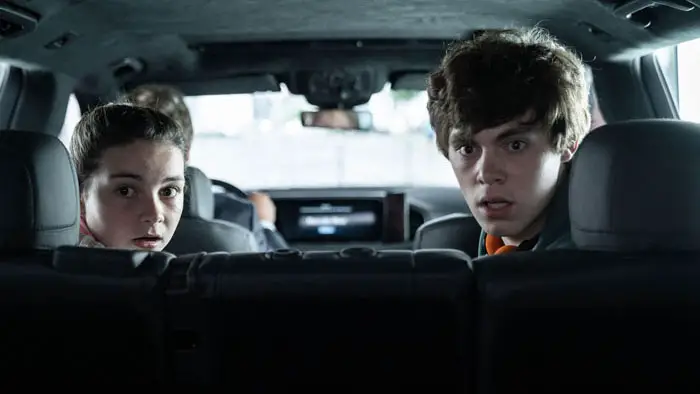 "…he's sitting on a bomb, and if he attempts to leave his car, it will explode."
The film is about the action with some cool explosions and average car chases. Said chases are where the few extra million would come in handy. But we've seen the victim led by a mysterious voice before, and writers Alberto Marini and Christopher Salmanpour do nothing to elevate it. The thrills and tension are good but not memorable.
Fast X and Mission Impossible: Dead Reckoning (Part One) are what indie action films are up against. Unfortunately, sometimes big name actors can't live up to the comparison, whereas unknown actors can, because we expect bigger things from bigger stars. What Neeson and Modine (for the little time he's there) do bring to the table is gravitas. Both actors never phone in their performances, which clearly lends enough weight to producers needing stars to distribute this film properly.
Let's also be real. There's a bomb under the seat, which is that unseen threat we must be reminded of through dialogue. This means there's not as much tension built up as there should be.
Ultimately, the final judgment on the film comes down to how badly I want to see it again… I don't. I said it on the Film Threat Livecast. I'd recommend Retribution if the weather is too hot and you want to spend a few hours in air conditioning. Otherwise, it's a pass.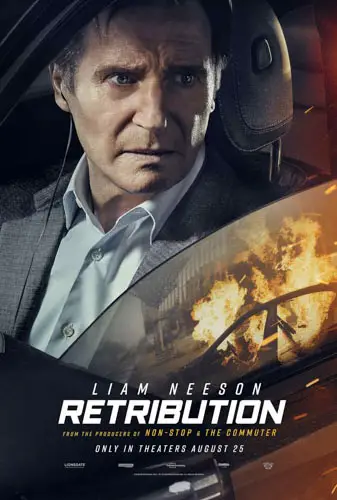 "…just too small for its lead."