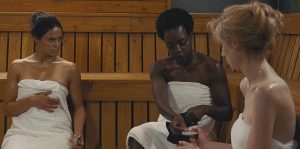 Widows is quite possibly the best film—if not top five, were we to entertain a conversation about the films-yet-to-go-wide (If Beale Street Could Talk, Creed 2, Jinn, etc.)—of the year. The reimagined heist film, co-written by Gillian Flynn (Gone Girl, Sharp Objects) and director Steve McQueen (Hunger, 12 Years a Slave), is just…damn good. Unlike countless tales "from" Chicago in the last five years, Widows captures so much without being uncomfortably disrespectful to the city's people and culture. Simultaneously, it aggressively centers women's stories in a genre built on the flattening, sacrifice, and dismissal of female characters.
Adapted from a 1983 British TV series of the same name, Widows is reinterpreted with Veronica (Viola Davis,) Linda (Michelle Rodriguez,) Alice (Elizabeth Debicki) and Belle (Cynthia Erivo) at the helm. Besides the latter Belle, they're all wives of a professional robbery squad (Liam Neeson, Manuel Garcia-Rulfo, Jon Bernthal). Their lives are suddenly thrown into disarray when the entire crew is blown to bits in their latest job. Their grieving gets complicated quickly when Veronica is informed by local kingpins Jamal and Jatemme Manning (Brian Tyree Henry, Daniel Kaluuya), that she must pick up the debt her husband created by stealing the Manning Brothers' money. You see, Jamal intended to use that money to fund his campaign against incumbent ward alderman Jack Mulligan (Colin Farrell,) who himself is embroiled in a corruption scandal under his father, Tom's (Robert Duvall,) reign as the elder statesman.
With everything on the line and just a month to deliver, Veronica marshals her status and privilege as Frank's wife to turn to her fellow widows with a proposition: execute one last job. The plan? Pay Jamal back, and run off with enough money to establish their own lives, independent of their late husband's collective legacies.
"…they're all wives of a professional robbery squad…informed by local kingpins…must pick up the debt their husbands…"
The film is a brisk, engrossing narrative that weaves this story with engaging dialogue, incredible one-liners, and the kind of slow burn that any good neo-noir film should have. But what makes Widows so unbelievable is its trust in its players, the viewer's intelligence and savviness, and a bevy of technical moments.
Viola Davis does some of the best emoting of her career as the heartbroken, bougie Veronica. The swag and vacillation between aloof bitchiness and devastating vulnerability of her Annalise Keating here are refined and tempered, pushing towards an increasingly not-so-subtle commentary on interracial relationships and the power dynamics behind them. In fact, her tenuous performance and navigation of a form of kept white womanhood (see: as denoted by class, status, and culture) is a marvel to watch, especially when you consider that it's often made complete by her lily white dog, Olivia.
On the polar end, Debicki's Alice is an absolute well of pathos. While her arc is more acute than Veronica's, they share so much regarding how reliance on abusive partners turned them into shells of themselves. Alice's rebuking of patriarchal power, in particular, comes full circle in the last act of the film, wherein she claims her life as her own in all aspects. That said, the dynamic between her and Veronica is rousing and has a fulfilling journey. On the outer circle, Rodriguez and Erivo also prove their worth in the ensemble, adding layers to the film's intricate, depressing details of dependence on men and poverty.
Now, while this is The Viola Davis Show™, Colin Farrell, Daniel Kaluuya and Brian Tyree Henry steal nearly every scene, they're in, with the exception being Farrell going toe-to-toe with Robert Duvall. In said scene, Duvall and Farrell toe the line of white generational power and politics from different angles with the kind of vulnerable gusto that's probably unseen at your white friend's Thanksgiving dinner table. Again, Widows is simply the perfect match of script and performance—pushing the kind of vocal audience responses (laughter, shocked gasps and groans) that only really f*****g good movies can evoke, be it during the hustle and bustle of Toronto's film fest, in sleepier Mill Valley at the Mill Valley Film Festival, or the rarely rain-drenched streets at San Diego's International Film Festival.
"…what makes Widows so unbelievable is its trust in its players, the viewer's intelligence and savviness, and a bevy of technical moments."
Case in point is one of the film's greatest scenes, wherein Jatemme is dealing with two cronies who failed at protecting the brother's money from Frank's sticky fingers. Presented as a dark perversion of the theatricality of a BET Hip Hop Awards cypher, the scene gains its magic from cinematographer Sean Bobbitt's (Hunger, 12 Years A Slave, The Place Beyond The Pines, Queen of Katwe) use of orbital maneuvering. As Jatemme marvels at his subjects-turned-prey, the camera loops around them all, creating a pocket solar system. The constant momentum and closeness produce a level of intimacy that makes the scene's end all the more explosive.
This kind of practical and inventive framing and photography abounds in Widows; from the creation of subjective space in clear and reflective surfaces (windows, mirrors) to the introduction of a pivotal sermon and the pastor who delivers it, to the strategic placement of a camera in one scene to showcase the literal geography of gentrification in Chicago. It's so simple in its brilliance, exaction and application that I'm still wowed by how visually memorable the film is.
Widows is not merely a female version of The Departed or Heat. Instead, Widows reinvigorates a story form with a new telling, modern context, and culturally relevant moments that prove the immediacy of these narratives, without pathologizing sisterhood to some terminal end (Set It Off). The ensemble film, through the lens of womanhood, is always best served by original narratives that respect that women are worthy of so much more than a refitted version of a man's narrative. Period. Widows is a testament to this gospel, at every twist and turn.
Widows (2018) Directed by Steve McQueen. Starring Viola Davis, Michelle Rodriguez, Elizabeth Debicki, Cynthia Erivo, Colin Farrell, Brian Tyree Henry, Daniel Kaluuya, and Liam Neeson.
10 out of 10 Robert Duvall quotes