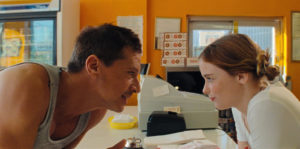 NEW TO DVD! Indie powerhouse director Sean Baker presents the lowbrow comedy Red Rocket, in which Mikey Saber (Simon Rex), a washed-up porn star, returns home. He's burned every bridge in Texas City, his small Gulf Coast hometown, and no one wants him back, but he arrives on the bus anyway, looking for a friendly face. His estranged wife Lexi (Bree Elrod) does not give him the welcome reception he seeks. She insists he gets off her property and starts to call the police. Mikey talks her out of that and then talks his way into the house to take a shower, which results in him living with Lexi and her mother, Lil (Brenda Deiss), more or less rent-free until he finds a job.
He has that gift. Early on, we learn that Mikey's defining characteristic is an ability to build an energy around himself that attracts people, even when they know he's a piece of garbage. He's a textbook narcissist who believes his own lies, at least long enough to convince other people. It doesn't take long before Mikey's back in Lexi's bed and has charmed his way into at least being tolerated by everyone around him. He borrows Lexi's clothes and bicycle and hits the town looking for a job. Unfortunately, former Adult Entertainer is not much of a resume, and he struggles to convince someone to hire him.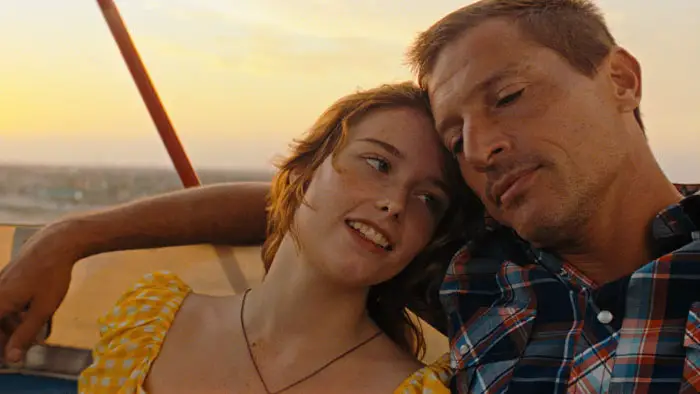 "…a washed-up porn star returns home. He's burned every bridge in Texas City…"
As Red Rocket follows Mikey becoming reacquainted with the town, we, and he, meet next-door neighbor Lonnie (Ethan Darbone), who was just a kid when the former porn star left town. Lonnie is in deep awe of the worldly accomplishments that Mikey talks about incessantly. He hangs on every word of his stories about life and adventures of doing porn in L.A. Mikey is happy to tell his stories as long as Lonnie will chauffeur him around.
To get some income flowing, Mikey talks weed dealer Leondria (Judy Hill) into letting him go back to work for her. She doesn't entirely trust him, but she agrees to let him sell. Mikey takes Lexi and Lil to a donut shop to celebrate the payday, where he is smitten with the teen counter-girl. She's a cheerful, beautiful red-head who calls herself Strawberry (Suzanna Son). He turns on his charm, and in short order, he's abandoned Lexi again and starts having sex with Strawberry. His endless stream of bullshit and schemes paints a picture of wild times and golden days ahead.
Whenever plans don't work out, Mikey takes every setback in stride and celebrates even minor successes as major life events. He's that crazy fun guy you want at every party, but that you definitely hope is gone by sunrise. His whole life is collateral damage, destroying people and leaving a trail of destruction in his wake, to which he is seemingly oblivious. Everything about Mikey's mis-adventured life is funny. However, it's an uncomfortable kind of funny. You may feel like s**t for laughing, particularly when… well, that is a spoiler, but you'll know it when it happens.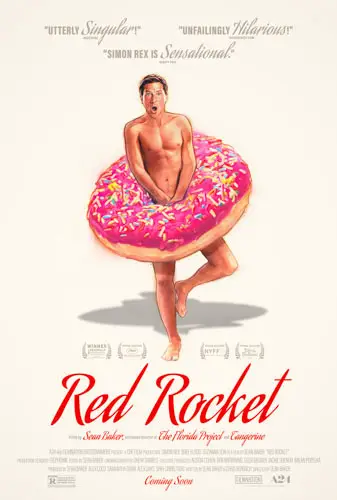 "…can New York and L.A. filmmakers really know what life is like for poor people?"