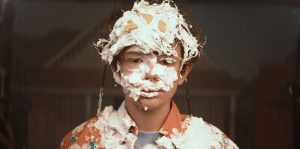 Shia LaBeouf decided to write a movie based on his relationship with his father and their tumultuous relationship, which likely drew a collective eye roll from anyone who read that news. How could this not be an indulgent exercise from an actor known for his wild tactics and performances pieces?

The beautiful surprise of Honey Boy is it never feels like LaBeouf revels in the chance to put the spotlight on himself. He wrote the film while in rehab and every moment of the movie feels like an artist in search of a desperately craved and needed catharsis. Documentarian Alma Har'el makes her feature debut. Paired with LaBeouf's script, Honey Boy is real and raw in every frame.
The first shots of the movie are set in 2015, where Otis (Lucas Hedges) is filming a large action scene on a movie then cuts to a decade earlier when a younger Otis (Noah Jupe) is working on a television show. He is accompanied on set by his father James (LaBeouf), who is a bit of a wildcard and at times needs Otis to take care of him (whether he knows it or not).
"…days are spent rehearsing lines for Otis' next day of work or James berating his son on a whim…"
Otis and James live in a The Florida Project-esque motel in rather unseemly conditions. Their days are spent rehearsing lines for Otis' next day of work or James berating his son on a whim, often over nothing in particular. James and Otis' mother have split and James likes to remind Otis he is the parent by his side and that, coupled with four years of sobriety, should count for something.
The movie cuts between Otis as a twentysomething in rehab (following an accident caused by Otis being under the influence) and Otis living with his father as a 12-year-old boy. The narrative never feels jumbled in any way but mirroring of the past and present and how Otis can't escape the full weight of his father.
What LaBeouf wisely does with his script is never take a moment to attack or demean his father. At times, he tries to hang on to any memory he has of his dad from when he was a child and there weren't often too many pleasant moments. He works through the his fractured feelings towards his father in therapy sessions with his counselor (Laura San Giacomo) and makes it clear he isn't ready to purge himself of these memories, no matter the pain he caused. He paints James as someone who so desperately wants to be a good father but can never put the pieces together to do so.
"…will leave you hoping the actors finds the peace he is looking for."
Honey Boy is certainly hard at times to watch because James isn't afraid to put Otis down or abuse him, physically or mentally. None of it feels like a gratuitous showing for dramatic effect. LaBeouf's script never feels like the actor wants to be telling this story but for himself and any future relationship with his father he had to make this movie so he can move past anything that happened when he was a child.
The bulk of the film is spent with young Otis and James at the motel. Jupe is such an immense up-and-coming talent (seen last year in A Quiet Place), going toe-to-toe with LaBeouf in some of the film's most difficult scenes. As the older version of Otis, Hedges fully inhabits the cadence and live-wire energy of LaBeouf's persona we know.
As an audience, we only know the LaBeouf who makes tabloid headlines or performs insane stunts (like watching all of his movies in order at a movie theater) but Honey Boy allows us to know him a bit more personally. It's easy to judge people we don't know based on their public lives but Honey Boy will leave you hoping the actors finds the peace he is looking for.
Honey Boy (2019) Directed by Alma Har'el. Written by Shia LaBeouf. Starring Shia LaBeouf, Noah Jupe, Lucas Hedges. Honey Boy screened at the 2019 Sundance Film Festival and the 2019 Toronto International Film Festival.
8 out of 10