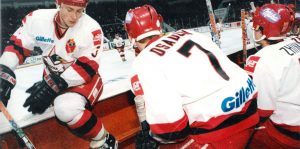 I had the privilege of interviewing filmmaker Gabe Polsky a few years ago, as well as reviewing two of his films: Red Army and In Search of Greatness. The man is highly eloquent, humble, and passionate. Plus, he loves sports, especially hockey. All these traits are very much on display in his latest, and best, documentary Red Penguins, which he wrote, produced, and directed. However, unlike Red Army, which focused primarily on the sport itself, its spiritual successor is a sublime study of a dark time in a great country's history, of two wildly different cultures attempting to work together, of the fascinating individuals that lived to tell their tales – all under the guise of a "hockey doc."
Polsky narrows down on a very particular period in Russia: the 1990s, after the collapse of the Soviet Union. Having lived through the Perestroika myself, I can attest to the absolute chaos prevalent during those years: oligarchs made fortunes and murdered dozens, while impoverished folks struggled to survive. Western culture – which had gradually seeped its way into the country before – now came crashing in like an avalanche, an overwhelming surge of alleged freedom and democracy. In the midst of all this, Russian hockey – specifically the Red Army team (called CSKA in the motherland), once known for being the greatest in the world – was "on the verge of extinction."
That's when Howard Baldwin and Tom Ruta – both Pittsburgh Penguins owners – had an idea: to "invest into a team in Russia," and consequently "own one of the greatest hockey teams." Conducting business in the volatile, lawless climate proved risky, to say the least, and that's discounting the fact that they had to deal with the rigid, intimidating manager Valery Gushin. So they sent in Steven Warshaw, a tough-skinned marketing guru, to not only spearhead the merger but to attempt to make the team the greatest ever.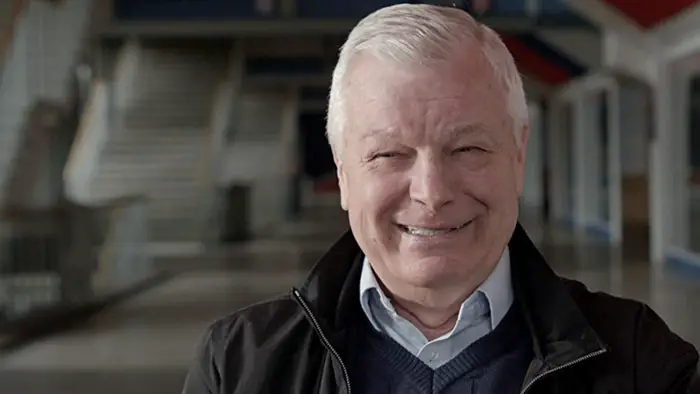 "… a dark time in a great country's history, of two wildly different cultures attempting to work together…"
What Warshaw witnessed was a dilapidated country, robbed of its pride. Some of his incredibly vivid recollections include caged strippers in a dungeon, bears serving beer on ice, and auctioned sturgeons. Then, of course, there are the corrupt cops and the mafia, with some of the latter's members blatantly denying their involvement in any illegal activities to Polsky. Warshaw himself also casts quite an impression. "He landed here like a UFO. He was a real alien," a former hockey player says.
There's fascinating footage of Perestroika, of a fuming White House in Moscow. There are brutal shots of anarchy on the streets, folks being violently robbed and attacked. Amidst this turmoil, "the whole world was watching to see if the United States and Russia could collaborate."
Polsky packs a lot into the film's slim 80-minute running time. It's dense but never overwhelming, presenting facts and anecdotes in a coherent, intuitive, supremely entertaining fashion. He expresses a deep fascination for Russia and the enormity of its history (he even speaks the language). Rather than being condescending or judging – typical qualities of American entertainment dealing with us Russkies – Red Penguins treats the nation with respect and wonder, even if at times resorting to statements like "everyone's drunk in Russia."
When I spoke with Polsky, he mentioned that his goal was to "make the greatest sports movie of all time." He comes pretty damn close to making the best documentary of the year with the layered and sharp Red Penguins.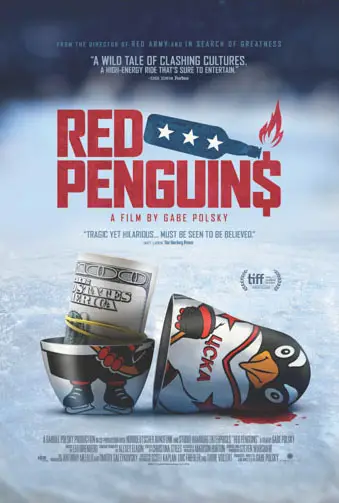 "…the best documentary of the year..."