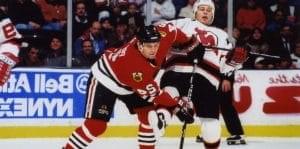 In professional sports, deep down, most people love or at least have a grudging respect for a charismatic villain. This is especially true in professional hockey where the goon, a player renowned for his ability to beat the living daylights out of the opposing team, is ever present. In the rogues' gallery of these pugilists on ice, Bob Probert was the stuff of legend. A 6'3" Canadian who spent the lion's share of his career with the Detroit Red Wings, Probert was known and feared as a player who would drop the gloves on a dime and go toe-to-toe with anyone — even the goalie — throughout the 1980s and 90s. Writer/director Geordie Day's by-the-numbers biopic Tough Guy: The Bob Probert Story does a good job revealing the man behind the battered visage, on many levels humanizing the excessively partying, hard-hitting Probert. However, the filmmaker chokes when it matters most. He fails to do a deep dive into how this ongoing physical punishment adversely affected the health of Probert (and many of these so-called enforcers) while giving a pass to the NHL's willful negligence and tacit acceptance or this carnage.    
Probert grew up in Windsor, Ontario, directly across from the Motor City. From a family of two boys, Probert's father was a big man and former cop who raised his kids to be strong and not be "wimps." Probert, like many Canadians, began playing hockey at an early age and even in the junior leagues began building up a reputation as someone who would willingly fight his opponents. A shy kid, he also began drinking at an early age, a habit that would dog him throughout his life. Probert was chosen as the fourth pick in the third round in the 1983 NHL Entry Draft by the Red Wings. In his rookie year, in addition to an impressive scoring performance, he would rack up a string of fights in the rink and run-ins with the police — including a drunk driving incident in which he crashed his car through a bar and was subsequently jailed for fighting with a responding police officer.
"…the life and death of Probert now stand as a terrible cautionary tale that will likely be played out again and again in coming years…"
In workmanlike fashion, director Day chronicles Probert's near-legendary fights, his escalating drug and alcohol habit, and continuous legal issues. The ever-present, nattily-attired Canadian hockey broadcaster Don Cherry shows up at one point (natch). In one humorous aside, some fans dressed as the Hanson brothers from the seminal hockey flick Slapshot are seen bowling before Probert a la Wayne's World. Eventually, Probert settles down a bit when he meets a pretty young woman named Dani who — despite her mother's warnings — agrees to marry him. However, fate catches up with Probert when he is caught crossing the U.S. border with a boatload of cocaine in his possession and is sent to federal prison for six months at the age of 24.
After serving his sentence, Probert returns to the ice with the Chicago Blackhawks where — still in the role as enforcer — he continues to be an asset to the team. Time and age begin catching up with him, however, leading him to use steroids eventually. Yet, his drug use combined with the growing size and strength of younger players prove to be too much. In 1999, Probert retired after scoring his final NHL goal at the historic Maple Leaf Gardens.
As with many athletes and entertainers who retire voluntarily, due to injury or other circumstances beyond their control, Probert found the shift into the civilian world — far from the adrenaline of the rink and the screams of the fans — jarring, to say the least. The father of three would continue to struggle with substance abuse and go in and out of rehab. And, on July 2010, while boating with his family in Windsor, Probert suffered a severe heart attack and died shortly thereafter.
"The few times he does begin to examine how the constant punishment Probert endured may have played a part in his demise, Day p*****s out…"
Up until this point, Tough Guy had been a fairly interesting biography of one of the NHL's more colorful figures. But rather than examine the root causes of Probert's death at the early age of 45, the director goes instead for teary remembrances and farewells. The few times he does begin to examine how the constant punishment Probert endured may have played a part in his demise, Day p*****s out. To be sure, he does recount a few stories of how other players like Stu Gorman suffered terrible head trauma but Day refuses to press the point. Don Cherry says "he won't go into concussions" and that's where the director leaves it. This failure is particularly jarring given the increasing attention that chronic traumatic encephalopathy, a neurodegenerative disease caused by repeated head injuries, has been getting in the news — particularly with respect to the early deaths of many high profile NFL players — within the last several years.
Day takes no one in NHL's front office to task on this score. And the silence is deafening. Which is particularly tragic given that the violence within professional hockey continues unabated. Sure fans might enjoy watching two big men go toe to toe on the ice but the long term cost of this violence to the players actually lacing up their skates every day is unconscionable and could be stopped/diminished if management and owners made it a priority. Instead, the life and death of Probert now stand as a terrible cautionary tale that will likely be played out again and again in coming years.
Tough Guy: The Bob Probert Story (2019) Written and directed by Geordie Day. 
5 out of 10 stars