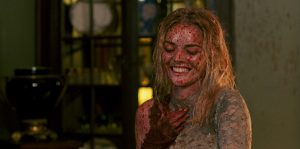 The comedic horror-thriller Ready Or Not takes the children's game of hide and seek to terrifying new levels. Alex Le Domas (Mark O'Brien) has a  secret to tell his new bride Grace (Samara Weaving). Whenever someone joins the family, there is a ritual that must be observed. That ritual involves blindly pulling out a random card. This card has the name of a game on it, and to be properly accepted into the fold, the newlywed must play whatever game is on the card.
The games can be harmless affairs, such as Old Maid or Chess. However, there is one game with murderous intent behind its innocent facade—hide and seek. As fate would have it, hide and seek is the game Grace's card. Now, the entire Le Domas clan, husbands and wives of blood relatives included, hunt Grace with the intent to kill, as she hides somewhere inside the family mansion.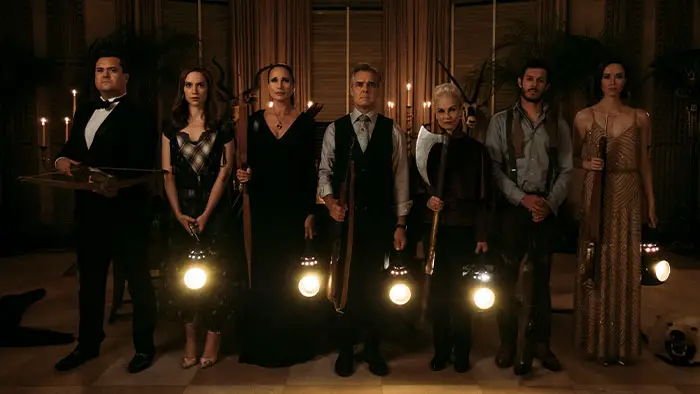 "…blood relatives hunt Grace with the intent to kill, as she hides…"
In order to properly preserve the surprises and utter fun of Ryan Murphy and Guy Busick's screenplay, that is as much of the story as I will reveal. Ready Or Not packs a lot into its shockingly quick 95-minute runtime. I mean that in regards to both themes and story beats; but as mentioned, giving more away would spoil a lot. The most engaging thematic thread was about blood versus the family you choose. It is relatable and handled in the most outrageous, entertaining way possible.
The duo's script also perfectly balances comedy and horror. It leans more on the latter but has enough dark drollness to ensure the movie does not take itself too seriously. A scene in which Fitch (Kristian Brunn) looks up video tutorials on how to use a crossbow is hilarious. When Grace is hiding in the kitchen from one of the servants and accidentally makes a loud noise, you will be on the edge of your seat.
The direction from Matt Bettinelli-Olpin and Tyler Gillett, two-thirds of Radio Silence Productions, is stellar. Ready Or Not is a sumptuous feast for the eyes. The scene of Grace's initial hiding, before she knows she's in mortal danger when she stops to take off her heels is fantastic. It is such a simple scene but highlights beautifully the kind of person Grace is. The film has a lot of shootings, stabbings, and beatings, and the action is exciting and well done. The aftermath of an accidental shooting of a maid is fraught with tension.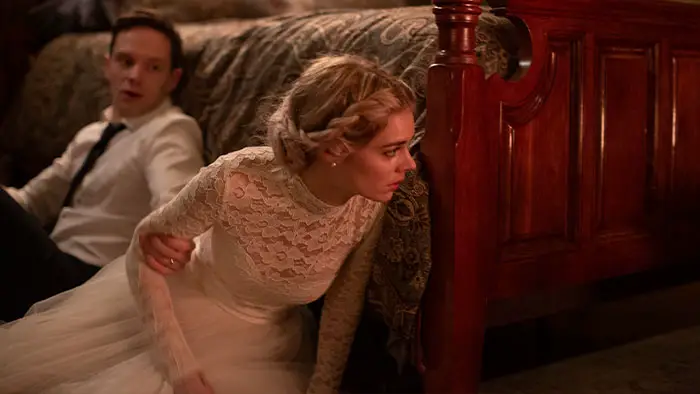 "…perfectly balances comedy and horror. "
None of this would be possible without the absolutely killer cast. Weaving is perfection as Grace. Her reaction to discovering that the Le Domas family wants to murder her feels realistic and heartbreaking. Weaving's chemistry with O'Brien is fantastic, and the two seem to be truly in love. O'Brien, whose Alex does not participate in the family tradition, is just as great. When he rebukes his mother, portrayed by a menacing Andie MacDowell, about how sacrificing goats as a child is not normal, it is brutal and empathetic.
Adam Brody has a tricky role as the consistently drunk Daniel, Alex's brother. While I cannot say too much, know that Brody is marvelous and makes all the twists and turns believable. As sister Emilie, Wynonna Earp herself, Melanie Scrofano lets her comedic chops loose to brilliant effect. The entire cast nails their roles and brings fun and creepy in equal measure.
Ready Or Not is a dark comedy about how the secrets in a family affect even newcomers. The acting is incredible, the directing striking and intense, and the screenplay is unbelievably brilliant and funny. I adore every scary and funny second of this movie and highly recommend it to everyone else.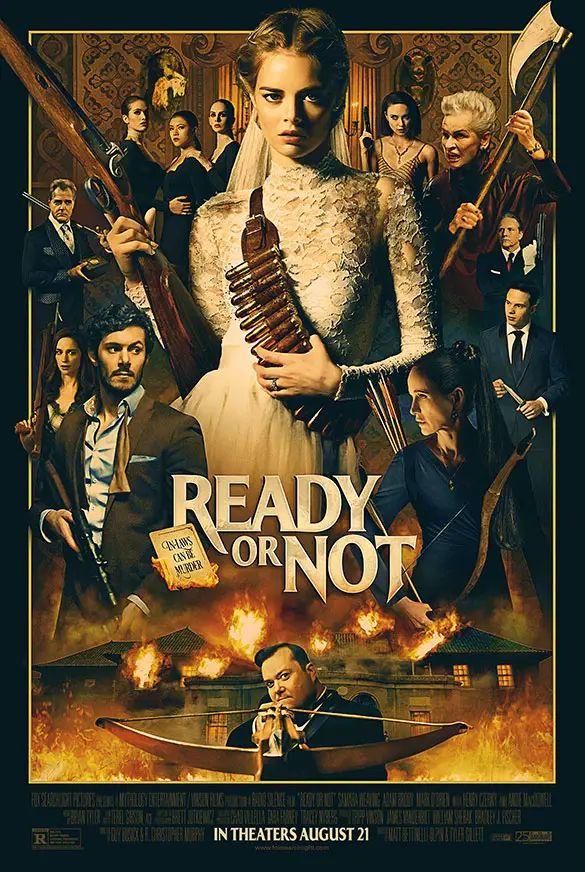 "…takes the children's game of hide and seek to terrifying new levels"