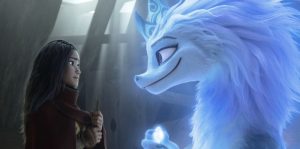 Admittedly I've been a little critical of the films Disney has released since our COVID lockdown, but now they've thankfully returned to form with Don Hall and Carlos López Estrada's Raya and the Last Dragon. Not only is it gorgeous, but an excellent primer for the young set into Southeast Asian culture.
Raya and the Last Dragon centers on the once united kingdom of Kumandra, where everyone used to live in harmony, and magical dragons protected the land. Great darkness fell over Kumandra when mysterious creatures known as the Druun threaten everyone, turning all living creatures they touch to stone. The dragons sacrificed themselves to save the people leaving only the mystical Dragon Gem, which holds the power of the dragons to repel the Druun from the kingdom's borders.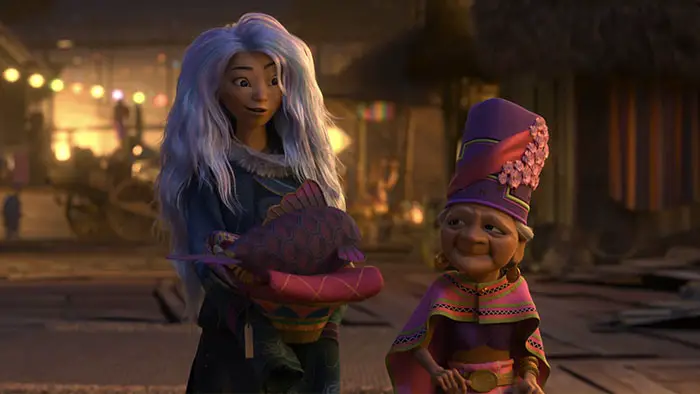 "Raya…believes if she retrieves the Dragon Gem pieces…she can stave off the Druun…"
Over the next 500 years, Kumandra is divided into five feudal lands. The memories of dragons turned to legend, with the Dragon Gem being seen as a talisman of great fortune. Guarding the gem is Benja (Daniel Dae Kim) and his warrior-in-training daughter Raya (Kelly Marie Tran). One day, Benja gets the bright idea of reuniting the factions of Kumandra and the kingdom back to greatness over a great feast. Idealistic Fool!
As people do, jealousy takes over, and the five leaders fight and backstab one another to possess the Dragon Gem. During this hostile encounter, the gem falls to the ground and is split into five pieces. Each faction steals a part for their own, with the largest portion going to Virana (Sandra Oh) and her daughter Namaari (Gemma Chan). With the Dragon Gem now weakened, the Druun return, turning half of the people to stone, including Raya's father, further alienating the kingdom.
Raya is lost without her father and believes if she retrieves the Dragon Gem pieces, particularly from her formidable rival, Namaari, she can stave off the Druun and use the gem's magic to bring her father back. During an encounter with Namaari, Raya releases the last dragon, Sifu, from her magical hibernation. Needing help to find the gem and expanding Disney merchandising, Raya pulls together a rag-tag crew in Raya's giant pill bug Tuk Tuk (Alan Tudyk), Boun (Izaac Wang), a young street chef, rival chief Tong (Benedict Wong), and three-year-old toddler Noi (Thalia Tran), and her three pet monkeys.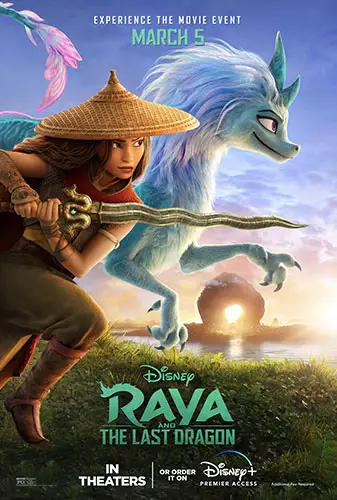 "…would it have killed them to put one cute, bouncy musical number somewhere in the film?"