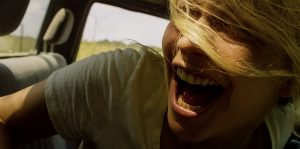 Sick. Twisted. Nihilistic. Macabre. All these adjectives apply to Teddy Grennan's impressive feature-length debut, Ravage, a cinematic exercise in sustained tension. Just when you think there's a semblance of respite, Grennan ruthlessly thrusts you back into the depths of a sun-soaked hell. Yes, it contains plot holes, nor is it particularly deep, and it's utterly unapologetic in its depiction of the brutalities inflicted upon its admittedly tough-as-nails female protagonist. Those looking for a message are missing the point. Grennan's goal is to literally ravage your senses, leave you breathless and ashamed of humanity. At this, he mostly succeeds.
A "GI Jane with a camera," photographer Harper (Annabelle Dexter-Jones) has had a rough field trip. Sent to ensure she's not just some "mountain tweaker who burned herself up in a meth lab," detective Slayton (Michael Weaver) finds Harper bandaged up head-to-toe in a hospital. He proceeds to question her about her journey into the Watchatoomy Valley, a mythical place that's spawned legends of cop-killing Catholics, voodoo-practicing priests, and "leftover Chinamen from the railroad who ate their own."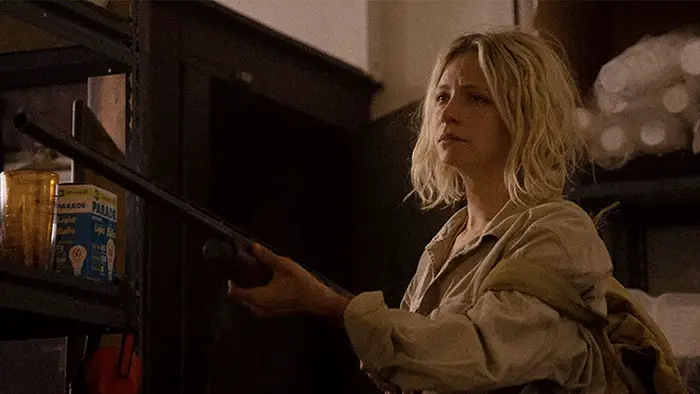 "After being raped and beaten, Harper eventually makes her escape."
The film kicks into high gear once it flashes back to Harper's misadventure. When she stumbles upon a bunch of rednecks feeding a strung-up human to raving dogs, Harper, the pro that she is, documents the grisly proceedings on camera and makes a run for it. She reports the incident at the local police station, then is promptly kidnapped and brought to a remote farmhouse, run by the mad Ravener (Robert Longstreet). 
Minor spoilers follow. After being raped and beaten, Harper eventually makes her escape. Little do those hillbillies know, they fu*ked with the wrong nature photographer. The young woman MacGyvers traps for her stupid assailants, including the elderly and confusingly-named Mallincrkrodt (Bruce Dern), who waxes poetic about torture and execution representing societies through history. I'll leave you to discover how it all ends, although my biggest gripe about Ravage happens to be its conclusion, which favors cheap shock over a potentially powerful feminist message.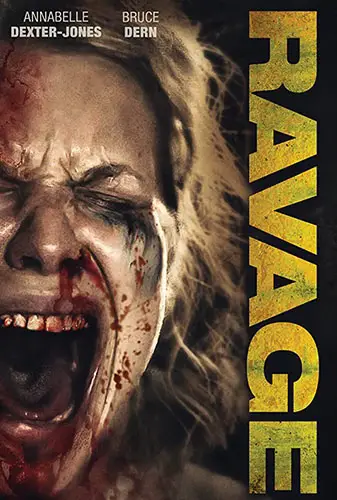 "…no one will shrug their shoulders and go 'eh, whatever' after this one."