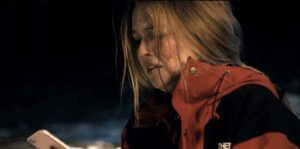 Set in a dense snow-covered forest, Glass Cabin explores isolation and paranoia as Scarlett (Revell Carpenter) is secluded in a house completely covered with windows. After a strange interaction with property attendant David (David Mar Stefansson), contact with the outside world becomes limited due to heavy snowfall, and the audience is left questioning the motives of both parties in this short thriller.
The film opens with tennis player Scarlett beginning her stay in the cabin, as she takes in the view of the surrounding woods through the massive windows. David approaches the house, offering the WiFi password and to show Scarlett around. Though this interaction is minor, it sets the stage quickly for the scenes to follow and establishes early that Scarlett is separated from the world and gives the feeling that she is not safe.
Once establishing the interaction with Scarlett and David, writer-director Can Türedi explores daily life in the countryside, with Scarlett attending tennis practices and David driving to an unknown location. As the climax builds, we begin to see how truly alone Scarlett is inside the glass cabin, as no one answers her calls, and the landline has been cut. With the blizzard worsening, a suspicious David approaches, claiming the roads are closed and he must stay with her. The film crescendos as David shines his flashlight, following Scarlett's attempts to hide and her ultimate decision on how to escape.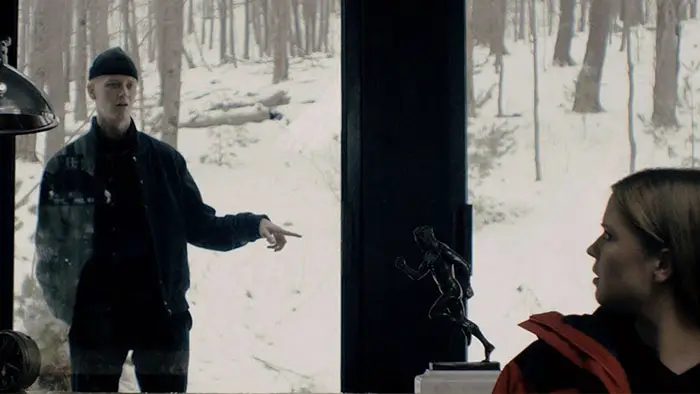 "…no one answers her calls, and the landline has been cut."
Türedi's use of silence throughout the film greatly lends to the feeling of isolation. As Scarlett approaches her glass prison, only the snow falling all around her can be heard. Inside the house, there is complete silence. However, this silence is brilliantly contrasted with sharp string music during moments of tension. When Scarlett reflects on her encounter with David, and when he appears out of the blizzard, the score tells us repeatedly to doubt David's intentions, despite his actions never giving a direct reason not to trust him.
With minimal dialogue, both Carpenter and Stefansson convey subtext and intense distrust subtly throughout. Stefansson finds a way to come across as both assertive and naïve, giving the feeling that David is innocent yet completely untrustworthy. Carpenter does an exceptional job finding balance as she conveys Scarlett's suspicions of David but never allows the audience to see her as a threat. These performances, paired with the tension of music and the feeling of being watched, creates a constant paranoia and ambiguity that carries into the final credits.
I found Glass Cabin to be a captivating look at isolation and subverting expectations. Throughout the film, the framing and music tell the audience to distrust David, yet his actions never overtly raise suspicion. The film has a very The Favourite quality in how it uses fast creaking strings to create an instant feeling of uneasiness. Re-watching left me wishing for more foreshadowing towards the ending, but beyond that, this is a very rewatchable short film. If you are a fan of gripping shorts such as 2017's Roadside or Pitch-Black Heist, this short will leave you wanting to see what Türedi's next film will bring.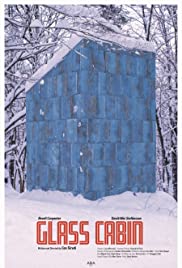 "…creates a constant paranoia and ambiguity that carries into the final credits."