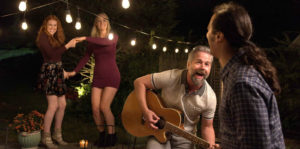 Travel has changed in more ways than one with the advent of Airbnb. The horror of the double booking was the basis of the well-received genre outing Barbarian. Cruising into this is the tense, off-kilter thriller from writer-director Robert Mann titled R BnB.
Ryan (Ryon Thomas) is a grey-haired, bearded, overworked, wealthy old guy obsessed with his body image. Mia (Bryanna McQueeney) is a pretty wine seller who loves to jog and appears to be a happy, younger wife. The two enjoy sex by being daring, such as going at it on the hood of their vehicle. They are stopping to see Ryan's cynical sister on their way to vacation. The sister, Jennifer (Gloria Mann), who is intense about physical fitness, thinks Mia is nothing but a gold digger. She treats Ryan with various liquids to help his ulcer that hospitalized him previously. The encounter sets up the idea that despite obvious privilege, the couple's life is not smooth sailing with high winds.
The privileged couple stays at a pristine, too-good-to-be-true rural home for their wedding anniversary. The facility is run by Kylo (Alex Galick), a perfect host who welcomes the couple and offers them food and advice on restaurants. His wife Aubree (Savannah Whitten) laughs and warmly welcomes Ryan and Mia with little gifts. Soon, they find they're being secretly recorded by cameras and microphones in all rooms. Their movements are being tracked by a drone that even peers into their windows. Things turn more destructive when Ryan and Mia attempt to escape, resulting in physical confrontations over a destroyed drone.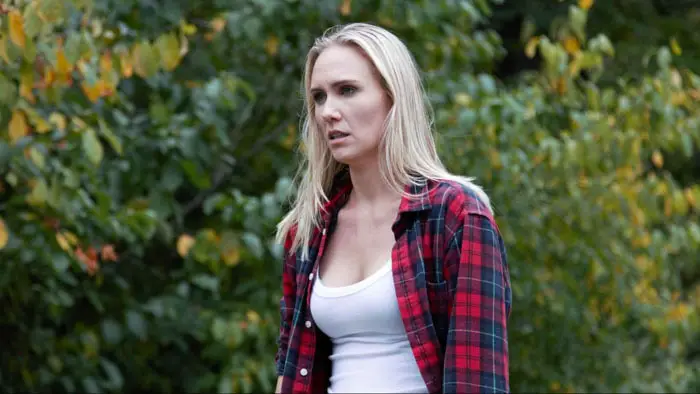 "…Ryan and Mia attempt to escape, resulting in physical confrontations over a destroyed drone."
R BnB is a sexual rollercoaster that blurs lines and crosses kinks. Sexuality is the attraction between Mia and Ryan. Aubree enters the mix when, on a hike with Mia, she offers a lesbian encounter or a threesome. Sexuality in this picture sees rich people fundamentally being offered something different, as in Duncan Birmingham's Who Invited Them. The lustful aspects of the story are close to Javier Bardem/Rosie Perez in Perdita Durango, minus the brutality.
The picture also features jump cuts, unnerving the eye and alluding to not everything being as smooth as previously indicated. The action, especially towards the end, features some strong set pieces, such as Ryan being buzzed by a drone over the landscape like helicopters in North by Northwest or From Russia with Love. The dialogue between the couples is odd in moments, seemingly almost too perfect. When the hired help, Polina (Agnes Artych), and her companion Haden-Marie (Marco Reese Maldonado), get tossed into the mix, the action becomes even more complicated. The characters are all very distinctive people in a lonely, secluded location with secretive motives.
As R BnB terrifies with its narrative of paranoid evil, the ordinary becomes extraordinary as successful people who represent all that is corporate and, frankly, sometimes vacuous interact with outsiders. The horrific plot involves children, brutal encounters with medical remnants, sex, and loads of tension and uneasiness. Slam-bang physical fights, flying arrows, and repulsive revelations all climax into one crazy but intriguing genre offering.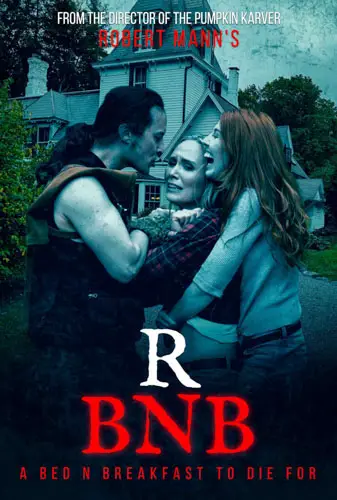 "…a sexual rollercoaster that blurs lines and crosses kinks."