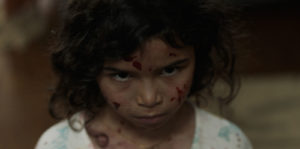 NOW IN THEATERS! "Dignity and motherhood don't always line up," says the protagonist of director Laura Moss' deeply disturbing horror-drama Birth / Rebirth, enunciating the central theme of the astonishing debut. Co-writers Moss and Brendan J. O'Brien both fiercely and delicately deal with the darkest of subjects – a parent's grief – posing the question: if you could bring your child back from the dead, would you do it? And at what cost? If that sounds a bit too Pet Sematary, fear not. By turns gruesome, deeply poignant, and uproarious, Birth / Rebirth is its own entity, unlike anything Hollywood has produced in recent memory.
Rose (Marin Ireland) clearly has issues. Sullen, introverted, and antisocial, she also happens to work at the morgue, where she calculatingly dissects dead pregnant women. Rose masturbates men in bathrooms, collecting their seed (portrayed in a scene as hilarious as it is disturbing) and then pouring it into her vagina. She lives with a pig. Her fridge is stuffed with blood bags. Definite "mad scientist" vibes here.
Nurse Celie (Judy Reyes) works above Rose in the hospital. One day, Celie's daughter, Lila (A. J. Lister), tragically dies of meningitis and ends up on Rose's table. "I wonder if brain death preceded organ failure," Rose stammers excitedly. Soon after Lila mysteriously disappears from the morgue, Celie (minor spoiler alert!) discovers the girl in Rose's bed, alive, though not quite herself. It's an experimental treatment Rose has been working on. "For meningitis?" Celie asks. "For death," comes the deadpan reply.
Apparently, a serum derived from fetal pigs triggers cell regeneration, and Rose has been developing it since witnessing her own mother's death as a young child. Celie instantly moves in with the deranged morgue scientist to help her. Small issue: the serum to sustain Lila comes from human fetal tissue. What proceeds is a series of unpredictable, grisly, emotionally devastating events that shall not be revealed, as that would be a disservice to Birth / Rebirth.
"…the serum to sustain Lila comes from human fetal tissue."
Reyes demonstrates an absolute mastery of her craft. The horror of losing a child is viscerally portrayed. Streaks of sadism emphasize the prevailing humanity, as do the borderline-psychedelic brushstrokes: the intentionally murky nightmarish visuals, Ariel Marx's nervous score, the bleak set design, the impassivity with which cinematographer Chananun Chotrunngroj's camera observes the two women's descent into madness.
The performances of Birth / Rebirth add profound empathy to what could have easily been a grueling ordeal. Reyes shines in the lead. It's how she clutches her daughter's belongings or casts a brief glance at a photo of someone's granddaughter. These little moments add up to a powerhouse feat of acting, sure to be deeply heartbreaking for any parent to watch.
Ireland's Rose serves as Celie's direct opposite, rendering the odd couple that much more endearing. "I found an undigested spoon inside a man's stomach," she states nonchalantly when Celie asks her how work was. She smiles so rarely a coworker almost panics when she does. Thankfully, frequent moments of morbid humor like this counterbalance the darkness, most of them courtesy of Ireland.
Rose is fascinated by the way a starfish regenerates itself. But human beings aren't meant to regenerate like that. Moss stresses the importance of letting go, no matter how painful it may be. Birth / Rebirth is bound to be birthed and re-birthed in audiences' minds long after the credits roll.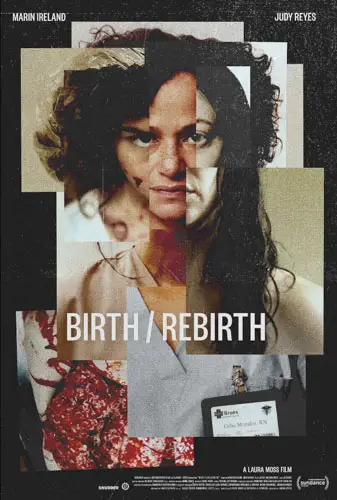 "…unlike anything Hollywood has produced in recent memory..."